A collector of words, I learned a new one from a friend who lost her home in the Camp Fire in California—the Welsh word hiraeth, which means longing for a home you cannot return to, grieving nostalgia for an idealized place. With my Celtic roots, and a tendency to the rearview mirror gaze into the vanishing point, hiraeth often sparks my stories.
Wright Morris says places we have loved inhabit us. The converse is also true. Places are inhabited by the memories—the ghosts, if you will—of prior occupants.
Hiraeth is a question of sensibility, mattering a lot to some writers and readers, and not so much to others. It resonates in the work of author William Maxwell, whose novels and short stories often feature lost houses. Maxwell, who was also the long-time fiction editor of The New Yorker, once wrote to Eudora Welty about how he'd pressed Frank O'Connor to be more specific about place:
What was the house like, I would say…What was it like inside? …He would look at me and smile, and then indulge me by writing a description that brought tears to my eyes. (August 9, 1979).
Of course, it's the lives lived within the walls of real and un-real estate that really matter, in life and in stories. Reminiscing and fictionalizing, to different degrees, to different ends, are both efforts to capture and preserve transient and sometimes illusory experience. Whether writing memoir or fiction, the author has inevitably a personal and limited point of view. Memory does play tricks; reported observations and imagined descriptions are both subjective and created. Photographs even of empty houses are informed by the eye behind the viewfinder, after all—look at Wright Morris's for stunning examples. And no matter how well-documented the history of a family home may be, there are gaps. It is precisely those lacunae that draw me to fiction rather than memoir. I revel in the license to move into those uncharted spaces; to take a leap of faith from the springboard of memory into the untethered dimension of the imagination.
Though this is not always a conscious act. Both the mind at play and the dreaming mind make meaning of real and imagined events. In fact, the work of story making often starts with dream and play. How many writers keep pencil and paper bedside to catch the ephemeral fragments of dreams and the evanescent liminal thoughts of falling into and waking up from sleep? How many writers lie awake, reviewing what has happened on the daily pages, wondering what's next?
I do! But I have a charm against insomnia, borrowed from a friend who borrowed it from Marcel Proust. Lying awake, I wander through the rooms of past homes. It's easy in the untethered state of sleeplessness to remember, to furnish, to populate, to animate. It's easy to fill in what's unknown, to travel inner space. I rarely get past the first homes of my childhood. These homes, most distant in time, but deepest in psyche, often spark story.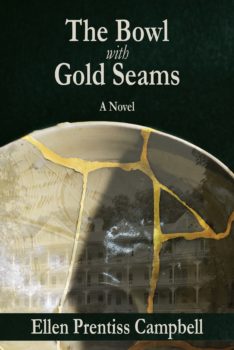 The first stop on my midnight rambles is my first home, a small pink rambler on a small college campus in Pennsylvania. We left there when I was three and I have only one memory of that house. I'm inside, looking out, watching my father stride away with my almost two-year old brother Hugh wrapped in a khaki blanket. It's likely not a true memory, rather imagination's overlay on family history. My mother would have surely been with them and I already would have been hastily, urgently tucked away with neighbors, not looking out the window. But I know the rough touch of that wool blanket the baby's wrapped in—perhaps it later became a long rag strip braided into a rug I played upon. Just a guess, just conjecture. It's such a porous wall between memory and making it up. The unknown must be intuited. I do know, though I do not remember, that my parents returned home and Hugh never did.
What does a three-year-old make of death's sudden final absence? I don't know and can't recall. I was known throughout my childhood for weeping, extravagantly, over every small loss. Was I the designated mourner in my stoic family or just a Celt with an inborn streak of hiraeth? What do parents make of a child's death? Thankfully, I don't know. My mother rarely spoke of it; my father never did. The three of us (who had very recently been four) moved to Maryland. My parents built a new house and we moved into it with a new baby, my brother Don.
I visit that new house in the suburbs on my midnight insomniac rambles. My parents dreamed that house into bricks and mortar existence; it became my childhood home, and many, many years later, that house became both setting and an extended metaphor for my story "Shade Gardening." My point-of-view character is a transplanted, young mother who has recently lost a child. She's settling into a new home, struggling to attend to her son and her husband despite her grieving. "Shade Gardening" is not my mother's story, but it is a mother's story; it fills in blanks with imagination, intuition, and perhaps it's also my interpretation of her unspoken memories—absorbed, infused, transmuted to me.
The house the fictional family inhabits is not my childhood home, and yet it is my childhood home. The story child drives his toy truck around the concentric roads of a braided rug; my brothers and I did that. The young couple of my story plants daffodil bulbs on the eve of the Cuban missile crisis; my parents did, too. Perhaps all the years before I wrote the story, I held onto the little I knew or remembered of that time, like a strand of rough wool khaki blanket braided into that rug.
The story family connects their personal loss with planting the daffodils; consecrating the bulbs in a spontaneous way. Each bulb is buried with a pinch of ash from the cremains of the lost child. This unexpected secular rite is imagined, nothing my parents ever did, and the narrative arc bends toward that moment from the beginning, propelled by the freedom writing fiction affords. It's tricky, setting a story in a place you've inhabited almost like your own skin. Tricky, playing with characters like but not like your own family. You must grant yourself permission to both use memory and break free from it. You have to take chances and risks. Follow the disappearing vapor trail of memory as far as it goes and then proceed further into the outer space of an unlived, unknown alternate possibility.
The dreamhouse my parents built—very like the house the story family inhabits—was a modular post and beam prefabricated design called a Techbuilt. The first were built the year I was born; my parents visited the model and fell in love with it. In "Shade Gardening" my narrator, the young bereaved mother, sees such a house for the first time:
All glass and wood, the house looked like a child's drawing, a rectangular box with a sheltering triangular roof. Everything was on one level; no upstairs, no downstairs, no basement or attic. Outdoors and indoors were connected by a translucent membrane of floor-to-ceiling windows, flat sheets of glass. She'd never seen anything like this back home in the Midwest. The bare bones of a house, nothing soft or decorative. A blank slate. She was startled by a stab of longing.
Was I with my parents, asleep in a stroller on their visit to the model Techbuilt? I don't know. Did that possible visit by my infant-self to the model house somehow spark my life-long addiction to visiting realtors' open houses? Who knows, but no matter how happily settled, I read ads and tour homes. Even before I began writing fiction, those visits were an unconscious exercise in story-making. Touring open houses present an opportunity to imagine the house's inhabitants. The snooping visitor pieces together the clues like what books are on the bedside table. That sort of imaginative fieldwork is harder with the current fashion for staging and curating, stripping the authentic and personal and replacing it with calculated generic bait. But visiting an open house still offers the opportunity to imagine who we might become if we lived in that house, if our lives were shaped by its containment, if we shaped the house to fit our lives. It's not window shopping but rather going into the fitting room and trying on the dress you don't intend to buy or wear, just to see how you might look if you were the sort of person who needed that dress. If you happen to write fiction, it's a further opportunity to get inside the skin of that woman, that inhabitant.
My family moved into our Techbuilt on my mother's thirty-third birthday, in April, 1957. She wasn't one to speak of grief, but she loved to tell the story of that first enchanted night. The native white dogwood blooming outside the bedroom's glass gable shone like moonlight, keeping her awake. My parents lived in their realized dream house for more than forty years, moving out on her seventy-fifth birthday—a narrative arc, from birthday to birthday with the sort of symmetry that would seem contrived, if I used it in a story.
After my elderly parents moved, the new owners knocked the house down, cut down the trees, and paved the ground to make a tennis court for their brick manor house. Different times, different people, different dreams. My husband consoled me: "Maybe all those daffodils your parents planted will break through the tennis court."
Although subsequent homes have inspired other stories, I don't usually get beyond the Techbuilt before I fall asleep on my midnight rambles. Gaston Bachelard says in The Poetics of Space, "The houses that were lost forever continue to live on in us." We are inhabited by places we have loved, as Wright Morris would have it. And if we write fiction, no house is ever really lost at all.