I've always thought the phrase "No man is an island" was stupid. "Why can no man be an island?" I would wonder. "Why can I not be an island? I think I would make a pretty good island!" As a largely private person, I thought that being a writer would be an ideal career choice for me. Many of my literary heroes such as Cormac McCarthy, Harper Lee, Thomas Pynchon, and Jack Handey were all some form of recluse in one way or another, so why not me? Well, it's 2018 and let me tell you: it doesn't work like that anymore. But fear not, that's actually a good thing!
When I first set out to find a publisher for my debut novel, TITLE 13, I knew very little about the publishing industry. I also knew my book wouldn't be a typical sell for most publishers despite being literary fiction; it is both a timely satire on modern government and our divided nation, as well as an emotional dive into the depths of addiction and mental illness. Once I started to reach out to other writers and publishers through social media, I realized what an incredible group of people the literary community is. Many of those first few contacts that I made have become good friends, as is the case with the two writers who I interviewed recently: R.J. Fox and Frank Morelli.
Each of us is lucky enough to see our debut novels published this spring. Both Frank and R.J. (who has also released a memoir and an essay collection) will have their debut novels, No Sad Songs and Awaiting Identification, published by Fish Out of Water Books in Ann Arbor. No Sad Songs debuted on February 20 and is a hilarious and heartbreakingly real YA Novel focusing on a young man caring for his ailing grandfather suffering from Alzheimer's after a family tragedy, and Awaiting Identification, which comes out on May 10, focuses on a gritty inner-city Detroit and the stories of five individuals brought into a Motown morgue on Halloween night in 1999. Both are perfect choices for the fearless FOW Books.
My own novel was released earlier in February 2018 by Harvard Square Editions, a publisher known for their socially charged literary fiction. Over the past year, Frank, R.J., and I have been on a whirlwind adventure gearing up for our respective releases, so I thought now would be a good time for us to sit and chat around that warm, glowing hearth we call the internet.
Interview:  
Michael A. Ferro: So, fellas, we all met through our friendship with Jon Wilson, publisher of Fish Out of Water Books. The two of you have had or will have your debut novels published by FOW, but did you know each other before you joined Jon's press?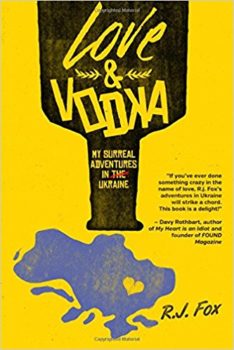 Frank Morelli: When I first made contact with Jon Wilson, R.J.'s book Love & Vodka: My Surreal Adventures in Ukraine was out on the market, so I knew of R.J. the writer but I didn't really know R.J. the person. I was merely one brick in a fortress of Fox fanboys at the time. That was sometime in the spring or summer of 2016, but Jon Wilson has a knack for bringing people together and he's fostered an amazing amount of support that we share as writers under the FOW umbrella. R.J. just happens to be the one who makes me laugh like a freaking hyena while reading his social media posts.
R.J. Fox: Wow, my first fanboy! Such an honor! I first came across Frank when Jon Wilson emailed me Frank's manuscript just to see if I thought it was as good as Jon thought it was. Not only did I agree with Jon about the greatness of Frank's book, but I sensed immediately that Frank was my Italian brotha-from-anotha-motha. I was also right in that regard. I look forward to meeting both of you in the real world (and damn, Michael, we live in the same city . . . can we make that happen? First pint on me!), outside of the fantasy realm of social media. Oh, and I guess that makes me a fanboy of Frank in return. Frank's Fanboys. There ought to be a club with that name! Just be careful when searching that one online. 
As an Italian/Sicilian myself, I concur that all the olive oil–soaked goodness here is palpable! So, when I set out to have my debut novel published, I had no idea what I was doing. Was it a similar case for the two of you? Did you have any experience or know just how this unruly beast of publishing worked?
Fox: I spent 20 years putting all of my eggs into the screenwriting basket, learning that trade inside and out (while repeatedly failing, despite some close calls and teases here and there). When the option for Love & Vodka the screenplay fell through, I thought, why not try this as a book? Of course, I knew nothing about book publishing or even how to write a book. Screenwriting is a whole other animal. But I figured, if I self-taught myself screenwriting, I could teach myself book writing/the publishing industry. So I did! Of course, it's only a ruse to still get into the film industry, I just managed to find another entrance. In the meantime, I have been having a ball with this book stuff!
But just like in screenwriting, it was one rejection after another. I was getting published in lit mags here and there, which at least gave me hope that I was on the right path. Here I was sending my book everywhere under the sun and as it turned out, I didn't have to leave my backyard, once I connected with Jon Wilson and Fish out of Water Books. It was really an example of everything coming together at the right time. I had Jon's son as a student my first year at the high school I teach at. I got to know Jon and his wife Laurie through that and then later, Facebook. I was posting excerpts of my in-progress Love & Vodka manuscript on Facebook and Jon contacted me and indicated he was starting a publishing company and asked if my book was still available. I immediately played hardball and told him I had 20 offers on the table and that if wanted my book, it was time to pony up! (Kidding of course . . . I actually crawled to him on my hands and knees. He wasn't too impressed with that. But he offered me a publishing contract anyway!).
Morelli: Nah, I knew everything . . . and by "knew everything" I mean it was like performing exploratory surgery on myself, often without anesthetic. In reality, it wasn't so bad. I had an idea of some of the basics, like the processes of working on drafts of cover designs and pushing through the rewrite phases. I was caught by surprise by many of the business aspects of the game. For instance, requesting blurbs from other authors and sending out review requests and planning readings and searching for press opportunities. Some of these actions require an amount of pride-swallowing and horn-tooting that I'm not really used to doing. Many late nights and early mornings as well. That said, I'm thankful I had Jon Wilson to guide me through the process and help me get my work in front of as many readers as possible.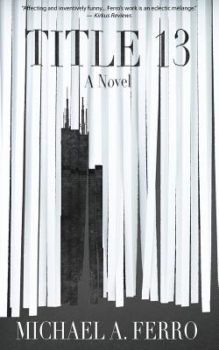 Oh man, I couldn't agree more with you, Frank. I absolutely hate having to tout any successes I've had when reaching out for press and publicity. And when it comes to asking authors I admire for blurbs, I just basically want to say, "I'm sorry." As in, "I'm sorry. I'm sorry for asking you this. I'm sorry to have you read my book. I'm sorry to take your time. Please forgive me or just push my away with a broom. I apologize for everything I've ever done." So many of the authors were very kind and encouraging, though, remembering when they were in my shoes, so that was nice to see. It also really reinforced my desire to help others when they approach me with their first novels.
That said, how did you two get started in writing fiction? For me, I majored in creative writing in college and always enjoyed reading books from an early age, but I didn't get into short stories until after I'd completed writing my novel. TITLE 13 was a story that I had to get out of me before I could write anything else. When did you get serious about fiction?
Fox: Other than Love & Vodka, all of my other screenplays were fiction, so it was a natural segue for me to begin writing fictional prose. Though I love writing nonfiction, fiction gives you such a wider canvas! Of course, the challenge is coming up with not just ideas, but the little nuances and details that goes into a story. There is no "source" material. It all comes from real life. Of course, a great deal of my fiction is plucked from or inspired by real life. It's just easy to call the unpleasant or truly embarrassing stuff "fiction." Then again, if you read Love & Vodka, or Tales from the Dork Side, I sort of leave it all on the table, anyway. So, who in the hell am I kidding?
Morelli: I seem to take the scenic route in just about everything I do. This is never intentional. It just sort of happens, and then I think about how much time I wasted getting to the destination. I was actually a pre-med major in college. Then, after one semester, I wasn't anymore. I'll leave my GPA at the time up to your imagination. Nope . . . lower than that.
After I made the decision to save a million patients by never becoming a doctor in the first place, I was kind of lost. I fell into English and Journalism simply because I liked the subjects. I had no clear idea how I'd ever make a living in these areas. I started covering high school sports for local newspapers and then got the itch for writing short stories. The first one I ever took seriously and decided to submit was written on a New York City rooftop when I was twenty-three years old. I didn't make a dime off of it, and I didn't care. I think that was the original recipe for getting to where I am today. I stopped worrying about making money and started focusing on what I always loved to do: write and tell stories. Well, that and almost twenty years of rolling up balls of paper with my writing on them and draining threes in the wastebasket. I'm money from long range. 
Yeah, any new writer who is getting into the game for the money better be one of two things: extremely influential with the The Hunger Games/Harry Potter crowd or coincidentally be a horror writer also named Stephen King. I wrote TITLE 13 hoping to one day have it published, but I was strictly writing it for myself—publishing was an afterthought. I wrote it exactly how I thought it needed to be, setting aside my preconceived notions of "what would sell," or what was conventional, and just wrote it from my gut. That's one piece of advice I would tell new writers: write that thing that is gnawing at your brain, exorcise that demon, and it will glow on the paper.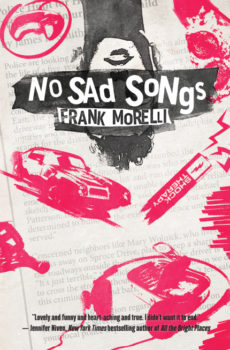 Morelli: Same for me, Michael. No Sad Songs is a labor of love. I began writing it solely to exorcise the demons from my experiences watching my father care for my grandfather as he suffered from Alzheimer's. I guess there's always been an element of guilt in the back of my mind. Like I didn't do enough at the time. So, I wrote the book for me. I wrote it for my father and my grandfather. I didn't write it for a marketing team, and I think that made all the difference.
Speaking of college, when I was in school I had a really tough professor of fiction who was brutal in his criticism of our work. I'm talking downright totalitarian, including cutting off a student in the middle of reading their story aloud if he didn't like it. It was crushing for us at the time, but I truly believe now (with the benefit of hindsight) that it was the best way to separate the wheat from the chaff—he knew the publishing world has little tolerance for those with weak stomachs. Did you two have someone in your lives who did something similar?
Morelli: I agree, Michael. We all need a totalitarian or two in our writing lives. Maybe not in our public lives, but that's another story. Even though I hated their guts at the time, I had a few of these figures in my life. One was my thesis advisor at CUNY-Queens College, when I was finishing up my degree in education. He heaped more work on me than I ever thought a human being could endure. I was young and rebellious back then, and I tried my hardest to cut corners at every turn, but he kept telling me to "trust the process" which turned out to be excellent advice for both myself and the Philadelphia 76ers. It took two semesters for me to come around to his methods, but once I did trust the process everything began to fall into place . . . and I've been using iterations of said process ever since with all of my writing.
Fox: I didn't have a tyrant overseeing my work (why am I picturing Sean Connery in Finding Forrester?)— 
("POUND THE KEYS, FOX"!)
—though I probably could have used one from time to time. What I did have was a 10th grade English teacher who not only saw my potential as a writer, but who became the catalyst for anything I have ever written or published since. As well as anything I ever will write or publish in the future. Her name is Anne Gautreau and I truly owe it all to her. One of the most special moments of my life was being able to dedicate my first book to her. It wasn't just a symbolic gesture. She truly is the reason why I am a writer. I will never lose sight of this fact.
What is the single best piece of advice you've ever received concerning your writing career? For me, it was from publisher Laura Stanfill of Forest Avenue Press (who also introduced me to Jon Wilson, and thus, both of you). She said something to the effect of "Make connections with authors and publishers. Strive to help out your fellow writers and get involved from the ground-level in anything you can. Not only will you be promoting a vibrant literary community, but you'll be making vital connections and friendships that will last a lifetime."
Fox: The best advice I ever received was from my mentor, Anne Gautreau, who taught me to never give up. I haven't! Not even for a second, despite endless rejection. And it's how I was able to face 20 years of various degrees of rejection until I made it! Believing in someone is sometimes the only "advice" you need. The networking with other authors, artists, and media types has been such a thrill and definitely makes up for the lack of any substantial money to be made on the writing side of things. It's amazing how having a published book gives you access to people you might otherwise not have access to (social media–speaking, at least). The relationships and networking is so valuable, as I have made so many interesting and exciting new friends, including these two bona fide lads in this interview! Jon Wilson really fosters a friendship-first approach at Fish Out of Water Books. A true, meaningful partnership, rather than a boss-employee dynamic. This is such an important component and attribute. I couldn't have asked for a better experience with my first book and now my new one.
Believing in someone is sometimes the only "advice" you need.
Morelli: Ironically enough, Jon Wilson also played this role for me. And his advice was almost identical to Laura's. When I first signed on with FOW I was still holding out on getting involved in the whole social media thing. Jon impressed the importance of connecting with other writers on me. He couldn't have been more accurate. The literary community, for the most part, is extremely supportive. There are so many Michael Ferros (none as generous or as good-looking as Michael, of course [Editor's Note: Michael is neither generous nor good-looking, but rather unhinged and ogreish.]) out there who celebrate the accomplishments of fellow writers and become instrumental in spreading the word about new and exciting work. I honestly believe this is an essential part of becoming successful in the business. I can't believe there was ever a time I resisted being part of the community. From an inspirational standpoint, I'd have to give a nod to my ninth grade English teacher, Mrs. D'Alonzo. She read my debut personal essay, "Lost on the Slopes," in front of the class one day and I haven't looked back since. Except for the doctor thing. Idiot.
I really hesitated on the whole social media thing myself, Frank. In fact, my first contract for TITLE 13 fell through when I declined to participate in that publisher's contractual clause to complete "social media training," which just seemed wrong to me. It's happened more organically now, which feels right.
Morelli: I felt like Jon may have been hinting as much when I first signed on. Good thing he doesn't know about the Instagram account I started recently. It's photography on a second-grade level. There are more hashtags in my first post than, well, posts. Social media training sounds like a plan for me.
So, now that each of us has or will soon have published our debut novels, what's one novel that you wish you could have written? What is that one book that forced you to think, "I want to do something like that?" For me, it was either White Noise by Don DeLillo or Infinite Jest by David Foster Wallace. DeLillo's work is unlike anything I've ever read, both surreal and realistic at the same time, and his dialogue is beyond any I've read elsewhere. As for Wallace, his knack for combining personal emotion and deeply cerebral musings endears him to me like few other authors.
Fox: I would have to go with my favorite novel: Catcher in the Rye.
Morelli: Italian brothas-from-anotha-motha, R.J. I'm sending an Ancestry DNA kit to your house tomorrow morning. No lie, Holden Caulfield is the main reason why I write young adult fiction. I doubt I'm alone in that. There's just no voice in literature more authentic and more memorable . . . except for maybe Scout Finch. Which is why I have to go with To Kill a Mockingbird. Easily my favorite book of all time. I briefly considered changing my name from Frank to Atticus until I said the words "Atticus" and "Morelli" out loud and realized it made me sound like some guy riding a tractor in a pinstriped suit. But I'd stake a claim to Harper Lee's masterpiece in a second. If not that, I'd settle for The Outsiders or an entire series-worth of Harry Potter books. I mean, who couldn't use a theme park or two?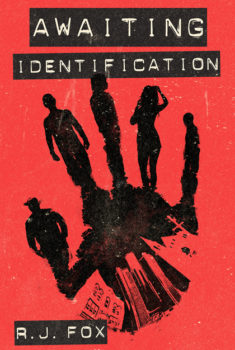 Maybe it's an Italian thing because Holden is a hero of mine, as well. Caulfield could be an Italian name, right? "Caulfieldinni." Funny how both of your favorite books in Catcher in the Rye and To Kill a Mockingbird produced authors who became recluses that scorned the public after their debut novels, rarely ever publishing again. Let's hope that's not the case for our futures. And Frank, as for a theme park or two, that'd be nice, but I would certainly settle for my local junkyard naming their tallest heap of trash after me—Mount Ferro, the tallest, smelliest garbage pile in the world. Something I can point out to my children and feel proud of.
Morelli: I've always wanted to be a recluse when I grow up, but I have too many ideas I must get down on paper before that happens. I'm thinking I'll retire into reclusivity at some point after finishing the twenty or thirty novels I have floating around in my head. Which reminds me: what are you guys working on now?
Frank, my main goal in life is to be able to disappear into the woods and live with the squirrels and forest goats. (There's "forest goats," right? Well, I'll bring a goat with me just to be safe.) I've been chomping at the bit to go full recluse most of my life. While I was writing TITLE 13, I disappeared off the face of the earth for a while and it was really incredible. I had a family of sparrows living in my beard that scared my dog, though, so I had to emerge. As for what I'm working on now, I'm hoping to work on a new novel in a few months, but I've still got one eye on the realtor ads for secluded cabins up north in Michigan's Upper Peninsula . . .
Fox: I am working on finishing up the dozen or so short stories that I have in various stages of completion, along with polishing up my already-completed ones. I also have several essays that didn't make it into Dork Side, along with several other ones I need to complete. I do have several novels that I have started, but not ready to be fully committed to one. Doing so would probably literally cause me to get fully committed in a psych ward. My biggest priority it trying to get the films off the ground for Love & Vodka and Awaiting Identification. Like I said, the books have just been a front to sneak into the film industry. Once that happens, see ya suckas! Though, Frank will probably beat me to Hollywood. They love YA novels there. And Ferro, I can get you a goat. I know a guy . . .
Thanks for the chat, gents! It's been a pleasure. And R.J., I'm gonna hit you up about that goat soon.