Much of what we come across in The Made-Up Man (FSG) by Joseph Scapellato isn't new territory: a 20-something guy who folds on his promising education, career, and love life and instead opts into the age-old practice of youthful existential dread and aimless angst. The main character, a Polish-American man named Stanley, is about as exhausting in this aspect at first glance as you might expect. Wandering through life and a miserable existence of his own making, Stanley is approached by his eccentric performance artist uncle with a proposition to head to Prague to apartment-sit for him for a few days. But, of course, nothing is quite as it seems.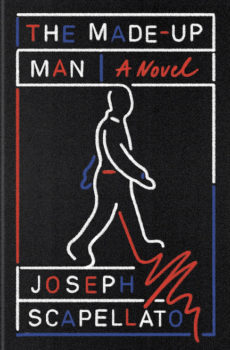 That said, there is a certain charm embedded within The Made-Up Man; many of Scapellato's characters, including the aforementioned uncle, Stanley's family, and his newly ex-girlfriend T, are well-drawn and give credence to the realism buried deep within this psychological novel. And for fans of noir, the author has certainly created a moody and dark atmosphere, complete with dimly lit streets of cobblestone and rundown apartment buildings crawling with suspicious characters that keep us guessing. Indeed, one of the most interesting aspects of The Made-Up Man is the wide-ranging, detailed cast of unusual artists that make up the grand experiment known as Uncle Lech's magnum opus: The Made-Up Man. The star of this one-in-a-lifetime act of performance art? Unfortunately, it's Stanley.
Stanley is the model of modern unlikeable narrators—he's violent, angry, self-absorbed, and despite being intelligent and inquisitive in nature, he seems clueless as to his various predicaments. But with Stanley, Scapellato has created a narrator who accomplishes the rare feat of urging the reader to look elsewhere, to spot the nuances in other characters and settings that enrich the larger story overall—a key element of a successful noir, which The Made-Up Man absolutely is. Perhaps the author's goal all along is to point us away from Stanley so we might find ourselves closer to the deeper (and more stimulating) story-behind-the-story, rather than listening to Stanley wax philosophic in his own mind.
The Made-Up Man's innovative narrative style lends itself to this conclusion quite well. Told as a series of running thoughts, memories, and actions that run into each other, crossing timelines through present and past, each "chapter" (and there are exactly 100 of them) presents as both meandering monologues on past regrets and short, one-sentence reflections on Stanley's degrading mental state.
Throughout the novel, Stanley ponders the meaning and genesis of a "very bad feeling" inside of him. Continually he comments on the state of the "space at the center of myself" that seems to fluctuate between feeling empty and brimming with a Stanley-shaped, weighty sense of doom. Near the beginning of the novel, the reader gets an early sense of both Scapellato's writing style and the aimlessness that consumes Stanley and the plot throughout:
The very bad feeling hadn't been hurled through the window in me by the made-up man or the fashionable old woman. It wasn't the work of panic. It had no connection to jet lag or culture shock, or to recent sleeplessness, or to an old grade of anger that was being hammered into guilt and buffed into dread. It didn't originate in any of the members of my family. It wasn't T—it wasn't anything I hadn't already thought about T, felt about T, and done or not done to T. I put my hands on top of my head. I didn't know what it was. It was a space at the center of myself that wasn't me.
Stanley's obsession with the confounding space at the center of himself presents itself as a proper noir MacGuffin, like the missing Maltese Falcon or Kane's "Rosebud"—the thing that both Stanley and we, as readers, are struggling to uncover. As the performance art project known as "The Made-Up Man" slowly unravels, we're also along for the ride; and that ride is often interesting. In fact, many of Scapellato's descriptions of Stanley's crazy uncle's performance art pieces and fellow artists are some of the novel's strongest sections—their uncanny detail builds a larger picture of complex cultural questions: What is art? What is its purpose? What are the boundaries of "appropriate" art, and whom are we looking to serve with it? While Stanley's brooding existential musings are mostly commonplace and forgettable, these investigations into the complicated nature of art in a modern world are entirely more thought-provoking.
The Made-Up Man is something of an enigma: not exactly noir, not exactly psychological thriller, and not exactly a bildungsroman about a budding sociopath. But you can certainly find all of these aspects within—and more. In the end, the novel's stronger aspects outmatch its more clichéd, especially when viewed on the whole. Not everyone is going to enjoy this book, but for those who do, it will not be easily forgotten.