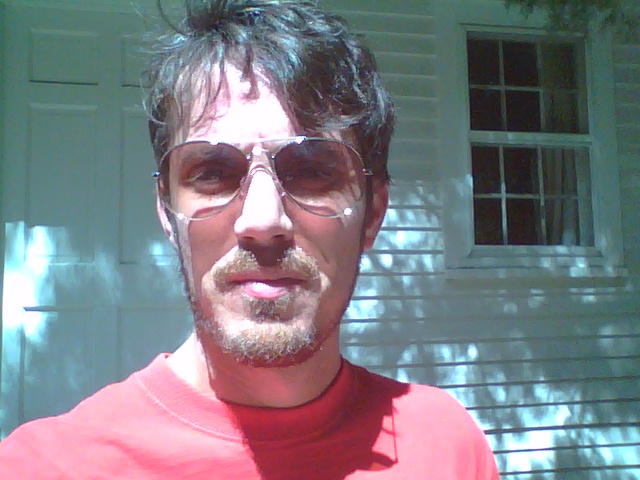 I first met Todd Dills several years ago, during a reading at Quimby's Bookstore in Chicago to celebrate the release of the newest issue of his indie literary magazine THE2NDHAND. It was a magazine I had long admired for its DIY, punk rock vibe, and, in the interest of full-disclosure, it was a magazine I had been attempting and failing to break into for months.
The reading was supposed to start at 7 p.m. It was a blustery winter night, days-old slush plowed high against curbs and storefronts. But when Dills breezed through the door at around 7:40 p.m., the energy in the cramped, one-room store was suddenly frenetic. A crowd of writing students, neighborhood literati, and hipsters followed Dills as he snaked his lanky body up to the front of the staged reading area, a box of the latest issue hoisted high above his head. And while I remember very little about the piece Dills read that night, I can vividly recall the performance of it: how Dills shifted his weight from foot to foot, gesturing wildly, voice pitching up and down, an old-fashioned storyteller willing the crowd into a dream.
Afterwards, I congratulated Dills on a great reading. And, umpteen rejections aside, he told me in no uncertain terms to keep writing, to keep submitting, to hone my voice, and that I'd get "there" someday.
And therein lies a common theme in Dills work: the trials and tribulations of people trying to find their way, and it's especially true in his new collection of stories, Triumph of the Ape (THE2NDHAND, 2013), in which characters traverse the country in the hopes of navigating the divide between who they were, who they are, and who they desire to be. Dills is still the editor of THE2NDHAND—which, by the way, finally accepted a story of mine, and I'm grateful that he's published several more since. He's also the author of a novel, Sons of Rapture (Featherproof Books, 2006), and the editor of two anthologies of stories from THE2NDHAND. He lives in Nashville with his wife, Susannah Felts, also a published novelist and short story writer, and his daughter, Thalia.
Recently, Todd and I sat down for a discussion on place in fiction, using Kickstarter to fund a print-run of his new book, and much more.
---
Interview:
Nick Ostdick: Your collection, Triumph of the Ape, features a forward by fiction writer Spencer Dew, who writes, "Geography matters here. Think Strom Thurmond vs. Chicago's Western Avenue at 3 a.m., a Confederate flag vs. ambient Wilco songs." There's tension in that statement, and I'm curious about how the north vs. south dichotomy draws you as subject matter and fuels many of these stories?
I moved to Chicago from South Carolina in 1998, and I spent virtually the entire eight years I lived there with that whole North v. South dichotomy staring me in the face, more or less, though the Midwestern character of Chicago's surrounding environs (and the city itself) holds quite a few more similarities to white Southern culture than somewhere like NYC or Philadelphia. In essence, it was hard not to think about it—from small things like how people's voices sound to how someone approaches you in a bar (Chicago-style is all in your face; South is more wily, generally, the encounter beginning without you really realizing it's beginning, a description which probably could be applied in all sorts of ways to illustrate the North/South life-leading dichotomy, but I'll hold off for now). The stories in Triumph—or, Ape, if you prefer—with the exception of two, maybe three, pieces, all come out of that time.
I always say that all writers, no matter how hard we try, have a certain set of themes and issues we keep exploring, albeit through various lenses. I assume we can say that this geographical and cultural tug of war is one of your themes?
For me, most definitely—I love the whole notion of life being a journey to find your place. I've come across it in all manner of books and in interminable conversations with people, particularly when I was in my 20s and surrounded by similarly unsettled folks. The journey toward the "right" place I think a lot people never bring to fruition—either they just keep moving or they never leave where they started. There's tragedy in that, there's tension, there's in some cases joy. That's the stuff of good fiction.
In these stories, setting functions not so much as a character but more as a vehicle for metaphor and meaning. In general, is this how you view setting's role in fiction, particularly in short stories?
Setting for me is always working in a couple different ways—micro and macro, for lack of a better description. The mechanical requirements of the small spaces the characters inhabit has to be dealt with, evoked in some way, which differs depending on the piece, but then there's always the town, city, county, region, and state. But I like to comment on place via my characters, and for my characters to come into sharper relief against the background of the places they inhabit, too. Going back to the prior ideas—the tension between different places, then, the comparison of different places and interactions between people from those different places, just makes that stuff all the more interesting, ultimately. I love nothing more than a scene featuring two men from totally alien locales talking to (but, at once, totally right on past) one another. It's the sort of psychic disconnect so many of us, those who've spent time moving round and round the country, experience day-to-day.
Voice also seems key to many of the stories in the book, particularly your use of this stylized, high-flown diction with an acute ear for Southern affectations that despite drawing attention to itself manages to come across as authentic rather than fake. Is voice a priority for you when you sit down to work?
That depends on the story, but ultimately, if it's going to work on the page, there's going to be a unique voicing—that's just how I tend to approach the stuff I work on and prioritize things I care about: things with strong voice are always more personally interesting. Generally, the stylizing of voice is just something I've fallen into over the years, with practice, trying different things, always being drawn toward writers like Wolff and Faulkner and Pynchon and David Foster Wallace and Bolano and yadda yadda, folks who adopt quixotic methods in the service of unique voicings for both first- and third-person narratives. A lot of my characters are Southern types, so that's where the Southernisms come in. At the same time, when I first think of a character I may not always have a particular voicing in mind—it could be more of a situational thing, a being sitting at some historical moment, etc. . .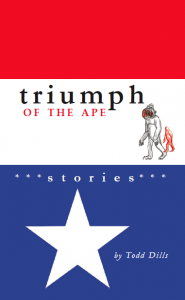 If a reader were to look at the acknowledgements page of the book or do a simple Google search, they'd discover that the stories in the collection were written and published during a roughly ten-year span of time. Was it difficult to keep your eyes on the prize, so to speak, in terms of what you wanted to accomplish creatively with the collection as a whole?
Not really—I've always been able to jump back into the heart of something if the story is worth pursuing, or at least that's how I look at it. In other words, if something as been sitting around half-done forever and I give it a read and have no idea where to take it, so be it. With the stories appearing in Ape, however, the opposite would be true—there was either a kernel or much more than a kernel of something meaningful to me, something that made the story more than worth taking up, obvious from the moment I took it back up in that final rewrite (the way I put the book together in the end was to amass half-finished pieces I felt I wanted to include with more finished ones, then rewrite the whole thing front to back).
Sounds pretty arduous, but also like a really great learning experience in regards to how stories are constructed.
Yeah, and ultimately this gave the collection a more cohesive feel as I went through hyper aware of similarities, common themes, etc. and could pick and choose what to emphasize, what not to. That's where the title came in—growing awareness and subsequent explosion (during rewrite) of a not-exactly-buried theme moving through many of the stories.
Switching gears here, I want to talk about your professional life—at least in the sense of paying the bills. You earned an MFA in fiction from Columbia College in Chicago, but you work in editing and publishing, which can be a very demanding field. Why did you decide to pursue a career outside academia and how has that influenced your writing life?
Yes, I'm a journalist—writing and editing for a trade magazine read by small-business truckers, owner-operators. I've had some great teachers of fiction, but I never personally knew one who worked full-time as a teacher who was also particularly successful with his/her work in fiction. I came to think that the reason for this was that they simply weren't writing every day. The demands of being a prof at a college can be huge. I work basically 9-5 days, five days a week, but professors, depending on longevity and the school, can easily put in that much time weekly most of the year. The difference: I write every day, whether it's journalistic sorts of stuff or not; it all feeds into working out the same or very-much related muscles, which I need to write fiction. Time tradeoffs I imagine are about the same.
To talk about the publishing side of the collection: Triumph was published via a Kickstarter campaign. Can you discuss what influenced your decision to go that route, as well as some of its benefits and liabilities?
Actually, Triumph was first published in an eBook-only edition in Fall 2012. Kickstarter was solely to fund a print run after I'd taken the ebook toward a layout—I went this route, more or less self-publishing via THE2NDHAND, the occasional imprint associated with the literary magazine I founded in 2000, because I believed in the book and had absolutely no luck (though plenty of honest, good feedback) on getting someone else to put the collection out. I hit a wall in 2010 following several rejections, and after putting out THE2NDHAND's 10th-anniversary collection in 2011, funding the printing of the book via Kickstarter, I had a workable model in my past I could very simply draw on. I started moving toward publication of Triumph very shortly thereafter. I'll also be putting out Oregon-by-way-of-Montana-and-N.Y. writer Michael Peck's noir-ish, short-novel Last Orchard in America via a similar process/model.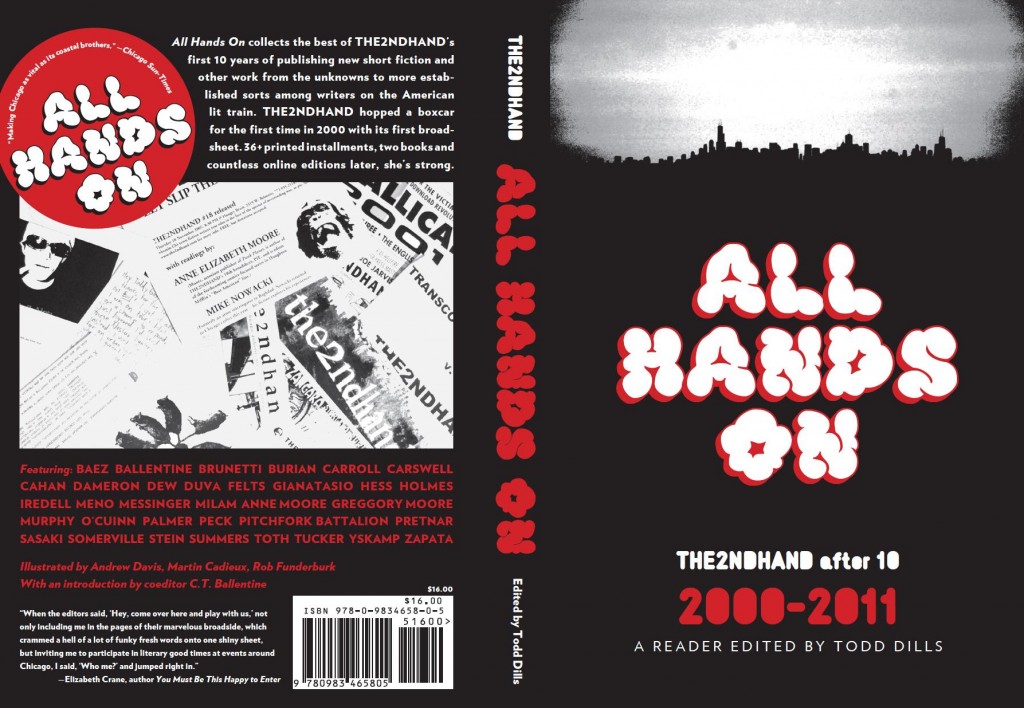 Aside from the financial aspect of it, talk a bit about the energy and anxiety that comes along with having such freedom in terms of design, layout, marketing, etc.
It's a lot of fun, for sure—I wish I got more into the marketing aspects of it. As things go, I'm more into the long slog of the layout/design/production aspects. Aside from putting together a tour—which, due to the financial- and time-side of things, is less and less an option for me (just think, I did thirty cities when Rapture came out in 2006)—I have no idea what all to do for marketing other than send review copies to folks like you.
I really love what you said at the beginning about the tragedy of finding the right place—the tension, the joy, etc. Who are the writers you'd admire who best address those concerns in the work? What writers do you come back to for inspiration?
Roberto Bolano. I seized upon the whole notion of life as this after he articulated it for me in a passage in the novel The Savage Detectives. It's actually something of a satire in some ways—the whole notion of the wanderer, always searching for the right place but never finding it. He both satirizes and dramatizes this in that book, in his peculiar fashion. David Foster Wallace, too, interrogates similar notions in all of his work, that journey toward a state of mind more than anything, to a place where your mind is comfortable/happy with its surroundings to a certain extent—as the goal, anyway, the tragedy, or tragicomedy, being that it so rarely ever works that way. Barry Hannah's good for the similar themes as well.
So aside from releasing Michael Peck's novel, what's coming up for you? What are you working on? Do you have any projects making their way into the world soon?
I'm about 3/4 of the way through a novel—something of a structural parody of/homage to Ralph Ellison's Invisible Man (one of my all-time favorites)—that I may finish a good draft of before the end of the year. I've been working on it through this entire process (finishing Rapture, starting Ape, putting out the T2H collection, etc.) but have hit it pretty hard in the last year, doubling its size while honing parts. It's coming together, I'll say that, and it involves performance art, NASCAR, work, pornography (briefly), Occupy, and more…
---
Further Links and Resources:
Visit THE2NDHAND website, the online-only variant of THE2NDHAND literary broadsheet, publishing fiction weekly and playing host to various blogs and online txt projects from the years 2000-2013 A.D.
To order your copy of Dills' collection, or to learn more about the All Hands On anthologies, head over to the book section of THE2NDHAND Website.
Follow Dills on twitter @todddills.

---