I've seen the future, and it's paved with pages of gold. Goldberg, that is. Lee Matthew Goldberg. Of course, I jest at the expense of my friend and author whose new novel, The Mentor, which Kirkus Reviews compares to the work of Bret Easton Ellis, is about to be published in June by Thomas Dunne Books. But all joking aside, this is Goldberg's breakout year to be sure. If you don't believe me, just Google The Mentor and check out what all the critics are saying on behalf of this new literary thriller about a book editor and a writing professor who might actually be confessing to a murder in the pages of his new manuscript. Sound chilling? Ironically, it's the brainchild of one of the nicest guys you'll ever meet.
Born and raised in New York City's Gramercy Park, arguably one of the most beautiful districts in Manhattan, Lee Matthew Goldberg just might be the quintessential New York writer. A product of the ground zero of literary success, or doom for that matter, Lee might have come into this world 39 years ago to Sue and Stan Goldberg, kicking and screaming, but there was never any question about the path his life was going to take. It was always a given that he would choose the writing life over any other occupation. Because, after all, he was born in the belly of the literary beast, the offspring of a rich history that includes every major publishing house in the world and every major writer who has come and gone over the course of a century, from Fitzgerald to Mailer to Franzen. At least, that's the way I'd script it.
He's a gifted talent, this Lee Matthew Goldberg (not to be confused with the other writer named Lee Goldberg who hails from that other heartbreaking writer's collective, Hollywood). In a very short time Goldberg has published a bunch of short stories and two full-length novels. Sure he hails from media capital of the world, but he's old school. Meaning, he worked his way up the ladder the traditional way. A refreshing story amidst today's instant gratification, self-publishing crazed generation. He's no stranger to MFA School, countless workshops, academic papers, readings, and collecting rejection after rejection from the little magazines and journals. Perhaps he wallpapered his apartment with the rejections just like I used to do.
But inevitably his talent and drive would show through and he would begin publishing in prestigious magazines like The Montreal Review, The Adirondack Review, The New Plains Review, Verdad Magazine, and BlazeVOX. Or so his Amazon Central bio attests. But there's not a dog in the bunch here. Take it from me, a publishing whore who would happily publish in Fred's Weekly Stapled Together Fanzine along-side The Maryland Review or University of Idaho's Fugue. My particular MO on the way up was more of a shotgun-quantity-approach, whereas Lee's is most definitely that of a calculated sniper. He saves the golden bullets for the publishers he spots in his crosshairs. It's no wonder that when it came time to publish his novels, he would nail a very good small press (New Pulp Press) and quickly climb the ladder to midtown Manhattan's Thomas Dunne Books/St. Martin's Press. And doesn't he nail a big French translation deal and has the film version in development at the same time? Damn, is there anything stopping Mr. Goldberg from world domination?
But you'd never know how successful he is by just talking to him. He's humble as all hell and that's what burns me up. Whenever I nail something big and important, I take out a billboard advertisement. "Look at me!" I scream. "Do you have any idea who I am, people!?"
I first met Lee Matthew at a Noir at the Bar reading taking place at a small juke joint in the East Village of Manhattan. At first I took him for a student. He looks that young under all that dark hair. But after we started chatting it up, I quickly realized I was sharing the bill with him. We talked about New York, apartment prices, the importance of a writer living in the city (or not), and pretty soon I was smitten with his charm and intellect. Oh, and after I read his first novel, Slow Down, I realized he was one hell of a talent.
But he's soft spoken. He's not a big dude, or imposing in any way. He dresses casually, always in loose jeans, nondescript footwear, maybe an old button-down shirt under a tattered blazer. Sort of old professor meets hipster. If I were to ask him his secret, he might smile, run his finger over his scruffy beard and answer with something like, "Oh, I don't know. I just write what I want to write because I enjoy it." Then he might ask me if I want to join him for tacos and Mexican beer. How can a guy say no to that?
I guess in some ways, Lee Matthew Goldberg is everything I want to be when I grow up. But then, I'm at least ten years older than him. Maybe more. It's a question of maturity, I guess. Or perhaps my learning curve is that much longer. If only I'd been born in the belly of the literary beast. If only I'd been seeded with the dust of Manhattan's illustrious literary history. For now, I'll be content to be his friend.
But then, we're not just friends. We've also become writing partners, having recently collaborated on a script about Norman Mailer. It's a fictional script in which Norman fights his own literary demons by solving a murder that occurs in New York City. The script reads like a Who's Who of the 1950s New York literary scene with cameos from the likes of George Plimpton, Truman Capote, and James Jones. Hell, even Papa Hemingway is in there. Think The Knick meets True Detective. Now hear this! Calling Hollywood! Any takers?
I sat down with my good pal and colleague, Lee Matthew Goldberg, just a few days ago to talk writing, life in the big city, publishing choices, movies, cable television series, writing in the park with his back pressed up against his own personal tree and, of course, his much anticipated and lauded new novel, The Mentor.
Here's what we came up with.
Interview:
Vincent Zandri: When did you first realize you wanted to write for a living? What was the golden moment when the realization filled your veins and you knew there was nothing else for you but writing?
Lee Matthew Goldberg: As a kid, I always wanted to be a writer but I really thought about it as a career after being fired from my first job at a TV production company. The way it went down was spectacularly awful and hilarious so I put all my frustration into my first novel, Slow Down, which begins with the main character getting fired. Instead of interviewing for new jobs, I'd write every day. A few months later I had a draft and became hooked. I knew a 9-to-5 wasn't for me.
What writers inspired you then and now? What books?
Bret Easton Ellis and Jay McInerney were two of my biggest influences. I enjoy unlikable protagonists and they do it very well in Rules of Attraction, American Psycho, and Bright Lights, Big City. F. Scott Fitzgerald was one of my earliest inspirations. His sentences are so lush and descriptive and bled into my early work after reading The Great Gatsby and The Beautiful and the Damned, along with short stories like "Babylon Revisited." Also Hemingway with A Moveable Feast and The Sun Also Rises. Hemingway really helped me pare down any prose that came off as flowery. My grad program was a big influence on my style, too.
Yes, grad programs. You earned your MFA in Fiction at New York's The New School? Expand if you will on what effect it had on your craft? Did you like MFA school? Or like me, did you feel like there were too many egos in the room?
I loved the New School. I started The Guerrilla Lit Reading Series there with other New Schoolers and got my agent Sam Hiyate soon after. I'm still close with a lot of people I met and learned a lot from professors Helen Schulman, Dale Peck, and Jonathan Dee. Luis Jarmillo runs the program now and I highly recommend it. While there were sometimes too many egos in the room, it's important to know how to deal with critique. Also which opinions to listen to and what to ignore. The program also made me want to rewrite what would become my first book.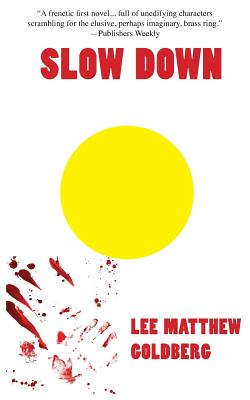 I hate criticism. But that's for another interview down the road. So, Slow Down, your first novel, is a dark, noir-inspired crime thriller. How did it come to be published and what drew you to the noir genre?
I wrote a first draft of Slow Down when I was twenty-three and then picked it up years later and decided it was worth rewriting. The structure was really there. But then it got rejected by all the big houses. Editors were into it, but found the protagonist too unlikable. It wasn't until the writer Jon Bassoff, who ran New Pulp Press at the time, published it because he loved my fucked-up protagonist Noah Spaeth. I've always been into the noir genre with authors like James M. Cain and Jim Thompson. The films Sunset Boulevard, Double Indemnity, and The Killers are classics. I like characters that get in a jam and have to weasel their way out, usually with disastrous results.
Beyond being a bookworm, you've taught for a decade as a professor too. How has that intersected with your own writing, and what advice do you have for budding writers?
I'm taking a break from teaching right now, but it's a great side-gig for me. I'm in my head all day when writing, so it's nice to interact with a class. I'm a very laid-back professor so it's all about discussion rather than lecture. I like when students have a different opinion than me. For budding writers, the best advice is just to keep at it and edit your work over and over until it really sings. It's very difficult to make a career in writing, but if you're really talented and it calls to you, it's worth going for it.
Would The Mentor have been written without your having been a professor? And while we're on the subject tell me the story of how The Mentor came about. Is it more literary, more mystery/thriller or, like I've already hinted in my blurb, Hitchcockian?
First of all, I love the cover blurb you wrote for The Mentor. "Hitchcock couldn't write a more insidious story" is a huge complement, especially from a guy who's written over twenty thrillers!
I'll gladly take a bow. You were saying?
Since the antagonist in The Mentor is a professor, I definitely drew from experience, except he's pretty psychotic while I like to think of myself as a nice guy. The book came about in a very cool way. My editor Brendan Deneen at Macmillan had pitched my agent the idea of Cape Fear set in the publishing world. He was looking for a writer and Slow Down had just come out so it was really lucky timing. I'm a big fan of blending genres and while Cape Fear is a great thriller, I wanted The Mentor to be literary as well since it's set in the publishing world—for it to read like a Hitchcock tale, but also be a sharp and bitter satire of the publishing industry and the sensationalism and barbarity that consumers crave.
The Mentor is about writers and writing teachers. That said, you write a lot about writers and moviemakers. I often use writers as my protagonists. I know why I do it, and I could tell you why, but this ain't about me. So what's with the metafictional (if you will) attraction with writing about writers?
We're always told to write what you know. While I've had other jobs, I certainly know the most about what it's like to be a writer. And I've always been fascinated by films and would love to be involved with making movies, too. I also find it interesting to focus on writers whose own lives wind up becoming more salacious than the stories they're creating. That being said, I've also written about a Wall Street executive, an ex-Army sniper, and a hippie cult leader in the Ozarks. I enjoy doing research on what I don't know as well.
The movie rights for The Mentor have been acquired by Macmillan Entertainment. That's a huge deal and it establishes a dramatic upward shift in your career trajectory. Tell me, are you more interested in a full-length feature movie or do you foresee The Mentor as more a cable TV series like The Americans or The Affair?
Thanks! I'm very excited. Right now the film is in the development stage, meaning it hasn't been optioned or greenlit, but we have interest and people attached so hopefully it continues to move forward. I think it would work best as a feature-length film, but I could also see it as a closed mini-series. You see that a lot more now. Like Big Little Lies, which was great, or The Night Manager. We've also sold the French translation rights, and Editions Hugo will be publishing it in the fall. Albatros Media will also be publishing the Slovak edition.
I also find it interesting to focus on writers whose own lives wind up becoming more salacious than the stories they're creating.
I wanna talk a little about the writer's life. I'm only up in Albany, 140 miles along the Hudson River line, as Billy Joel, another New Yorker, once sang. Yet it's a million light years away from Manhattan and the enormous literary possibilities here. I can be in the city at any given time in less than three hours, but still, I don't live here so I remain an outsider. So what are the advantages to living in NYC as a writer?
To keep with your Billy Joel references, I definitely have a New York State of Mind. I was born and raised in NYC so it's a huge part of my work. New York kicks your ass in a good way so I feel like I can't be lazy. That's important since I make my own schedule and I'm pretty good about keeping regimented. You also interact with so many different kinds of people here. There's a huge community for writers. I run a reading series and have the opportunity to go to so many great other series. There's so much culture at your fingertips. I'll take a day off here and there and go to a museum or a play if I feel blocked. That being said, I love nature and in a place like Albany you can actually have peace and quiet, which must be nice. There are pluses and minuses to both. In an ideal world, I would have a place in the country and in the city so I could go back and forth.
Rumor has it you work outside in Central Park for a good chunk of the year when the weather holds up. How does nature affect your work in contrast to living in a concrete jungle? Talk about your daily writing process as well and what you view as a successful day.
That rumor is true! Central Park is my main office and I like to think it's the greatest office a writer could have. I have a few spots there but my favorite is my tree, which perfectly contours to my back. I give it a shout-out in the acknowledgments of all my books. There's something about being outside in fresh air that gets my neurons firing and so from about April through November I'm either in Central Park, Gramercy Park, or Tudor City Park. During the winter, I write from the main quiet room in the 42nd street library with its beautiful fresco ceiling. It suffices.
I aim for about five solid pages a day when I'm really into what I'm working on. Sometimes it's less; sometimes it's ten or even fifteen pages on a great day. Sometimes I literally leave my body and suddenly hours pass. I go into the story, as weird as that sounds. That's when I have a really good day.
I'm a hybrid author. That is, an author who publishes traditionally and independently. I do it because I write a lot of material and no way a traditional publisher is going to put out all those words. Right now you are predominantly traditionally published, yet you write every day, which means a serious word count. Do you anticipate a time when you will start your own independent label to handle the overflow and/or to please your fans who can't get enough Goldberg in their lives?
I'm thoroughly impressed with your output, Vince! I write a lot and fast, but I think you're the fastest writer I know and publish multiple books every year. This year alone you have The Corruptions, Moonlight Gets Served, Dressed to Kill, and two books in the Chase Baker Series. That's crazy impressive.
Right now, I'm dealing with overflow. I have a few novels that are already done, but it's impossible to sell them all at once. So there might come a time that I might want to start an independent label, but I'm not there yet. I'm also getting into screenwriting and TV writing and enjoying alternating between the two. So for the people who can't get enough Goldberg in their lives, they should be satiated!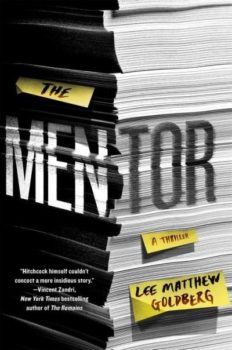 Since the two of us are working on a TV pilot that reimagines Norman Mailer as a P.I., how has screenwriting affected your prose style?
It's been so awesome to collaborate on our pilot The Monster and Mailer. It's about the underbelly of 1950s New York City as our fictionalized Norman Mailer attempts to fix his writer's block by becoming a P.I. while partying with the likes of Truman Capote, George Plimpton and others in the literary scene. Screenwriting has definitely had a huge effect on my writing style. It's helped pare down my prose and focus on story and plot first and foremost. Sentences that make your heart ping are certainly important, but more and more I find that when the plot isn't unique and engaging, I lose interest. Writing both prose and screenplays really keeps me from getting bored.
I know you work on a lot of projects at once, so what else are you working on now, and how can readers get in touch with you?
In addition to The Monster and Mailer, I've written a script with my good friend Margot Berwin that's a sci-fi take on the disappearing Malaysian flight. And an action script that's a John Wick/Predator hybrid set in the future with a Trump-like villain as president. A lot of that one came from my anger at what's happening to our country right now.
With prose, I have two books in a thrillogy called The Desire Card about a card given to elite clients that promises "Any desire fulfilled…for the right price." The first book is from the point of view of a Wall Streeter who contacts the card to get a liver replacement, the second is from the point of view of a ex-Army guy who works for the Card and decides to quit after some of the desires people request become too immoral.
I've also been working on a series of books about a cult in the Ozarks with a sci-fi Twin Peaks tone. And two YA books, one about a time-traveling teen detective and another about a runaway girl in the '90s set against the backdrop of the grunge music scene. I just finished a draft of my '90s girl book, but it still needs work. I grew up with that music, so the research was a lot of fun.
You can follow me on my website leematthewgoldberg.com or @LeeMatthewG. I love hearing from readers, so I definitely encourage anyone to hit me up!
Thanks so much, Vince! Great chatting.