A refuge is a safe shelter and a refugee is driven by a well-founded fear. These definitions are especially relevant for women in a time of war, and artists with the calling to tell their stories. Writers seek refuge too: hidden, harmless spaces we can run to and indulge our creativity. Time-outs from life to make art and hear our voices. So, who better to tell the necessary and urgent stories of immigration, migration, and witnessing than debut authors with roots in trauma brought together by a residency? Perhaps now more than ever we need novels like Fruit of the Drunken Tree (Doubleday), by Ingrid Rojas Contreras, and If You Leave Me (William Morrow), by Crystal Hana Kim, while the world seemingly burns around us. Literature should unsettle us, pose provocative questions, and expose us to lives and cultures beyond our own. It's up to us as readers and citizens responsible for the answers.
Crystal Hana Kim holds an MFA in Creative Writing from Columbia University and an MS in Education from Hunter College. She has received numerous awards, including PEN America's Short Story Prize for Emerging Writers, along with fellowships and support from the Bread Loaf Writer's Conference, the Jentel Foundation, and the Fine Arts Work Center in Provincetown. Her work has been published in or is forthcoming from The Washington Post, Literary Hub, Nylon, and elsewhere. She is a Teach For America alum and has taught elementary school, high school, and collegiate writing. She is currently the Director of Writing Instruction for Leadership Enterprise for a Diverse America and a contributing editor at Apogee Journal. Born and raised in New York, she currently lives in Brooklyn with her husband.
Ingrid Rojas Contreras is an award-winning author who was born and raised in Bogotá, Colombia. Her essays and short stories have appeared in the Los Angeles Review of Books, Electric Literature, Guernica, and Huffington Post, among others. She recently received the Mary Tanenbaum Award for non-fiction, and the Audio Miller Prize from the Missouri Review. She has been a fellow at Bread Loaf Writer's Conference and the San Francisco Writer's Grotto, and has received scholarships and support from VONA, Hedgebrook, The Camargo Foundation, Djerassi Artist Residency Program, and the National Association of Latino Arts and Culture. She is the book columnist for KQED, the Bay Area's NPR affiliate. She has taught at the University of San Francisco, and currently teaches writing to immigrant high school students as part of a San Francisco Arts Commission initiative bringing artists into public schools.
Interview:
Melissa Scholes Young: Let's pretend we are back at the beach in Cassis, France, where we all met. We've spent our mornings writing, revising, and wrestling the manuscripts that will become our debut novels. Set the scene first. How did we get here? 
Crystal Hana Kim: I can feel Cassis calling us, Melissa and Ingrid. But yes, let's set the scene. We were each recipients of a Bread Loaf Bakeless Camargo Residency Fellowship, which provided us a month-long stay at the Camargo Foundation in Cassis, France. On our first day, we discovered Le Bestouan, the stone beach a thirty-second walk from our apartments, and that became our unofficial gathering spot. I think we spent a part of everyday together on that beach, most often swimming and talking through what we had written that morning.
You know, I was smitten with you both during this time! I was a bit newer to the novel-writing process and I knew so little about the publishing world. You were both so helpful, supportive, giving.
Ingrid Rojas Contreras: The first thing I remember is that I arrived in Cassis with a large suitcase, and met Melissa at the airport. Melissa had a small carry on! We got on two trains together, and my suitcase was so heavy, Melissa had to help me get it on the train car. So the scene of Cassis begins for me with some embarrassment—and relief, since I had wanted to bring along a typewriter, and judged that idea to be ridiculous. We met Crystal. I remember the first sight of Le Bestouan was glorious—the blue Mediterranean, the soft breeze—and someone said we should go there every day for a writing break, and we did. I was in love with everything about Cassis at that time—the wine, the struggle of writing, the release of floating in the cold water—which Crystal initiated me on.
Crystal Hana Kim: Yes! I made you and everyone swim with me. I was addicted to swimming every day, no matter how cold the water was.
Melissa Scholes Young: I have a recording on my phone of the sea washing through those rocks. Listening to it helps me prepare for the page. Why are residencies and retreats necessary to the writing process? What about nature fuels writers?
Crystal Hana Kim: I love this idea and want to steal it immediately, Melissa. I've always been drawn to the sea, so the Camargo residency was particularly rejuvenating and productive for me. My family categorizes people into elements—fire, water, earth, wind. Do you do this? I'm a water person; I seek oceans, rivers, ponds wherever I go. I love residencies in rural, remote areas, regardless of whether or not they're close to water. When I'm at a residency, I can set aside my job and the requirements of daily life for a period of time. I can relinquish myself to my writing, my characters, the world of the novel. Nature stills me while also reminding me of how vibrant and fluid the world around us can be.
Ingrid Rojas Contreras:  I have a video recording of an ocean-side cliff being revealed and obscured with fog that I love to look at. Maybe this means I'm a water person too! Or is it air person? Sometimes I look at this video to feel like I'm somewhere else. It helps with writing. Maybe it's the mental voyage to a far-flung place, far away from the usual things that tug at our attentions, that makes me feel more connected to the page. I love residencies with abandon. Whether they're in a city or by a beach, they are a prime time to come back to a more body-oriented understanding of the world which in turn makes it possible to take leave of the world and dive into a reality entirely of your own making.
Melissa Scholes Young: Your books share so many themes urgent in the world: migration, immigration, the experience of women in war, cultural crossings. Where did your stories begin?
Crystal Hana Kim: I loved seeing the similarities in our books, Ingrid, especially in the way we explore how girls and women are shaped during times of war. I wonder if our time in Cassis opened a portal between our brains… If You Leave Me started with my family. All four of my grandparents survived the Korean War, as did some of my elder aunts on my father's side. I grew up hearing a lot about Korea's history my maternal grandmother, who I'm very close with. Her stories always stayed with me.
Ingrid Rojas Contreras: A portal must have opened! Perhaps it's the one that brought us together—is it a love of grandmothers and women's stories? Fruit of the Drunken Tree began for me from personal experience and a life-long interest in how women navigate a territory stacked against them. My family survived the civil conflict in Colombia, but I wanted to explore the privilege of migration—one of my characters has the luck of receiving asylum in the U.S., and the other does not.
Melissa Scholes Young: You each write from multiple points of view but the focus returns often to the experience of witnessing. Tell us about the parallel and intersecting experiences of Chula/Petrona and Haemi//Solee and how their relationships to each other and the violent worlds around them shape their characterization.
Crystal Hana Kim: I'm interested in intergenerational trauma, how the effects of violence can reverberate for years. Haemi is a teenager when the Korean War begins, and she is willful, smart, defiant. The conflict's sudden violence and the social expectations expected of Haemi whittle her down through the years. Solee is Haemi's daughter, and by writing in first person, I wanted to accomplish a double witnessing. First, Solee witnesses her mother and is often left without a clear understanding of her mother's seemingly inexplicable actions. Second, I wanted the reader to witness Haemi's transformation through the eyes of her young daughter, who has not suffered through the war, who has no way to understand the trauma that devastated a whole generation.
Ingrid Rojas Contreras: That's so fascinating, Crystal. I love the words you use here—double witnessing. I too wanted two characters who loved each other, but could not fully understand the other. In the case of Fruit of the Drunken Tree, Chula's middle class home shelters her from a reality lived by the rest of Colombia. Petrona, who is a young girl living in guerrilla occupied territory, lives that reality. As I wrote their relationship that begins from an irredeemable place of power (Petrona comes to Chula's home to work as a nanny), I became aware that they spoke different languages and that their common ground was the love and care they shared for each other. As I dipped into their different points of views, it became clear that this lack of being able to live in the same reality would tear them apart, and by consequence, everybody else around them.
Melissa Scholes Young: You both write from places you think you know and families and cultures you've grown up between. I'm sure there was research involved as well. What did you discover that surprised you and how did it change the story?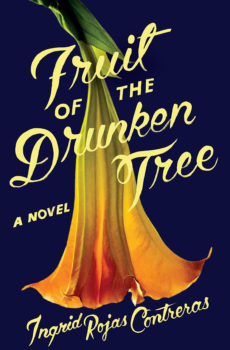 Ingrid Rojas Contreras: I love research so much. I got to do a lot of research on Pablo Escobar, who exists in the novel as a sort of looming specter. I was surprised/creeped out/fascinated to find out that there was a prayer he carried in his wallet. It was strangely poetic, and maybe something that someone had penned for him. It's a prayer for disappearing: Make me light when it is shadow, it says. The more I thought about the prayer, the more it spoke to me about a desire every immigrant has. I wasn't expecting that. The other aspects of research involved a lot of political disentangling—even as a Colombian who grew up there, there were a lot of complex aspects to digest. It was interesting to build a solid understanding for myself of what was going on in 90s Colombia, and simplify and even confuse it in the eyes of Chula, who as a young girl, is often missing the point.
Crystal Hana Kim: That prayer is so fascinating, Ingrid! I did quite a lot of research for my novel too. At first, I wanted If You Leave Me to be a story about the Korean War from a woman's perspective only, so I didn't have Jisoo and Kyunghwan narrate their experiences about fighting in the war. But the more I researched, the more I realized how little America knew about this period of time. Did you know The Korean War is called The Forgotten War here? So one surprising decision I made was to expand the scope of the novel to include Jisoo and Kyunghwan's stories about the war. I'm so glad I did this because I think it allows the reader to trace all three characters' lives in the following years; I hope the novel shows how three distinctly different personalities reacted, resisted, and reformed their identities after the war.
Melissa Scholes Young: What questions do you each want to ask the other?
Crystal Hana Kim: Ingrid, who came first, Chula or Petrona? How did you decide to structure the novel in the way that you did, so that Chula is our grounding narrator but we get glimpses of Petrona's life?
Ingrid Rojas Contreras: The earliest thing I ever wrote came in Petrona's voice. But I quickly came up against the problem that since she is the agent of change in the book, if I remained in her point of view, the story would be revealed too quickly. I experimented with Chula's voice from there. At some point I was convinced that Chula's voice should be the only voice. In the end, I came to the realization that the narrative needed both. I loved writing Petrona's chapters but they took a lot out of me. The glimpses were devastating. And even though they are brief, they felt to me ever expansive in a way that Chula's were not.
Crystal, I have always wanted to know about your process. How do you write?
Crystal Hana Kim: In the beginning, I thought I was writing an interconnected short story collection. I came to Solee and Haemi's voices first and then I added the two men in Haemi's life, Jisoo and Kyunghwan. Once I decided that my project was actually a novel, I tried to write in chronological order. I knew what the beginning and the end would be, but I had to figure out how to move the reader from point A to point B. I loved delving into each character's mind, of stitching their voices together to create a complete story.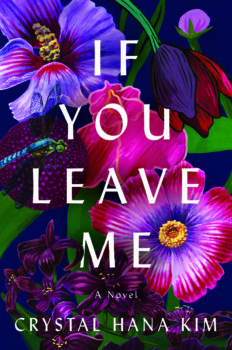 Melissa Scholes Young: Who were you reading while writing? What authors/stories were guides/inspirations?
Crystal Hana Kim: I read voraciously throughout the years-long novel-writing process so it's hard to name only a few authors or books. I remember reading Toni Morrison's Beloved. Michael Ondaatje's The English Patient. Lily King's Euphoria. Louise Erdrich. So much research. Poetry. Did I tell you I discovered this anthology, Contemporary Korean Poetry, published in 1970 and edited by Won Ko, in the Camargo Foundation library? The poems were divided into two sections: written before and after the Korean War. These poems were revealing, moving, informative. It was so fortuitous and magical that I found this book, as if Camargo knew what I needed and willed me to that particular shelf in that vast library. One of the poems I found, "Hope," by Chon Pong-gon, even became the epigraph in my novel.
Ingrid Rojas Contreras: I never read anything too similar to what I'm writing. I was in the habit of reading Shakespeare every night before bed while writing this novel. There were books that I thought about as I was writing. Arundhati Roy's The God of Small Things had been a favorite book for a long time, and of course House on Mango Street and Caramelo, by Sandra Cisneros.
Melissa Scholes Young: Finally, when can we run away together again? And where should we go?
Crystal Hana Kim: This may sound unadventurous, but I just want to go back to Cassis! We'll pick up wine and pastries, bring our published books and new writing projects, and lay out on those dark stones until we're heated through and bleary with sleep. We'll dip into the ocean and then dry off, go write again in our little rooms. Can we do that?
Ingrid Rojas Contreras: Not unadventurous at all! I think we should all go back to Cassis. Think of all the hours we can spend writing and sunning ourselves and swimming? Think of the great Camargo library with all those pristine Oxford English Dictionaries. Let's please do all of it. We can have our weekly meals and go to the market and drink all the wine, just as before.