When I first moved to Boston and began attending literary events, I noticed a striking woman who seemed to be at all of them. She was statuesque and ageless, with long white braids piled on top of her head, blue eyes twinkling and, at the same time, penetrating behind wire-rimmed glasses. Reserved, but appeared to know everyone. Usually in jeans, wool socks, sneakers, and a sensible Oxford blouse. Extraordinarily good posture. Who was she?
She was, I came to know, E.B. Moore, a poet and a prize-winning metalworker, and part of the Grub Street writing community. And she'd recently been accepted to Yaddo to work on a novel based on her Old Order Amish ancestors (she herself grew up Quaker) who broke from their tradition to head west by wagon trail and mix with outsiders, to disastrous result.
These days, to my good fortune, she is, to me, simply Liz, a dear friend and writing-group member whose debut novel I get to cheer out of the gates this month. I love her lyrical and spare writing—she delights and surprises me constantly with her observations and turns of phrase. Among my first hints that this self-contained septuagenarian held unexpected gem-seeds of rebellion was her essay "Baby Boomer Warns Women." In it, she playfully but resolutely urges women to protect their time and dreams rather than succumb to the cult of perfect laundry:
Beware the sneaky creature polluting your habits, attacking your time, the destroyer of liberty and libidinous thought….the good girl. You can't be nice to the nice, to the one who wields guilt like a sword. You must tie her and gag her, garrote her and take what you need. Even garroted her head will shriek from the floor, "You'd abandon your family?" She's a siren, so stuff your ears, cover your eyes when the family sweatpants march on their own, remember your loved-ones who master a Wii can easily program a washer; and never fall for puppy-eyes, the helpless shrug when they can't find an app for that vacuum.
I caught up with Liz a few weeks before the publication of An Unseemly Wife (Penguin/NAL) to chat about the interesting place in which she finds herself: speaking out creatively, publicly, about one's own roots, when a core tenet of that upbringing is to be understated, modest, and not draw attention to oneself.
Interview:
Nichole Bernier: What inspired you to take your own and your parents' experiences growing up Quaker in Pennsylvania and turn to fiction?
E.B. Moore: I live in the city now, but continue to miss the farm where I was raised and wanted to use those memories to bring "Ruth's" story to life. She is based on my Amish great grandmother, a woman whose strength and perseverance have been an inspiration to my family. My mother wasn't from the Amish community since her parents were shunned (this might be another book) before she was born. They lived in Harrisburg. Fortunately for me, my father, a Quaker, took her away to a farm at the eastern edge of Pennsylvania. We worked a lot like the Amish did, except for more modern conveniences, each family member taking their part raising sheep, pigs, chickens, guinea hens, pheasants, and boarding horses. After my father died, we weren't forced to leave in a covered wagon the way Ruth was, but the uprooting has stayed with me, giving me empathy for Ruth's experience.
Although my mother told the story often, she wanted to write the story as a warning to me and my girls, but a brain tumor took her memory before she found time to do more than jot a cryptic list of incidents. My rendition started as a chapbook of poems called New Eden, A Legacy  (Finishing Line Press, 2009). The poems served as a skeleton, touching on my great grandmother being forced to leave everything she loved in Pennsylvania and her struggle for survival as the family trekked west in a covered wagon. People who read the poems kept asking for details. The idea of a full narrative horrified me: too long, I'd get lost, besides, I didn't know the details. That stopped any thought of writing a history. But I joined Jenna Blum's Grub Street novel class and in a matter of weeks became addicted to writing fiction.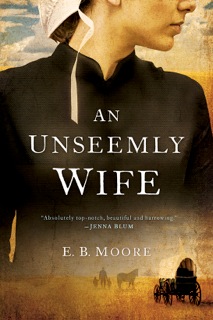 I love that fear of "getting lost" in a big, wild, unwieldy novel, which is a pretty good metaphor for your relatives' journey, isn't it? Let's start by talking about the title, and all the richness it implies. What makes Ruth—an Amish wife and mother—"unseemly?"
From the beginning, Ruth's resistance to her husband's wishes makes her unseemly, even in her own eyes. A wife obeys. But Aaron's search for free land in the west put body and soul at risk, and not just his, but the children's as well. If the community knew he intended to break the rule of staying separate, they'd most likely forbid the move or possibly shun him. Nevertheless, she holds his secret while continuing to fight departure. Her unseemliness gets worse on the trail where she witnesses violence and succumbs to friendships with the dreaded English. And worse yet, their lives in the balance, she rethinks her lifelong beliefs.
There's such a public fascination with Amish and other old-order cultures that keep separate and eschew modern luxuries. Why do you think that is?
For me the fascination centers on their inner calm and the simple ways of farming life. It's an ideal I yearn for, but underneath, I know, farming is exhaustive work, and when you add a lack of modern machinery, as well as a commitment to the community on top, it's even harder. For most people today it would be nearly impossible to conform to the group and never show true individuality or strive to get ahead.
In our era of electronic over-communication, and with terrorism knocking at the door, people like to go to Lancaster and see that it's possible to divorce from the mayhem. The Amish life is exotic to behold and comforting, a little like going to a habitat zoo to watch the slow march of elephants cropping grass with their trunks and blowing dust over their backs. The Amish are kind enough to tolerate the intrusion; they're a very forgiving people. But I found it embarrassing to be a gawker, standing in my jeans among the short-shorts and T-shirt-wearing gum chewers, as I collected visual details for the book. I headed out as fast as possible, following Ruth's route west to Pittsburgh.
You've had many forms of creative work, including poetry and metalworking. Can you tell us about some of them, and how—if at all—they led and contributed to being a novelist?
On the farm, working with the rhythms of birth and death, gave me a love of animals and land along with an appreciation for tools. Once I moved to the city, this led to a career in metal sculpture, and a short stint as an EMT working the night shift. But like farming, these jobs take a toll on the body, and I was forced to retire in my fifties. I mourned the active life until it started leaking out as narrative poetry. Then I dove head first into the novel.
What has been the most challenging aspect of plumbing your family's own history? Have you felt that your elders were looking over your shoulder, intoning some admonition against exposure, hubris?
One plus for writing about the long dead is it's hard for them to complain. Still, I could hear my grandmother and great grandmother spinning in their graves as I eked out the sex scenes. I had to remind myself, they needed the exercise. Besides, this book is no Fifty Shades of Gray (so fans, don't get your hopes up), but for my relatives it may as well be.
The most surprising discovery came as I questioned my uncles and cousins, hoping for more details (not on the sex part). It turned out that reports of my great grandmother's unseemly resistance to her husband's demands—to leave the farm she loved and put herself and her children in danger—came down only through the female side of the family. I shouldn't have been surprised. Early on, men would have seen her message of think for yourself as reactionary, a message that would undermine a husband's authority and should be eliminated. Even my brother had been left in the dark. My son, on the other hand, knows all.
Not to mention book promotion, publicity, and public speaking—all of which require tooting your own horn in a rather unQuaker way.
On that note, what parts of your upbringing would you say you've shed, and which parts have stayed with you?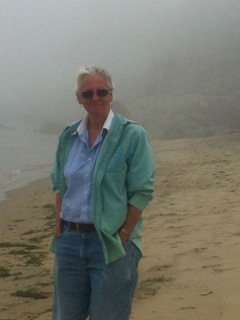 Being raised Quaker, where silence is a restorative virtue, has had its influence. I went to a Quaker grade school too, so I got a double dose. Add to that spending the rest of my time working with animals and very little time visiting friends, socializing didn't tend to happen. Listening to what nature offered fed me well, but didn't get me prepared for life in the city, which I resisted vigorously. So you can imagine, tooting my horn doesn't come naturally, though as a kid I drove my mother crazy blowing a World War II bugle. She stopped the noise by wiring the bugle into a lamp, while my father enforced the prohibition of personal display by saying, "Fools' names and fools' faces always appear in public places." My tendency is to hide under a rock, but this publishing game isn't played that way, though I expect he would understand. After all, he had discrepancies too; as a cavalryman, he was a gun-toting Quaker.
For your first essay for Beyond the Margins, you wrote a fantastically lyrical and provocative essay urging women not to become slaves to the dust-bunnies, and to hoard and protect their independent urges and creative endeavors lest they be stolen too easily by household chores, etcetera. Would you say you heeded your own advice in those hands-on mothering years? Or was this a warning call from the depths of experience?
Definitely a warning call. I did the traditional wife and mother thing, focusing more on house renovation than cleaning. Dust-bunnies wouldn't stay dead, resurrecting at one end of the house before I'd cleared the other, so it seemed pointless to chase them. My three kids were in grade school by the time I enforced work hours in the studio. The kids thrilled me then, as they do now, so I don't regret one minute spent at home. I just wish I'd had your ability, the way you juggle a house, husband, five kids, a job, one book out, another on the way, and a presence on Facebook. After your second novel, maybe you should write a how-to book.
You are too kind. But let's just say I have a superpower-like ability to ignore my dust bunnies, as well as the laundry basket, dishes in the sink… But about your second novel on the horizon: you sold An Unseemly Wife to Penguin/NAL in a two-book deal. Can you tell us about the next one underway?
I'm in the final stages of another Amish novel. The book, based on my grandfather's early years, follows Joshua as he escapes his father's secret whippings and a fire that leaves them both badly burned. Joshua, eleven and alone, starts on a ten-year fight for survival as he descends into the underbelly of the American west, while his mother, at home on the farm, struggles to accept God's will: her son is dead. But questions haunt them both, and the answers force them to confront the unexpected snake in their Amish garden.
Have you written any novels or stories that aren't based on old-order historical fiction? What kind of subjects have piqued your literary interest, or could?
As I worked my way toward writing a novel, I wrote short stories based on people I knew who overcame displacement after a loss, a theme that will continue in my third book. It's set in current day and deals with dementia from the patient's POV. Despite the heavy theme, this time, I'll be coming at it from a lighter side.
It's not the most common thing to publish one's first novel at age 72. What would you say is unique about the experience—and perhaps even beneficial about having a few years under the belt?
For me, the great thing about being older was a voracious need to learn, which made going back to school a treat. Although I had to force myself to speak in class, I knew it would add to the learning experience. In school, when I was a kid, panic would set in. Dyslexia had not been identified, so no one knew that letters and words on the page traded places making reading torture. It helped when I eventually found out that Einstein was dyslexic. When I went back to school at Harvard Extension and then Grub Street, being the oldest in the class didn't matter. Letters and words still jumped around, but somehow excitement squashed the panic.
Age also helped dealing with rejections during the agent and editor hunt. My skin got thicker as well as more wrinkled, and I understood everyone has an opinion. Some people will like my book and some will hate it. I don't have to own the bad stuff. I can choose what criticism to accept and what to reject, though maybe you should check in with me in a few months and see if I still feel the same way.
Another benefit of having years under my belt comes in being content with joy in the writing process and the amazing community it's brought me. Publishing is a big platter of Baked Alaska following the meat course, and believe me I'm enjoying every spoonful.