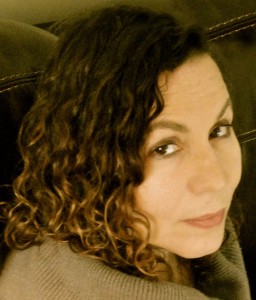 The Hypothetical Girl, Elizabeth Cohen's debut collection of short stories from Other Press, is obsessed with the world of online dating. What's astonishing is that you don't have to be in the slightest bit interested in online dating to enjoy these stories, stories at once hilarious, heartfelt, and (quietly, subtly) disturbing. Of course, if you ever have dated online—or dated at all—Cohen's stories will feel achingly familiar.
Each story, in one way or another, has to do with the peculiarities of online romance. As I read, I saw each story as a kind of date, a blind date to be exact, and the risks, I felt, were high: I could fall in love, I could get my heart broken—anything could happen, and, in these stories, anything does happen. This all makes for a breathless, exciting reading experience—or, if you're anything like me, a reading binge. I couldn't put down this book. I liked being privy (Peeping Tom-style, but without the weirdness) to the interior lives of women and men on the quest for love, in all its wild and unexpected iterations.
Cohen is the author of The Family on Beartown Road: A Memoir of Love and Courage (Random House, 2004), which chronicles Cohen's life raising her young daughter and taking care of her father as he struggles with Alzheimer's disease. It was a New York Times Notable Book of the Year. She is also the author of numerous collections of poetry, including What the Trees Said (2013) and The Economist's Daughter (2011). She is an Assistant Professor of English at SUNY Plattsburgh and she also regularly teaches fiction and nonfiction at Gotham Writing Workshop. She lives in upstate New York with her daughter.
We conducted our conversation via email, over the course of a few days. We talked about online dating (of course), Cohen's development as a writer, her literary upbringing, and her always complex, often ambivalent characters.
---
Interview:
Claire Skinner: Let's begin at the beginning. When did you know you were a writer?
Elizabeth Cohen: It depends what you mean by "know." I knew as a child that I loved to write and filled many notebooks with poems and song lyrics and stories and wrote a thing I called a novel when I was ten about a boy who steals the moon. I didn't identify myself as a writer, per se, until high school, when I was asked to write something to go inside our annual school yearbook and I wrote a book length poem about our school, filled with little secrets only the students would know. In college I became a reporter for the school paper and the editor of the college literary magazine, Conceptions Southwest, and by then I had married the idea of a literary life.
"Married the idea of a literary life." I like that. Speaking of which, I'm wondering: what was your idea of a literary life during college and soon after? Did the eventual reality differ from the idea itself?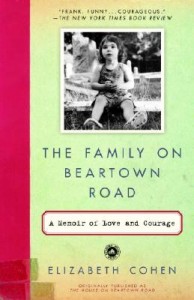 In college I had a very romantic idea of a "literary life" that went with a larger idea of being an artist. I was in a big and really rich group of artists at the University of New Mexico—filmmakers, painters, sculptors, photographers, dancers, musicians, and writers. And we were all very close, and had frequent art shows, openings, concerts and performances, etc. It was a very fertile artistic time and gave me this idea that there would be an artistic life that would consist of creation and creativity, 24-7. I took that idea with me to Philadelphia and later, New York City, where again I had many friends who were artists and writers and we attended frequent readings and openings and events. My life changed when I married, had a baby, and moved to a remote farm. Soon after, I became the custodian of my father, who was sick with Alzheimer's disease. It was like reality kicked in, hard. The literary life went on hiatus. I could not vanquish it completely, but it became a clandestine activity, done in the cracks and spaces between other day-to-day required tasks. The romantic part of it died. It became a survival thing for me, then. I wrote to keep going. To keep myself from giving up.
Which authors inspired you in your early writing years? Why?
As a child I was inspired by the poet A.E. Housman, whose book, A Shropshire Lad, was given to me by my father. I was inspired by my mother, who recited Emily Dickinson poems to me and by children's fantasy books by Lloyd Alexander, read to me by my father. I loved the book Harriet the Spy, about a girl who is a detective, but is actually a writer, taking crib notes on everyone and everything that goes on in her neighborhood. I actually made a belt like hers, with a notebook, pen, flashlight, and other "spy" accoutrements and snooped a bit.
I have to ask: during your Harriet the Spy snooping period, did you discover anything especially thrilling—worth writing about?
Yes! I did extensive spy-research on my next door neighbors, the Jillson family. I actually witnessed their youngest son, Craig, fall out of a tree and break his arm. I went for help and spent hours later taking copious notes on the incident. I had deep suspicions about another family down the street, the Romeros, who seemed to get a lot of packages. What was in all those packages? I had theories.
Your parents sound extremely significant in your reading and writing life. Could you describe their influence?
My parents. Yes. They were old school intellectuals and literary people themselves. They attended readings, lectures, and concerts and had frequent cocktail parties with other professors and intellectual types. They got the New Yorker and read parts of the articles aloud to one another. They shared the Sunday New York Times with two other families—they would each read it and pass it on, thus avoiding what I suppose was seen as the high cost of it (they were also very frugal, Depression kids grown up). So we didn't get it until Wednesday. But they read it, every section. Even the real estate section, and then—here is the important part—they talked about it. They had discussions. My mother did the Sunday magazine crossword puzzle in pen. That was a huge point of pride for her.
My father was an economist and wrote text books. When I told him I wanted to be a poet he seemed a little upset and discouraged me, it concerned him. But he still got me poetry books whenever he traveled (when I was very small it was dolls, later books). He asked me to pick out my favorite poem when he did and then tell him why I liked it.
It was often hard work being the child of these two people and it was not a perfect life, for sure, but there were times when it was fun and beautiful, feeling like you were in this nest of intellectual vigor, and it felt like a responsibility, too, to carry on the reading/thinking culture of them.
My father brought me to Israel and introduced me to Golda Meir when I was thirteen. My mother took me to a fund raiser for Shirley Chisholm, whom I also met. Most people don't remember her but she was a black woman who was actually a real candidate for President when Hillary Clinton was probably in high school. You could say my parents gave me a lot of writing fodder.
If you could travel back in time and give advice to your younger writer self, what would you tell her? (I ask this question in part for selfish reasons. I am a youngish writer, hungry for writerly wisdom.)
I would tell my younger self, "Don't believe them when they tell you 'a poet is not an actual profession,'" and that I needed to "major in something solid in college, like anthropology." Seriously? Anthropology?
How did you learn to tune the naysayers out and get on with the business of writing?
I saw all these great books around and knew someone had written them and so I KNEW it was an actual job some people had. And why not me? My parents had empowered me with great self-confidence to follow my dreams, and I guess that gave me the ballast to follow this writer-thing through. I just kept at it.
You write fiction, memoir, poetry, essays.… Do you identify primarily with one genre in particular or not? Do you find that the differing forms influence each other in unexpected ways?
I see poetry in my essays and narratives in my poems. In my book of short stories I sometimes felt like an investigative journalist of love. For me genres are arbitrary categories the world imposes on writing. I try not to get caught up in which or what I am writing or what to call it.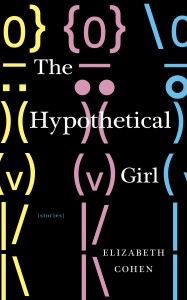 In one way or another, each story in The Hypothetical Girl focuses on the trials, tribulations, and sudden joys of online dating. What about the world of online dating piqued your interest as a writer?
Each person who goes on must craft a narrative summarizing or representing their lives. These stories are rich veins of material for a writer; I felt like I fell into a soup of stories. I was fascinated by each and every profile, it didn't matter whether the person was appropriate for me or not. My inner snoop, my inner anthropologist, was engaged.
One of the delights of reading the stories in The Hypothetical Girl is how closely you chronicle every small, breathless step of early courtship. (Has he emailed me back yet? What should I wear on the first date?) However, what comes after courtship—a breakup, a marriage, etc.—is less explored. Why did you decide to focus on the early stages of dating?
The sense of hope, the power of imagination at that stage, the way people actually invest in the nebulousness of an unknown person is just so interesting to me. One woman I met said she met someone, flirted with him, talked about their life dreams, got engaged and were involved—daily talking—several times, and then a "break-up," and it seemed like the stages of a whole marriage—this in the course of a week with a person she had never actually met. I find that hilarious and fascinating.
I was surprised and thrilled to see the heart—the actual organ—appear in the story "Heart Food." As an "investigative journalist of love," it makes sense that your investigations would lead you to the real heart itself, thumping and red and full of feeling. Tell me about how the heart made its way into this story.
"Heart Food" is one of four magical realist tales in The Hypothetical Girl. In this story I decided—on a whim—to have a woman speaking and even arguing to and with her ACTUAL heart. It is meant as a metaphor for the ways in which we go back and forth and argue ourselves into and out of love, but in this case, she is actually arguing with her heart. And the heart starts out sweet and later becomes a bit of a terrorist. Once I got that heart out of her, and capable of speech, there was so much I wanted these two to say. You have no idea how fun this was to write.
In "Limerence," you follow Larry and his obsession with Louise, a woman he briefly dated, and in "The Man Who Made Whirligigs" you follow Al and his brief tryst with Blanquita. But, for the most part, the main characters in these stories are women. What particularly intrigued you about a woman's side of the dating story?
It is true. I have gotten some flack for not having more protagonists who are male, or GLBT protagonists. To this I say, the story really has to ask you to write it and if it doesn't—if you start out saying, "I need a story with a gay protagonist," for example—it just has a way of feeling artificial. These stories came to me in flashes, and the initial ideas often had me laughing out loud. I felt like I just had to sit down and write them. Some of the stories have third-person narrators, following a couple. They just came out that way.
I think it's important to make clear that these stories, every one, are exceptionally funny. Many times I laughed out loud. Why was it important that these stories—obsessed with love and heartbreak (love's dark twin)—also be so rich with humor?
Well, thank you. I really like that. Being funny is very important to me. I love to laugh. My daughter and I laugh at all kinds of things. We are just funny people. I often make myself laugh out loud, just thinking about something and I like writing characters who find themselves in ridiculous situations that are laughable. Or who are somewhat ridiculous. Also, this topic lends itself to humor. The utter seriousness and yet absurdity of seeking love via computer. It is just funny. To me.
As I made my way through The Hypothetical Girl, I noticed that the stories slowly become darker and darker (but not less funny). In particular, I'm thinking of "Love Quiz" and "Stupid Humans," which, taken together, are bone-chilling. Indeed, even though many of the characters in The Hypothetical Girl are trying to find their "happily ever after," the ending of this collection (spoiler alert!) offers no such sweetness. Could you tell me more about this aesthetic choice?
I wanted to make the stories grow darker as the reader progressed, to represent the way love can itself sour as it progresses, or the search for love can go off rail. I wanted to mimic what I see as the actual progress of the search for love, full of humor, dark humor and full blown tragedy.
I always find it bad luck to talk about what I'm currently writing (for fear of jinxing myself), but, since I'm so besotted with The Hypothetical Girl, I must ask: What are you working on now?
Yes, I am very superstitious as well which is why I won't tell you the working title. Suffice it to say it is a memoir. About not knowing who I am. Really, I kid you not.
---
Further Links and Resources:
For more on The Hypothetical Girl, please visit Cohen's website.
Win a copy of The Hypothetical Girl by Submitting your best, worst, scariest and most horrific 350 word love stories. Cohen will post the weekly best on her blog. The very best in each category will win a copy of her book.
Watch Cohen discuss The Hypothetical Girl, cyberspace, and online flirting.
---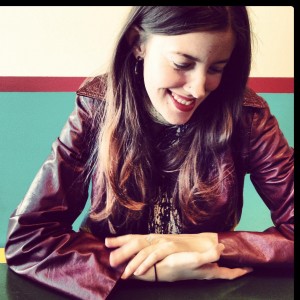 Claire Skinner is a Zell Postgraduate Fellow in poetry at the University of Michigan. She is originally from Virginia and now calls the Great North Woods of Michigan home. Her poems and prose musings have appeared in Prairie Schooner, Crab Creek Review, and other publications. She blogs regularly about poetry, feelings, and the writing life for Michigan Quarterly Review.