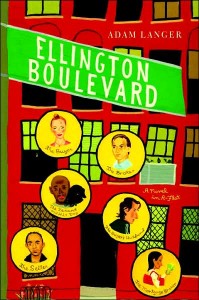 In a city of artists, where creation and revision are always the order of the day, New York real estate players can't help but get into the game. Sixth Avenue becomes Avenue of the Americas; West Harlem becomes Manhattanville; and, yes, West 106th Street becomes Duke Ellington Boulevard.
It's here that Adam Langer begins his story about the intertwined lives of New Yorkers. On its surface, the characters are united by the sale of the two-bedroom apartment where clarinetist Ike Morphy has lived for ages. After an extended stint out of town caring for his ailing mother, Ike returns home to learn that his landlord (who gave him a sweetheart deal if ever there was one) has died and his son, Mark, is selling Ike's apartment.
Enter Rebecca and her husband, Darrell (potential buyers), Joshua (the broker), Miles (Joshua's boyfriend), Jane (Darrell's would-be lover and Miles's friend) and you start to see what Langer has in mind. His is an interconnected story ala Traffic or Crash—but with artistic instead of social concerns at its heart. And, as in those films, the neatness with which everything ties together is both inauthentic and a useful creative device.
Langer's artist-characters will seem painfully familiar to anyone with a novel-in-progress, a half-painted canvas, or an unfinished song. Ike personifies just how easy it is to walk away from your art without ever making the conscious decision to do so. One day you put down your clarinet thinking you'll pick it up again tomorrow. Or next week. And suddenly a year has gone by and you've written no new music, played not one gig.
For Joshua, there is the awful truth that pursuing an acting career means living in a shitty apartment 140 blocks north of Times Square. It means routinely asking for money from his parents. It means reassessing just how much he's willing to give up to be on stage.
Then there is the perpetual writer's block Jane faces each day. Tenacious through and through, she routinely dumps words onto the page even though she has nothing to say. Her stories are mundane, merely recounting the minutiae of her day. If Jane were writing this review, it would likely be called, "So my friend is starting a website and asked me to read some book and review it." Jane, unlike Joshua, is financially secure—and Langer acknowledges, without ever stating it outright, that a trust fund, inheritance, or sugar daddy contributes mightily to a career in the arts.
Langer treats each creative challenge with care, respect, and humor, and he gives these characters the same gentle handling. His less creative creations, on the other hand, are treated less benevolently, suggesting something of a bias. Langer's least favorite character, for instance, is a grad student poser who lazily critiques the work of others without contributing anything himself. He is a two-dimensional stereotype; his dialogue is unbelievable and his choices are utterly reprehensible. The only thing I wondered about him was why his charming, smart, and talented wife (who, it should be noted, gets a pass on being creative because she loves, loves, loves books) is with him at all.
An important character in the book is, of course, New York City itself, especially Manhattan Valley, which is both breeding ground and sometimes-muse for many of the artistic endeavors undertaken in Ellington Boulevard. Langer clearly knows his way around the neighborhood and peppers his prose with real places both well known and tucked away. As someone who lives in the neighborhood, each name check was short hand for, at the very least, the geography of the scene. And these true-to-life locales sometimes offered more: I recognized Rebecca as someone who cared more for quality than familiarity when she chose Oren's over Starbucks, for instance. I doubt that many who live outside New York City or even below 96th Street would gain much from his name-dropping, though. While the authenticity brought by including real places cannot be denied, Langer misses the opportunity to give his reader an even more compelling sense of place. He provides few descriptions for these real locations, but too often he assumes familiarity on the reader's part, expecting restaurant and shop names to speak for themselves.
Ellington Boulevard is ambitious, absolutely: I haven't even mentioned the musical theatre framing device or the way several musicals seem to dovetail so nicely with its storylines. Rebecca and Darrell may as well star in The Last Five Years, not only because their union is so imperfect, but because Rebecca is hurtling forward while Darrell–in even the most generous terms–seems to be standing still, if not moving backwards. And with its focus on the challenges of being an artist in the city, the novel as a whole is Tick, Tick…Boom's kindred spirit. Langer tries to do quite a lot with Ellington Boulevard, and much of the time he succeeds. But there is just enough false dialogue (do you know any twenty-two year olds who use the word "doubloons"?) and a few too many neatly tied bows for this novel to wholly succeed.
Perhaps Langer, like so many Manhattan neighborhoods—at least according to the real estate brokers—needed one more revision.
Photo Essay: Scenes from Ellington Boulevard