As a citizen and interpreter of Philadelphia, Nathaniel Popkin brings his multiple talents—writer, editor, literary and architecture critic, and photographer—to the well-researched pages of his second novel, Everything Is Borrowed (New Door Books), as well as a knowledge of this city's past and present, and a loving concern for its future. Rather than conventional historical fiction, Popkin offers a challenging multi-layered hybrid of history and fiction, research and imagination. This is a scholar's novel, and a scholarly one.
The protagonist, Nicholas Moskowitz, is a long-time resident of Philadelphia. Once an award-winning young architect, he's now a solo practitioner with one employee, and only one pending commission: a mixed-use retail and residential building slated for a downtown parking lot. The property is in the neighborhood where Nicholas lived as a university student some twenty-years earlier. Many blocks of deteriorating 19th century buildings—residences, shops, and bars—have since disappeared, victims of intentional and unintentional destruction, blight, and urban renewal. Nicholas visits the site, behind deadline for the commission. He seeks out the house where he once lived and finds it for sale. The seductive overlap between his own past and the city's past, his present and the city's present, his uncertain future and the city's, triggers elegiac meditation on the losses inherent in the passage of time. He mourns lost buildings as well as the unfortunate ending of a student love affair with his housemate Eva. A pervasive vein of melancholy introspection continues throughout the novel.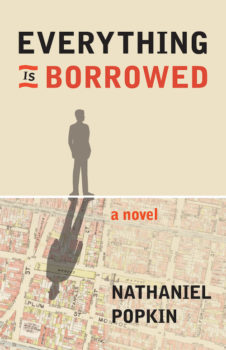 Perhaps due to being so caught up in the past, Nicholas visits the main city library and begins to research the site rather than working toward completing the design for the commission. Years earlier, in this same library, he'd researched the college paper that prompted him to pursue architecture. The familiar atmosphere of the library's "tomb air" reminds him of those first visits. The past "…drifts into the present like a dissipating cloud."
Over the ensuing weeks and pages, the library's tomb air seems to work on Nicholas like a gas leak; thickening rather than dissipating. He sinks ever deeper into preoccupation with the past, delving into maps, newspapers, and census data, much of which is presented to the reader, to advance the underlying historical narrative by accumulation. Through his research, Nicholas discovers a 19th century neighborhood resident also named Moskowitz─an immigrant tailor, accused of anarchy and jailed. Curiosity about the other Moskowitz's life, and the changes time has brought to their mutual neighborhood, the former Jewish quarter, pulls Nicholas deeper into research and memories of his student days. The commission stalls. He defers and procrastinates, ignoring pressure from his client and his conscientious young associate Nadia. There's double pressure with Nadia, unspoken mutual attraction. Increasingly she reminds him of his abandoned Eva.
So as the multiple pressures converge, the ambitious sui generis novel proceeds. And with its ambitious blend of history and imagination, the novel might be at home on the reading list for a literature seminar cross-listed with urban studies. I could imagine such a hypothetical seminar as a collaborative effort by the sociology, history, and literature departments. Jane Jacobs' seminal, classic alarm The Death and Life of American Cities (1961) should appear on its reading list. I'd also add one of my favorite novels, Penelope Lively's City of the Mind (1991), which plumbs layers of London history through anonymous ghostly lives disturbed by demolition and excavation as a skyscraper rises on Canary Wharf. Another candidate would be Jack Finney's time-travel romp through New York, Time and Again (1970). His well-researched, deceptively light page-turner (illustrated with photographs) is a bit of an outlier; more serious faculty might toss it off the list. But I'm sure that Everything Is Borrowed (clear cousin to Jacobs's and Lively's passionately intellectual work) would meet the academic test for adequate sobriety.
Popkin's novel is a restrained, chiaroscuro story about people as well as bricks and mortar. There is muted heartbreak in Nicholas's life, and in the life of tailor Moskowitz he imagines, connecting historical dots to flesh-out archival data. But the real heartbreak, the chronic sorrow in Everything Is Borrowed, is the passage of time: the tension between past, present, and future, the conflict between memory and action. Nicholas retreats and burrows into research; smothered by the spell of the library's tomb air. Exhuming the city's past and his own, he's paralyzed and somnolent, unable to proceed with his work, or his life; drugged by research and retrospect.
Nicholas's condition is a malady familiar to authors of historical fiction. The inviting rabbit hole of history's archives grows ever deeper, made even more enticing with the bottomless additional trove of source material available on-line. And Popkin knowingly conveys the magnetic pull of research, including many passages from real and fictionalized sources.
Ultimately, the novel raises the vexing question of narrative balance. What is the effective dramatic ratio between historical evidence and imagination for a novel? There's no one-size-fits-all answer; the equation is different for each author. Yet for me, the volume and precision of historical detail Popkin provides sometimes overwhelms and slows the story; just as Nicholas's preoccupation with research delays his work. So perhaps that seeming problem is in fact Popkin's ambitious and somewhat meta-fiction intent. The dense narrative does reflect and parallel Nicholas's dilemma.
Going a bit further, perhaps the author intends both Nicholas's situation and the narrative to reflect the urban dilemma of balancing preservation, meeting present needs, and creating for a sustainable future. Though Nicholas is the novel's spokesperson, the real protagonist of this novel is the brick and mortar city and its inhabitants; its real voice is the collective voice of neighborhoods and people. Everything Is Borrowed is a challenging, ambitious hybrid of scholarship and story; the author possesses a historian's rigor, a poet's sensibility, and a photographer's eye. Popkin clearly knows and loves his Philadelphia, past and present. He inhabits his subject, even writing himself into the book, strolling through the pages in occasional cameo appearances as neighborhood street-person, "the poet Popkin."
"…Just then the poet Popkin passes by. He seems deep in thought and untouched by the heat…I call out his name. Popkin is confused. He often seems this way, as if he's carrying on multiple conversations at once…I ask if he still leaves poems anonymously. 'Oh, they aren't anonymous,' he says. 'My name is on them. Maybe you mean the reader is anonymous to me—the silent reader.'"
Everything Is Borrowed is an intellectual lyric tribute to one city, and a general meditation on time and change. Nathaniel Popkin writes with gravitas and affection, for a certain collective, anonymous reader. You likely know who you are.