There is abundant heat in Jennifer Haigh's serious, fierce, new novel, Heat and Light (Ecco), an exploration of economic and personal imperatives and temptations on all sides of the fracking industry. The Pennsylvania native returns here to her fictional western Pennsylvania former coal town: Bakerton, a community of marginally sustainable farms above the alluring Marcellus Shale. Its depressed economy supports many bars, and a prison chock-full of drug offenders. Bakerton looks like low-hanging fruit for the fracking operatives who come to town to buy mineral rights and drill. And proves equally ripe for the academics and environmental activists who follow, zealous as tent revival preachers. Haigh takes no cheap shots nor easy sides here. Hers is a complex, ambitious, socio-political issue novel built on a deceptively simple, classic formula: a stranger comes to the door. And in her opening pages, a stranger does just that.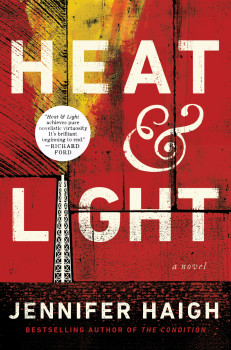 Haigh herself is no stranger to the territory of this story. Born and raised in a coal town, the author states in the opening pages of the novel: "Rural Pennsylvania doesn't fascinate the world, not generally. But cyclically, periodically, its innards are of interest. Bore it, strip it, set it on fire, a burnt offering to the collective need." Haigh mines layers of story here in a novel meticulously researched: historically, geologically, and sociologically. And as she bores into her story, she sets it on fire—the internal combustion of families squeezed between need and loyalty to land and ancestors, the heat generated by hope and seemingly easy money, and the burn of shame and anger as complications, consequences, surprises and disappointments play out.
And although the decline of local agrarian and industrial economies—the eternal double-edged promise and cost of harvesting natural resources for fuel—is neither a new nor a simple story, Haigh makes it fresh, relevant, and readable. Likewise, though this is a novel about a social problem, an economic dilemma, the issue is brought to life by characters on all sides of the fraught financial and moral quandary; Haigh presents no over-simplified white hats and black hats in her story. Instead, Haigh gets inside frackers, locals, and activists alike, finding flawed, warm individuals in all camps. In fact, one of her most sympathetic characters is an employee of the Dark Elephant energy company, who falls in love with a young widowed minister. There is also a charismatic environmental activist who manipulates and exploits. And the most complex and interesting of her rich cast, a local transgender farmer, is violent as well as kind.
There is less light by far than heat in the novel; much more sadness and suffering than joy. A story can end with characters living happily ever after but who would read or care about a story without sufficient conflict and pain? Haigh says this novel is about the world, and the world she chronicles, our world, is indeed in peril. But I must confess, as I read—and this is compulsively readable, beautifully written—I welcomed the occasional glimmers of light and ultimately wanted more of the moments where characters manage, if only momentarily, to find a precarious happiness. For me, the novel would have been even richer with more light to balance the darkness.
But that novel would perhaps be about another world, and tell a story other than the one Haigh set out to explore and so richly provides. This is a brutal but brilliant novel—reminiscent of a difficult, brilliant musical: Adam Guettel and Tina Landau's "Floyd Collins," the true 1923 story of Floyd Collins, a spelunker trapped in the cave he hoped to turn into a tourist attraction who becomes, by virtue of his predicament, a tourist attraction himself. Read this novel, and then listen if you can to "Floyd Collins." Not a bad pairing. Heat and Light is a morality play in modern dress without a simple moral, a social problem novel that brings Zola and Steinbeck to mind, written in a terse, clear prose—powerful and almost journalistic. Dark, sad, and beautiful.