Sequels are reunions—picking up where we left off, slipping back into a world peopled by familiar characters. We like something or someone, we want more. Witness the packed houses for Downton Abbey's return on the big screen. Sequels promise continuation, perhaps completion, weaving together loose ends. At their best, sequels can be reappraisals—a new way of understanding a familiar world. At worst, familiarity leads to formula—in concept, and in readers' expectations.
Formula is not what readers associate with Elizabeth Strout or from her Olive, one of the most distinctive characters in recent fiction. And happily, for the most part, Strout breaks away from the customary sequel tropes in Olive, Again (Random House), surprising us with the choices Olive makes, the consequences for her, their reverberations in her family, and the separate but parallel developments in the lives of her neighbors in Crosby, Maine. Olive, Again is in some ways—but not all—a surprising sort of sequel, just as Olive Kitteridge is a continually surprising person: blunt and gruff, but increasingly capable of both insight and empathy.
Interviewed by the New Yorker prior to publication, Strout said she was surprised when Olive showed up again, demanding to be written about: "apparently I was not through with Olive, nor she with me." Describing Olive as "a barnacle clinging to a rock," as inextricably of Maine as is the author herself, Strout suspects Olive resonates so strongly with readers because "she is very complicated—as most of us are—and her complications are so out there that perhaps people feel connected to her for that reason."
Olive, almost eighty when the book begins, is indeed a barnacle holding on as she endures the vicissitudes of aging—loss, ill health, loneliness. She's fierce, angry, and frightened, and by no means going gently into the night. Even so, as she resists and pushes back, she increasingly savors the transient mortal moment: "Every morning when she opened the door she was aware of the beauty of the world." And although she maintains her sharp edges and sharper tongue, she is aware of vulnerability, noting how "…oceans of terror rolled over her. Day after day she was terrified."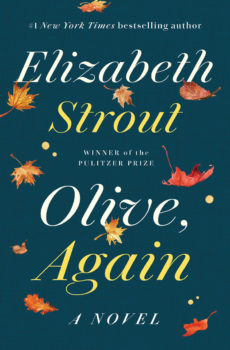 Yet despite Olive appearing in almost every story—often as the point of view character, though also in a supporting role, or sometimes merely making a cameo appearance—this novel in linked, discontinuous stories is not only her story. In fact, several characters appear from Strout's other books, such as The Burgess Boys and Isabel and Amy. The intended effect, one imagines, is a kind of unification of these worlds and lives. And while it certainly satisfies a kind of readerly curiosity to learn how things turned out, these re-introductions approach a stock sequel technique designed to let everyone take a curtain call across the stage, particularly as the revealed life trajectories trend toward almost-closure and tentative resolution, which risk papering over the deep layers of family and community history here, much of it dark: past and present abuse, addiction, and betrayal.
Perhaps because Olive is the grounding force of this book, or simply the sort of character whose constitution is inherently resistant to reduction, Strout manages to mostly pull back from the dangers of diminishment and too-easy sentiment that hover in the wings. Olive recognizes that the curtain is inexorably coming down for her, and will come down for everyone; we approach our final bow alone no matter how sparse or dense the supporting cast. As she says to a terminally ill former student, "…if you do die, the truth is—we're all just a few steps behind you. Twenty minutes behind you, that's the truth."
I hope now that Olive will leave Elizabeth Strout alone. A further sequel, or a prequel, might upset these well-earned insights, this balance of both evading and facing the end. Once, I drove through Aurora, New York. The town had been restored and redeveloped as a vision of early twentieth century Americana by a woman who owned a doll company. She had decreed the town be clean and shiny, returned to a nostalgic vision of another time. But there were lawn signs protesting, declaring "Keep Pleasantville Weird!"
Please, keep Olive weird. Let her remain the difficult, engaging woman whose complexity is matched only by the deceptively simple, gorgeous prose that created her. The novel's aggregate voice, told through Olive and the inhabitants of Crosby, is at its best guileless, spare, and truth-telling, stripped of cliché. Where else would daffodils blighted by snow look like "scrambled eggs?"
Olive, Again tells a collective story of personal connections and reconnections, against high odds. Olive's movement, and that of the other characters, is toward acceptance of imperfection, toward understanding and sometimes forgiving large and small betrayals and cruelties. Olive, her fellow townspeople, and Strout, hold out the possibility of change and repair, or at least maintenance, late in the day when "the world seemed cracked open and the extra light made its way across the stark trees, and promised…the gold of the last light opening the world."