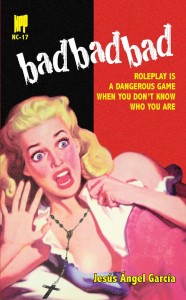 Jesús Ángel García (JAG) is both author and narrator of the debut novel badbadbad (New Pulp Press). Telling his story to a younger brother facing combat overseas, JAG complains of a heartless ex-wife who prevents him from visiting his young son. By day, JAG works as Webmaster for a charismatic Reverend and his conservative Southern church. By night, he raises hell with the Reverend's wayward son Cyrus. While JAG excels at both tasks, Cyrus ultimately proves more persuasive.
Their escapades start off as relatively good clean fun: late nights, bars, bourbon, drugs, pickup trucks, guns, and lots of music. But things change once JAG is introduced to fallenangels—an online network for singles with extreme desires. What starts off as a tongue-in-cheek diversion quickly blossoms into full-blown obsession, and then a kind of spiritual mission. Operating under a series of screen names, JAG becomes convinced that he can offer some brand of sexual redemption to the women of fallenangels.
Soon, JAG has a hard time keeping track of all his online "friends." The site crashes; he jeopardizes his church job in order to keep fallenangels alive. His overlapping online identities compete for control of his psyche. Cyrus and other flesh-and-blood friends disappear. The reverend turns attention toward political influence. JAG's hopes for a life with his son look more and more unlikely. In the book's final chapters, JAG crosses the line into violence and desperation.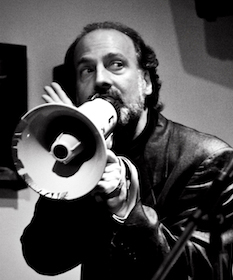 This novel is exceedingly good at what it does. Few writers in García's peerage could pull so many raunchy sex scenes so artfully. The narrator's eclectic love of music is palpable and endearing. Much of the novel handles both sides of rural America's cultural divide—reverend included—with balance and empathy. Cyrus—ostensibly a sidekick and minor character—is a beautifully rendered 21st century Southerner. In fact, I'd argue that one of this novel's greater triumphs is its refreshing vision of Dixie: finally, a piece of fiction that frees the South from those same tired, gothic tropes—what Barry Hannah called "the canned dream of the South…a lot of porches and banjos." While it's true that the Klan still marches through the streets in badbadbad, it must compete with a Gay Pride Parade across town.
badbadbad is not without its problems. The narrator's brother and son are both characters whose promise doesn't fully pay off. And though it's well executed, there's a lot of on-screen messaging—which, while it may be true to life, tends to grow tedious on the page. Most unfortunately, the exact nature of JAG's mission on fallenangels is never fully fleshed out; it never seems to be about salvation so much as getting laid.
Still, this book is fast, fun, irreverent, and unlike anything else in the fiction aisle. García's prose and imagery are well rendered and perfectly matched to his subject. Many of his scenes would turn zany and cartoonish in the hands of a lesser writer; his gift is the ability to describe excess with craft and heart. Totally fearless in its treatment of religion, race, sex, and rural America, badbadbad breathes fresh air into what sometimes feels like a stuffy literary landscape.
---
Extras