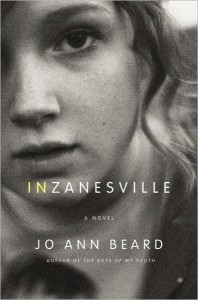 At one 2006's AWP panels, Margaret Lazarus Dean said something particularly provocative on the topic of writing adolescent girls in fiction. What she said, among other brilliant remarks, was that male-protagonist coming-of-age novels (The Catcher in the Rye, et al.) are often received as classics while female-protagonist coming-of-age books are collectively pushed to the sidelines and called chick lit or YA by publishers and critics. Why are young womens' stories treated as inherently less relevant? Would Harry Potter, for example, be as successful if J.K. Rowling had used her whole name and the protagonist were female?
How refreshing, then, to read a novel like Jo Ann Beard's In Zanesville, which she describes in interviews as written for a younger audience, but whose broad appeal transcends both gender and age. Indeed, short of Beard's interviews, nothing about this book suggests it isn't marketed for adults. Like the rare kid in school who is popular with all the cliques, In Zanesville can hang comfortably with anybody: the story perfectly captures the tenor of early high school without ever condescending to its characters or isolating its readers.
For one thing, the unnamed narrator is hilarious. Never cutesy or precocious, her dry wit and off-hand observations compliment a lyrical and authentic vulnerability. Her best friend Felicia (Flea) is – to borrow a term from Charles Baxter – an ideal counterpoint character. Their friendship is a reminder why everyone needs a war buddy in the trenches of high school. Whether negotiating the politics of a cheerleader sleepover, deserting marching band mid-parade, or cutting deals with God in order to effectively sneak out of her house, the plucky protagonist's voice is sharp as a tack. And though the material is beautifully age-specific (the bananas-and-mayo diner orders, the atrocity of Mom bras), the implications of time and place are significant and far-reaching.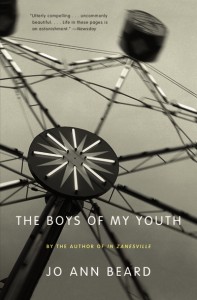 Set in a small Illinois factory town—perched between the rural obscurity of corn fields and the glittering architecture of Chicago, the landscape mirrors that in-between feeling the narrator experiences so acutely.
In addition, the tightness of Beard's prose undercuts any potential sentimentality of her subject matter. The opening and closing sentences of this novel struck me as the best opening and closing lines I've read in recent memory (the first and last scenes both take place around fire, a lovely symmetry). Each chapter starts and ends with killer one-liners. The same is true before and after the white space within chapters. This book, on top of everything else, is a craft lesson in precise, elegant compactness.
Beard, whose gorgeous and heartbreaking The Boys of My Youth also bridged a literary canyon—that between short stories and memoir—clearly understands that good writing tells the truth through whatever medium the narrative demands. And like a good friend, her work stays with you as you age, taking on new meaning and reminding you of earlier selves with each new stage of life.
Further Links and Resources
Read Jo Ann Beard's exquisite and tragic personal essay "The Fourth State of Matter" in the New Yorker archives.
Hear Beard read from In Zanesville in this NPR excerpt and interview.
Here's a lovely conversation between Jo Ann Beard and a former Sarah Lawrence student in The Fiddleback.
Pick up your own copy of In Zanesville.