"It's like an infestation of the mind, these fairy tales, the way they've taken root in the bodies of our people." —The Hour of Daydreams
On a bookcase in my daughter's room, nestled between Richard Scarry's Favorite Storybook Ever and a Time Life collection of stories about farms, are four well-loved pop-up books from my youth: Cinderella, Jack and the Beanstalk, Red Riding Hood, and Sleeping Beauty. Worn from so many years of reading, the bindings are broken and the cutouts don't pop so much as flop until they are pulled up into place again. While there's little to no truth in such tales of luck, love, or heroism, these books are a mainstay. Anglican theologian and poet Rowan Williams explains why when he says fairy tales and myths "are just about the only stories we have in common with which to think through deep dilemmas and to keep alive registers of emotion and imagination otherwise being eroded." They allow us to explore every avenue of experience without consequence, and through such imaginations, we reach a greater understanding of some common truth.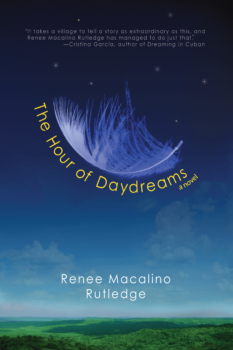 Renee Macalino Rutledge builds her debut novel, The Hour of Daydreams (Forest Avenue Press), on the bedrock of fairy tales, embracing myths prevalent in rural Filipino towns and using them as literary devices. Through vivid imagery and multiple perspectives, this story of a young Filipino doctor, Manolo Lualhati, and his wife, Tala, takes readers on a winding journey deep in the Philippine countryside, in and out of the real and the imagined, and unites characters in ways they might not otherwise connect.
We learn of duwendes, "grown men the size of toddlers" who "tunneled into burrows running parallel to the ordinary world." The evidence of such mythic creatures lies in certain crooked or questionable terrain in the country:
Duwendes' homes were said to rise from the earth in mounds or gape open from the knotty bases of ancient trees. . . . So the countryfolk were careful where they trod, paying their respects with the words 'Excuse me, just passing through, sir,' every time they walked passed a hiccup in the earth.
And if those simple words were forgotten and a person's luck changed in an instant—if they fell ill overnight or perhaps they simply vanished—the villagers blamed the duwende; they turned to the albularyos (witch doctors); they whispered of women with wings.
As a doctor, Manolo leans more on his own logic than mythical illusions, until he meets Tala and defies village norms by marrying the young and beautiful woman without knowing anything of her family or her past. From the story's prologue, we know that Tala has left—her daughter tells us outright that her mother "was just an ordinary woman who could not be strong for us, who left her own daughter motherless." The mystery surrounding Tala's arrival and her swift departure sets the village whispering. She was "a demon…an angel…a witch…a saint." And so, Rutledge lets us decide for ourselves.
Tala is not Manolo's first love, but she is the woman he discovers at the river on a day when he is willing to face death itself. As he approaches the shore, "superstitions of vampires, demons, bruhas, and the bewitched swarmed over the shadows." But Manolo ignores this danger and hides behind a grove of trees as he listens to and finally sees seven sisters floating in the water. Tala is the most beautiful and mesmerizing among them:
She stroked the water from every angel, kissing it with her lips, talking only to the waves her body generated.
Captivated, Manolo's logic fades, and he is drawn back into myth. He envisions Tala and her sisters as creatures with wings and decides he must steal Tala's in order to trick her into staying. Their encounter at the river is revealed by Rutledge first through Manolo's imaginative eye and later through Tala's own introspection. As the story moves between moments of fancy and that of fact, we see him fall for her, witness Tala's attention to him all the same. He loves her with great intensity, they marry, and she is devoted to him.
Her devotion and desire to set roots in the town as wife and mother drives her to wander the village streets, where she looks into the faces of those around her and envisions the life—no, creates new memory of one that she hopes will satisfy questions of her past:
So Tala built a city. The way a traveler piles the earth with footsteps, the heavier ones walls and ceilings, the lighter ones open doorways. . . . she watched the city rise, and out of that city, inhabitants sprang to life, filling the empty rooms and courtyards. Like her, these new inhabitants had no past. But Tala's city gave them each a face. Matter cannot exist without space, and given a sphere in which to live, the people claimed the validity of their own existence.
Her created life, complete with characters like a scorned woman as her mother and a desperate man as her brother, is so convincing that it may be real. And as readers, we wonder. But it doesn't matter. What she creates is a place where her past explains her present, so that she and Manolo can be together in "her bold begotten city, beautiful because of him, haunting because of the many truths that did not make a lie."
Rutledge's reliance on the diverse imaginations and mythical beliefs of the characters does not end with husband and wife. Manolo's parents pass on stories about Tala to her daughter, at first to build on "fragments of a real person" and later to better explain away pain or fear, uncertainty or regret, and to offer balm for the wound of abandonment. "Grandfather's stories freed me from emptiness without roots," Tala's daughter says.
Beyond the tight weaving of Filipino fairy tales throughout the story, most impressive about Rutledge's novel is her use of imagery to pull the reader into the mind of each character, so that we are not just reading what is sometimes the same scene on repeat but are seeing the same experience through a new and wider perspective. We gain insight into the way memory takes hold differently for every individual. And in conjunction with the spiraling effect she creates in a story falling from truth into myths and back up again, The Hour of Daydreams reminds us that no matter what story we tell, the truth remains, waiting in the shadows until we are ready and willing to face it.