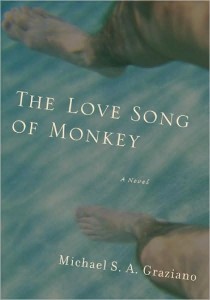 Michael S.A. Graziano's novel The Love Song of Monkey (Leapfrog Press, 2008) is a darkly comic yet irrepressibly hopeful story that disturbs as it charms; this novel may be slim in size, but like Dr. Who's TARDIS, it's dimensionally transcendental. I read it cover-to-cover during one day's subway travels, and its infusion of strange calm rescued me, for once, from commuter's rage.
After an experimental operation goes mysteriously right, once-terminally ill patient Jonathan finds himself at the bottom of the Atlantic Ocean, chained to a statue of Venus. He needs no food and breathes water like air. Bonus: He's immortal. Jonathan's meditations on love (namely his unfaithful wife, Kitty, who thinks the experiment failed) take him on a self-seeking adventure to the mid-Atlantic ridge and into a volcanic shaft. Back on land, he becomes a demon statue, a nimble thief, and a super-hero, making his patient way back to human connection.
In the book's title, Graziano alludes to T.S. Eliot's "The Love Song of J. Alfred Prufrock" and to the 16th-century Chinese classic Monkey: A Journey to the West. I learned about the second from the author's own comment on a Goodreads post where another reviewer-reader and I shared concerns about the title. (My position: I'd loved the title and the book, but I couldn't make sense of the connection–particularly when coupled with the novel's end, which refers to Jonathan, sans explanation, as "Monkey man.") Like any English nerd, I can recite much of "Prufrock" from memory, but I've never read (and hadn't heard of) Monkey, which, in Graziano's words, is about what "a kind of human-monkey deity chooses to do with his immortality." The author went on to mention that in reprints he plans to include a quotation from Monkey to accompany the current epigraph from "Prufrock."
At first I thought, that's not enough, but then I reconsidered, remembering the marvelous epigraph to Kevin Brockmeier's The Brief History of the Dead; before that James Loewen quotation, I knew nothing of sasha (the living-dead, those remembered by the living) or zamani (the dead, those whose acquaintances have all died, too). That epigraph teaches us how to experience Brockmeier's novel (about, in part, an global pandemic) and serves as a powerful tonal undercurrent. Because we've read, even briefly, about sasha, we understand the population fluctuations in this mysterious city, and because we've read about zamani, we fear and feel for the sasha as deeply as we do as for the living.
What The Love Song of Monkey's Jonathan chooses to do with his immortality is certainly at the heart of Graziano's novel, so I'm voting for that second epigraph in the reprint–not to justify the title, but to illuminate it. In the meantime, I'm going to track down a copy of Monkey…and highly recommend The Love Song of Monkey to FWR's readers.
About the Author
Michael S.A. Graziano is a professor of neuroscience at Princeton University. His novella Hiding Places was published in the New England Review, and his novel The Seclusion Zone (2007 finalist, William Faulkner Wisdom Creative Writing Competition) is under contract and will be published soon. Graziano is also the author of The Intelligent Movement Machine (2008, Oxford University Press) and the co-author (with his sister Lisa) of Cretaceous Dawn, a dinosaur thriller (2008, Leapfrog Press).