No one ever has enough money. Certainly this is the case for the four, middle-aged Plumb siblings, the candidly avaricious family at the heart (and a warm heart it is) of Cynthia D'Aprix Sweeeney's debut novel, The Nest (Ecco). The Plumbs are about to come into their long anticipated trust-fund inheritance. But money is the root of all evil, as another cliché warns us, and the best laid plans do go astray, especially in parenting and estate planning. Yet these familiar adages ring both true and new here as this romp of a family saga explores the consequences of disappointed great expectations.
The siblings' father, the late Leonard Plumb, "had grown up around trust fund kids…and he'd seen the damage an influx of early money caused…the trust he established was meant to be a soupçon…Nothing so vast as to be truly significant." Thus he crafted the trust—affectionately dubbed "The Nest" by his children—so that it could not be disbursed until his youngest, Melody, turned forty. Finally, her necessary, appointed landmark birthday has arrived. And in the boom years since Leonard's untimely death decades earlier, the modest funds have multiplied beyond what he could ever have imagined. So all of the siblings have dollar signs (followed by at least five zeros) dancing in their heads, and far-ranging plans for their soon-to-be windfall.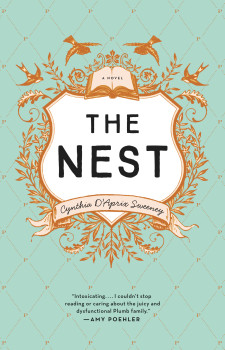 Within the first pages, however—and within mere weeks of the appointed distribution of their funds—Sweeney disrupts the siblings' visions for their bright new futures. Feckless brother Leo, nothing like the careful father he was named for, and freshly out of rehab for his cocaine habit, picks up a waitress at a wedding and promptly has a terrible car crash. And although he walks away, the waitress is not so lucky. Leo secretly asks his mother Frannie to pay off the waitress's claim from "The Nest," to which she complies. Needless to say, when his siblings learn he's depleted the trust, they are furiously disappointed.
The repercussions of Leo's accident and the family's dashed hopes play out over the course of this well-crafted story. Sweeney has written a big, briskly plotted urban novel with a large cast: the Plumb siblings, their partners, children, friends, colleagues, and tenants; the injured waitress. Yet no one walks across these pages as a minor character—some take up more or less space, but all are essential to the intricate intersecting action, crises, and resolutions. We care about the supporting players as much as the leads. It's not just the Plumbs' mercenary great expectations that remind the reader of Dickens; Sweeney manages to connect and reconnect a complicated web of people and events reminiscent of a Victorian drama in modern dress. Sometimes we see what's coming, sometimes we don't, but it's all part of the fun.
And what a fun read this is. As long as we're talking about families and inheritance, Sweeney is a direct descendent of the late, great Laurie Colwin. Both are apt chroniclers of the mixed motive, the pain of requited as well as unrequited love. And of the sweet gritty mixture that is New York City. I imagine Colwin smiling approval at the genuine, gentle way Sweeney weaves the decade-old tragedy of 9/11 into the fabric of her characters' lives and her story. I also haven't felt so much affectionate sympathy for well-heeled denizens of New York—suffering over their perceived and real stressors, their purely accidental and their self-inflicted wounds—since Laurie Colwin's own profound romantic comedies. Here, in one of many Colwin-esque moments, a would-be suitor of elder sister Beatrice Plumb fantasizes:
He'd thought about kissing Beatrice for so many years that he knew he should probably never try, that the reality would almost have to pale in comparison to his many, many years of imagining the kiss and how it would unfold (in the back of a taxi on a sultry rainy night, on a stalled subway train as the lights flickered off, under the elegantly tiled archways of Bethesda Terrace as the sun was low in the sky, and his favorite: in the sculpture garden at MOMA, both so overcome by the lush, rotund Henry Moores that they turned to each other simultaneously, needing the same exact press of flesh at the same exact moment.)
This is a delightful love letter to New York City, written after the author moved to Los Angeles. How fortunate her move led her to start writing fiction, to the short story that became this novel. So, no spoilers. But suffice to say that while the novel begins with a dramatic car crash, the author earns her equally satisfying finale with craft and compassion.