The Song is You, by Arthur Phillips, is a book about music and love – the grand, sweeping stuff. So you might be surprised at how controlled the writing is. Not that I was expecting the book to play a cloying tune when I opened it, like one of those oversized Hallmark cards, but I did somehow expect it to be more… well, musical. The 2006 movie Once is an example – one I thought of often while reading this – of how music can surge viscerally through a love story and vice versa, though of course a film has certain advantages in evoking song that a book does not.
The author is nevertheless savvy, in a more journalistic way, about contemporary music (and contemporary bands, with names like "Home School Class Slut," "The Long Purples," and "Spermicidal Tendencies") and does some inspired skewering of musicians. And Phillips gets how the iPod, free from the "moodicidal interruption of rewinding," creates instant, indulgent, individualized sound-tracking for the ADD generation, at times replacing real, messy "agony with a benign pop-music ache." The book even, at one point, pulls off an interesting spin on the green light off Daisy Buchanan's dock for which Gatsby pined, updated for the virtual age: "Julian clicked thekeysunderthemat.mp3, and like a nymph or a memory Cait streamed from a blinking server in an air-conditioned room in a humanless building on the Hudson through blue and silver cables to his apartment, and she swam into his iPod, docked and waiting, tethered, blinking its persistent warning: Wait. Wait. Do not disconnect. Do not disconnect."
The writing is deeply intelligent, but the author's relationship to his characters in The Song is You is studious, profiling rather than inhabiting. Their relationship to themselves is just about the same, as they catalogue their every emotion, doubt, and rush of blood. At the center of the story is Julian, former joyless adulterer, now a separatee, who says callous, manly things like – of casting a commercial – "the final test before engaging a model had to be the search for premonitions of aging." He has recently lost his toddler son and his marriage, too, as a casualty of the grief, so you forgive him being a bit of an aimless lout. Julian's ex-wife Rachel is making half-angry, half-tender attempts to reconcile, but Julian is looking for the elusive clean slate. That clean slate might be Cait O'Dwyer, a young Irish songstress whom Julian hears sing at a bar one night. From the description, she's kind of a Neko Case or Jenny Lewis type – a fiery redhead (is there another kind) about to hit it big. She has biting banter for everyone and sometimes sounds – not like she is one of those Katherine Hepburn heroines who sparred with Spencer Tracy or Jimmy Stewart in old movies – but like she has swallowed one of them whole. She's a pretty 22-year-old channeling either her own fantasy of how she should sound, or the author's.
Seeing and hearing Cait sing, Julian is stirred to something — not so much infatuation as an odd mix of appraisal and detached arousal. What follows is part courtship, part stalking as he follows and takes pictures of her, records her own voice singing to herself in the park and plays it back to her, goes into her apartment (invited, but still) and tinkers with it while she's not home, and eventually follows her to Europe. He has to constantly distinguish himself from the slobbering fanboys who hit on her at her concerts. At first he does this by pointing out her faults to throw her off balance. After that, he seems to do it mainly by being the only one willing to cutesily burgle her apartment.
But…"Wait. Wait. Do not disconnect. Do not disconnect…" — there are many rewards to be had from The Song Is You. There is a poignant episode involving Julian's brother Aidan appearing on Jeopardy, which gets at identity in some ways more than all Julian and Cait's attempts to learn each other by repeated invasions. And there's another – the most genuinely emotional – involving Julian's memories of being at his dying father's side during his last days. Julian speaks at one point of his attempt to "melt himself down" for Cait, but it is his father's illness that actually seems to ask it of him.
And finally there is the two characters' dreamlike/nightmarish trip to Europe where, in Paris, the thoughts of two women compete for Julian's mind as he recalls visiting the city with his once wife and simultaneously tracks Cait, who is on tour there. He calls these his "two separate non-overlapping love stories" yet they seem to bleed into each other, tingeing the lost family life with eroticism and the still unconsummated love with the sorrow of something not just unattained but already ruined.
Further Resources
– Read an excerpt from The Song is You on the author's website.
– Phillips offers up his playlist for The Song is You for Largehearted Boy's "Book Notes" Series.
– Here are some recent interviews with Phillips: on Bookslut / on Only the Blog Knows Brooklyn / at Powells.com
– The author's other novels include: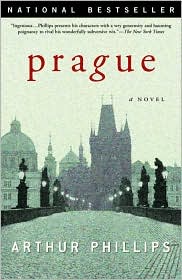 * Prague (2002) [learn more about it] / [read an excerpt from Chapter One] / [buy from your local indie bookseller]
* The Egyptologist (2004) [learn more about it] / [read an excerpt] / [buy from your local indie bookseller]
* Angelica (2007) [learn more about it] / [read an excerpt] / [buy from your local indie bookseller]
– Follow Arthur Phillips on his book tour (other dates TBA). New Yorkers, he'll be part of a Word for Word panel and Q&A today (Wednesday, Aug. 5 @ 12:30 PM) at the Bryant Park Reading Room. And on Saturday, October 3, he'll give a reading as part of the Brooklyn Museum's First Saturdays.
– See a list of famous recordings of Jerome Kern and Oscar Hammerstein's "The Song is You" (the song) on Wikipedia. For less than a dollar, you can buy Frank Sinatra's here.
– This radio show has no affiliation whatsoever with the novel, but do give a listen to Bonnie Grice's The Song is You, where guests (such as musician k.d. lang, poet Billy Collins, and playwright Terrence McNally) choose, play, and talk about 10-12 of their favorite songs. TSIY's website describes the program as "a great way to get to know someone through the music they love…What comes through for the listener is a sense of person, a sense of place and time. And a celebration of the power that music has over all of us."