Souvenir is a noun in English, a tangible memento from a trip, a visit. The root is a verb, from the French, to recall, the Latin, to come to mind. Elizabeth McCracken's new collection of stories, The Souvenir Museum (Ecco), encompasses both meanings: tangible mementos, lost tokens of the past, and recollecting, evanescent memories in motion. Reading through these stories is like shuffling postcards from the past, or watching slides click by—sometimes through the haze of memory, but often with the corrective lenses of time and retrospect, the knowledge of what happened next, how it ended.
Some museums, like the Pitt Rivers in Oxford, have cabinets with display drawers a visitor can pull out at random to view the overflow of the collection. My only visit was as a child and it felt like rifling through trunks in someone else's attic. Reading these stories creates a similar excitement: what wonder will be in the next drawer, the next story?
Part of this pleasure comes not only from the careful curation of the objects themselves, but also how they are arranged. The author stitches us back and forth in time, across the book as well as within each story, back and forth, the way memory works. And while some characters do recur, this is not a traditional linked collection of stories. Still, the characters share a sense of strangeness, of not fitting in, not quite belonging to a place or to a family—whether family of origin or a family acquired by the choice and accident of marriage. And this adds a thematic thread that binds the work together. Several characters are transplants from Britain to the States, or the States to Britain, and shuttle across the pond, native speakers without perfect fluency in English or American. Family members are strangers to each other, and each person is a bit of a stranger to the self, longings and secrets hidden.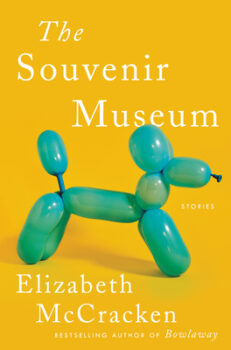 Role players and entertainers abound in these pages, as well—those we often imagine on the peripheries or boundaries of other people's lives: puppeteer, ventriloquist, balloon artist, stilt walker, children's game show host, radio shrink. They are hangers on, poseurs, sad clowns almost all. Many are in perpetual transit, on a chronic quest for belonging. They're footloose but not fancy free, captive to an uneasy rather than frivolous state. "Expatriation was the family disease," Jenny Early says in "Mistress Mickle All at Sea." She finds the inevitable dislocation of travel welcome, and Jenny could be speaking for many of these characters. Since she has always "felt foreign, landing abroad she was relieved to assume it as an official diagnosis."
Searching to belong, these nomads are also searching for their past. Souvenirs—artifacts—open the gateway to memory. In the title story, Johanna's recently deceased father has bequeathed his watch to her lost love Aksel, who walked out of their lives many years ago. Divorced, mother of nine-year old Leo, Johanna traces Aksel to Denmark where he is living as a Viking in a folk museum. She sets out to deliver the watch in person. On the way, she and Leo visit The Souvenir Museum. "The name was full of promise," the narrator thinks. "Souvenir: a memory you could buy. A memory you could plan to keep instead of being left with the rubble of what happened."
It is perhaps a similar desire that accompanies Thea in "A Walk-Through Human Heart" as she combs junks shops searching for a plastic doll called "Baby Alive" that her now grown daughter Georgia had longed for, and Thea had denied. Now Georgia is an expectant mother, and Thea longs to give the doll to her daughter. Thea finds the doll, but along the way uncovers the rubble of what happens, the memories of loving, craving, and losing. She notes that "longing always did bring you worse and worse places."
Likewise, David Levine in "Proof" takes his elderly widowed father to Scotland, the bucket list trip of Louis's life. He wants to give his father the kilt Louis had always longed for and David's mother, "Arlene (née MacLean)," had forbidden. But the souvenirs Louis picks up are shards of pottery and sea-tumbled glass on the beach. He tells his son, "It washes up…the past…Same as when I was a kid. There's a box of it, in the attic. That will come to you, too."
The rubble of what happens is the real souvenir in these stories: memento mori, reminder not just of time gone by, but of death, always there, always approaching. Jenny Early again seems spokesperson for all as she acknowledges her fear of death, and feels "the edge of it, like a metal box buried in the dirt of the yard that's worked its way up."
The concluding story in the collection "Nothing, Darling, Only Darling, Darling" returns to Sadie and Jack, the couple who, twenty years before, in the first story, were on their way to a family wedding. Now, they have finally married. The "middle-aged honeymooners" are sightseeing in Amsterdam and by accident they walk backwards along the intended biographical timeline of the Van Gogh Museum. Beginning at the end, ending at the beginning. And where are Jack and Sadie on their own timeline? Beginning at the end or ending at the beginning?
A big decision hangs in the air between them. A phone call comes. The story, and the collection, ends on the sharp edge of the metal box that's always there, buried, working its way up. Beginnings inexorably proceed to endings, and endings render the fleeting moments, fragile souvenir memories, precious.
McCracken leaves us, and Sadie and Jack, there on that edge. An almost perfect conclusion to an almost perfect collection of stories.