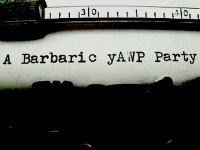 While nearly every writer knows the uplift that community interaction provides – not only to the words on the page, but to a career, to a new collaboration, to every aspect of the literary life – not everyone has the ability or means to travel to the AWP Conference. So what's a community-craving writer to do? Enter Meg's Barbaric yAWP. Founder Meg Pokrass, writer – newly minted author! – and member of the FWR community – began "A Barbaric yAWP" as an alternative, virtual way for writers and people in the biz to connect during the 3-day period of AWP. She had 600 participants last year, and is well on her way for the second year's yAWP.
Even people actually going to AWP are welcome to join the party – check in online once you've taken in all the panels and book fair you can absorb for the day.
There are email updates, a website, and a Facebook page with all the latest. Meg even made a series of videos last year, featuring her with an otter-like friend (perhaps an actual otter – I'll let you be the judge). Without further ado, here's where you can find the goods:
A Barbaric yAWP website – including last year's videos!
The Facebook Event page for A Barbaric yAWP
A Facebook fan page dedicated to the yAWP, past and present
Also, Fiction Writers Review will be participating in the yAWP by selecting from this year's yAWPers one lucky winner of a signed copy of Alison Espach's novel The Adults, and one lucky winner for a signed copy of Erika Dreifus's story collection Quiet Americans. Since both Alison and Erika will be doing signings at our table on the Friday of AWP, we wanted to spread a bit of the book-love around. Stay tuned to Meg's site for further details of the give-away next week. Viva la yAWP!