There's an old adage in these parts: If you don't like the weather in Michigan, wait five minutes. This was certainly true to form the last several days here at the Ann Arbor Book Festival. Friday dawned beautiful, cloudless and warm. Yet by the cocktail hour the sky was spitting and sputtering. Saturday, too, threatened rain. But other than a few windy gusts that lifted the tents on the Ingalls Mall, the weather held. In fact, by mid afternoon that second day the clouds had gone. And the only rain we received was through the night—the literary Gods were smiling.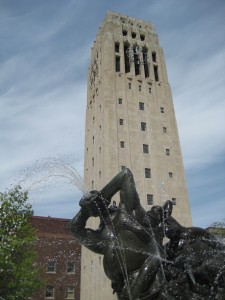 Though the festival technically runs the entire first two weeks of May, the central events took place over this past weekend. For the third year running, the festival hosted a writing conference for individuals interested in craft talks, pitch panels, and lectures. Highlights for fiction writers included a morning talk by Sung Woo (Everything Asian), entitled "Finishing Your First Novel: A Three-Pronged Attack," which gave writers thoughtful advice on how to sustain the writing process over the course of many years and many more pages; a keynote address by Elizabeth Kostova (The Historian) on the challenges of both keeping the faith as an author when writing a first book in relative obscurity, as well as the difficult expectations of writing the second under the magnifying glass of literary success; and an afternoon craft lecture by Colson Whitehead (Sag Harbor), entitled "How to Write, Or A Few Things I Learned From Listening to the Donna Summer Version of 'MacArthur Park'," which sharply and humorously elaborated on his writing process as an author.
Kathy Robenalt, the executive director of the festival, was also kind enough to ask Fiction Writers Review to participate in this year's writer's conference. We shared the exhibit space with Dzanc Books and Hobart in the Palmer Commons on Friday afternoon. Both of these projects are doing terrific work, and I couldn't have been happier with the company.
I was also able to catch up with Kevin Smokler, who I hadn't seen since last year's festival. Kevin is the editor of Bookmark Now: Writing in Unreaderly Times and the co-founder of Booktour.com.
And, of course, a huge Thank You to everyone who stopped by the FWR table. It was great to introduce the site to some new readers and potential contributors. I'm especially excited to do some collaboration with (or, at least, publicity for) the Gist Street reading series in Pittsburgh. Sounds like a great project. Salvatore Scibona will be their next upcoming guest.
As the Friday conference wrapped up, we turned to drinks and dinner and socializing. Then, after a bit of sleep, we returned Saturday morning to do it again. This day, however, the festivities were located outdoors on the Ingalls mall, near the University of Michigan's central campus. Here, at the foot of the Bell Tower, the majority of events took place on various stages set up under tents centered around a bronze fountain of Triton. Highlights for fiction writers included a fantastic reading by debut novelists Sung Woo and Katie Crouch (Girls in Trucks); a panel on "Place as Theme" with Steve Amick (Nothing But a Smile), Valerie Laken (Dream House), and Colson Whitehead; and a reading and conversation about hip hop literature, featuring Adam Mansbach (The End of the Jews) and Kevin Coval (Everyday People). And if that weren't enough, Peter Yarrow of Peter, Paul, and Mary performed a labyrinthine—yet rousing—rendition of "Puff, the Magic Dragon" worthy of a Grateful Dead jam. I mean, it is Ann Arbor, after all…
And then, like the passing clouds, the festival had come and gone. Though soon you'll see interviews with both Colson Whitehead and Sung Woo on these pages. I'd like to offer each of these authors special thanks for taking the time out of their busy schedules to sit down to talk with me (and a second thanks, too, to Sung for several of these pictures).
In the meantime, get your hands on these writers' fantastic new books; click on any of the covers below to buy new copies from Powell's: