The current Glimmer Train Bulletin features a short essay by Allison Amend with her instructions for a Do-It-Yourself Book Tour. Amend is the author of the acclaimed 2008 story collection Things That Pass for Love. Her novel Stations West publishes this month. Here is the opening of her essay:
It is a truth universally acknowledged that book tours don't really sell books. Or at least they don't sell a lot of books in comparison to the amount of time and expense involved. So then why do authors continue to go on them? Well, book tours have ancillary benefits, otherwise publishers wouldn't still send authors on them. Meeting booksellers makes them more likely to recommend your work, or to look forward to your next book. It gives local media an excuse to talk about you. It gives you a chance to travel the country, catch up with old friends, and show your exes what they missed when they dumped you.

But what if your publisher is an independent press with little to no budget for touring? What if your big name publisher doesn't think it's worth sending you out? Plan your own tour.

When my collection of short stories THINGS THAT PASS FOR LOVE was published by OV/Dzanc Books in 2008, they offered me $1000 toward book promotion. I took it on the road (and ended up spending a bit more than that, but I did visit over 17 cities). Here are some helpful tips as you plan your own DIY book tour: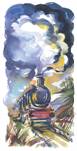 To see Amend's suggestions–which range from practical to philosophical to humorous–you can read the rest of her essay here.
In addition to Amend's work, this issue features essays by Stephanie Soileau and Josh Henkin, as well as announcements about the most recent Glimmer Train Prize Winners and upcoming contests. The Bulletin is a free monthly subscription. No adds, no solicitations–just writers on writing. Sign up here.