FWR is thrilled to host South African debut novelist Bridget McNulty for a stop on her book blog tour. In addition to sharing an excerpt from her book Strange Nervous Laughter, Bridget has also written a great post about the story and process behind it. (And if you haven't yet seen "The Lonely Cupcake," a one-minute whimsical fable/preview of the novel, watch it today; and check out behind-the-scenes photos from that project.)
An excerpt from Strange Nervous Laughter: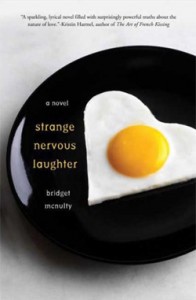 He arrived at her house in a hearse, which was perhaps not the best omen for a first date.

What was unusual about this particular gentleman, dressed in his best suit (the same suit he wore for funerals) was not so much that he arrived in a hearse, as that he didn't think it strange. Well, that and the fact that he was wearing a suit on what was, undoubtedly, the hottest day in a decade.

Surrounded by the relentless to and fro of death, it was easy to forget that there were others untouched by it; others who did not confront corpses, coffins and grief on a daily basis; others who might, when coming to their front door in a pale pink dress, screech with fright at the sight of a hearse parked in their driveway.

Those things did not occur to Pravesh the day he drove to Beth's house for their first date.

Perhaps they should have.
Writing: A Shape-Shifting Art
[ by Bridget McNulty ]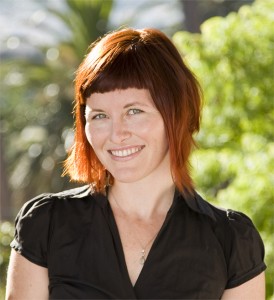 Novels are funny things, especially when you write them yourself. There are parts of Strange Nervous Laughter that I can't read anymore, parts that I sweated over, parts that can still make me laugh, parts that give me a lump in my throat. And then there's one part, the excerpt above, that I love with an unbridled passion, for no other reason than that it's the only section in the whole (248 page) book that I didn't edit to within an inch of its life. I didn't edit it at all, in fact. I wrote it, way back in the land before Strange Nervous Laughter, and it somehow made it through the endless edits unscathed.
You see, what they don't tell you at school, or college, or during writing classes, is that writing a novel is hard work. It's slog, really. Unromantic, unpretty, unglamorous slog. The initial part is wonderful – that part I love. The creating, the imagining, the drawing pictures of characters where before there were only vague outlines. That I could do all day. But then you send it off (really rather pleased with yourself) and it gets dissected. It gets torn to pieces and put back together again in a whole new way. That's when your beloved characters get insulted and ridiculed (all in the name of a good read) and when you have to develop a thick skin. That's when the (he)art of writing is revealed.
And I think that's what fascinates me about it.
I love that writing is a shape-shifting art. I love that at times it has been my master, and at times I have been its mistress. That it is my favourite thing to do most days, but a real chore on others. That it has become so much a part of me that I struggle to define what it means to be a writer, because isn't everyone spending their days shaping words like a particularly difficult piece of clay?
I love that now that I have written a novel I can explore other kinds of writing… that blogging has become a dear love, and that journaling will always be one of my best friends. I was speaking to a friend of mine who's a painter recently, and she said that she feels as if she's been apprenticed to her work for years, but that now, finally, her art can start to work for her. I feel the same way about writing. Perhaps now, after years of working and reading and finding new words and battling to put them in the right order, perhaps now writing could start working for me? Please?
Only it won't last, I know it won't last, and I find comfort in that. Just when I think I have a handle on writing, it will shift its shape again, and become something completely different. I suppose that's the price we pay for trying to force a whole squirming mass of words into a sack.
And I'm glad of it, despite my complaints about hard work. If it was too easy, if we writers could just dash off a couple of thousand words in an hour or two and be done with it, it wouldn't mean as much, would it? I often say that it took me 25 years of living to come up with enough heart for one novel, and I can't rush into writing the next one until I have just as much to say, just as much to feel as I did with Strange Nervous Laughter.
Because at the end of the day, whether writing is our master or our slave, we owe it to the craft, to our readers, and ultimately to ourselves to treat it with the utmost respect, and love.
About the Author
Bridget McNulty is a passionate writer inspired by why people act the way they do. With a Creative Writing degree from Franklin and Marshall College in Lancaster, Pennsylvania, she now works as a freelance writer in Cape Town, South Africa, and spends her days reading, writing, and drinking tea in her hammock (which is a lot trickier than it sounds!)
Her first novel, Strange Nervous Laughter, was published in South Africa in 2007 and in the USA in May 2009. Find out more, read her blog, or download podcasts at www.bridgetmcnulty.com. Or join in the International First Love Day celebrations this Friday, the 15th of May.
Bridget's Blog Tour Schedule
Monday 11th May 2009: Naturally Nina
Tuesday 12th May 2009: Book Patrol
Wednesday 13th May 2009: This Ordinary Day
Thursday 14th May 2009: Fiction Writers Review
Friday 15th May 2009: International First Love Day (various blogs, all over the blogosphere, all over the world. Read all about it here.)