Editor's Note: For most of the last decade, Contributing Editor Joshua Bodwell served as the Director of the Maine Writers & Publishers Alliance (MWPA), and each year he published his annual "Bodwell's Baker's Dozen" in the organization's newsletter, The Peavey. With Bodwell's new position as editorial director at David R. Godine, Publisher and Black Sparrow Press, we're happy to host this tenth-anniversary list. Enjoy!
---
On a quiet Sunday afternoon in November of 2009, I was waiting for my then-girlfriend-now-about-to-be-wife to finish up some design work in her studio. While I waited, I decided to make a list of the most memorable books I'd read that year, books that had burrowed into me and remained, whether I'd finished them ten days or ten months prior. Sitting there, reflecting on the characters, the scenes, the language of those books—looking up occasionally from my notes to the river and waterfall outside the studio's tall windows—I felt such a calming joy.
With the memory of that feeling in mind, I have looked forward each year to the undertaking.
But why a "Baker's Dozen" of books rather than the conventional "Top Ten" list? It's simple: back in 2009 I couldn't cut three books from my list—or to be more precise, I didn't want to cut three books I really admired just to fit some arbitrary constraint.
In addition, I immediately decided that even though most year-end roundups focus on titles published during that calendar year, my list would be less didactic and more of an authentic representation of a real reading life: We are both always behind, always discovering. Before 2016, for instance, I'd never read Penelope Fitzgerald's perfect short novel The Bookshop. Even though the book was first published in 1978, I had to include it on that year's list. It was, after all, new to me.
Finally, my aim was never to review or synopsize the books on my list, as is often the norm for annual lists, but to contextualize the books within my life, to note how I'd come to read the book or why I'd been moved to include it on my list.
This year, my Baker's Dozen looks somewhat strange to me as I consider it in relation to previous years' lists. The reason is plain enough: in June I began a new job as the editorial director of David R. Godine, Publisher and Black Sparrow Press. Since the spring, my reading life has changed dramatically as I've shifted to reading and editing so many unpublished manuscripts. So perhaps, unsurprisingly, compared to previous lists heavy with gripping novels and beguiling memoirs, this year's list brims with books about the writing and publishing life.
Most bizarre to me, however, is the fact that for the first time ever my annual roundup does not include the books I actually spent the most amount of time lovingly poring over last year, because it can't—missing from this list are the books I acquired and edited in 2019, books that will be published in the spring of 2020: geode, by Susan Barba; Confessions of a Bookseller, by Shaun Bythell; Wicked Enchantment: Selected Poems, by Wanda Coleman (Edited & Introduced by Terrance Hayes); Summer Solstice, by Nina MacLaughlin; and Dwellers in the House of the Lord, by Wesley McNair. My thoughts (and hopes) now have turned to the hope that these books might appear on the "Best of 2020" lists of others.
Today, when I skim that first baker's dozen I made a decade ago, my heart begins to race at the mere sight of some of the titles: The Shell Collector, by Anthony Doerr; Both Ways Is the Only Way I Want It, by Maile Meloy; Love Begins in Winter, by Simon Van Booy.
When I see these titles and the others on the list, I am immediately reminded of what I loved about them. It's for this very reason I've continued the annual practice of not simply list-making but of taking stock of my reading life as it relates to my lived life. 
---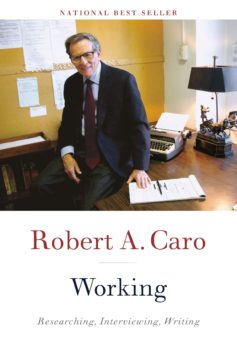 Working: Researching, Interviewing, Writing, by Robert A. Caro (Knopf, 2019)

This past June, my partner, Tammy, and I flew to San Francisco, rented a car, and drove north to Santa Rosa, where we spent a few days visiting with Black Sparrow Press founder John Martin—who was about to turn ninety years old—and his wife, designer Barbara Martin. I'd begun a sporadic correspondence with John when I was eighteen years old, and now at forty-four years old I was about to become the editorial director of the press, which is currently located in Boston. During quiet moments and in my motel in the evening and morning, I devoured Robert Caro's joyously readable memories of his incredibly inspirational writing life. The book slowed my excitedly racing mind; I couldn't believe my good fortune. Every single time I put down the book and realized I was in Santa Rosa visiting with the Martins, I left the dream of the book to reenter the dream of my life.
---
Faber & Faber: The Untold Story, by Tony Faber (Faber & Faber, 2019)

Toby Faber, grandson of Faber & Faber founder Geoffrey Faber, and one-time managing director of the publishing house, brilliantly built this book by raiding the press's archives and weaving together letters, internal memos, reader's reports, and other material. The result is the story of Faber & Faber in the words of those who built the place. It is impossible to read this book and not be utterly charmed by longtime American-in-London and pivotal Faber & Faber editor T.S. Eliot.
---
Remembering Poets: Reminiscences and Opinions, by Donald Hall (Harper & Row, 1978)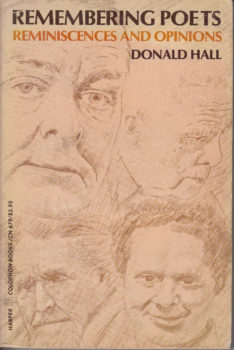 On a Saturday morning in the late spring of 2019, I met up with the poet Wesley McNair and we drove west from Maine to the New Hampshire farmhouse immortalized by Donald Hall in many of his poems, stories, essays, and children's books—the farmhouse where his grandmother and mother were born and where, in 1995, his wife, the poet Jane Kenyon, died far too young. Hall passed away in the summer of 2018, just shy of ninety years old, and less than a year later, his family was clearing out Eagle Pond Farm and preparing it for sale.
Wes—who had been a close friend of Hall's since the mid-1970s—made the drive from Maine to Eagle Pond Farm many, many times over the decades. But on this day, he seemed to relish settling into my passenger seat, digging into the egg and sausage sandwich I'd brought for him, and sharing his memories of Hall. I drove in a daze, soaking up the stories, and managed to miss only one turn.
Wes worried that witnessing what we were told would be a mob scene of eager buyers ready to pick over what remained of Hall's personal possessions would make us feel a little rotten. His fear wasn't, it turned out, misplaced. At Eagle Pond Farm, we stood in the dirt driveway for a time, and then elbowed our way inside. We each walked room to room and built a small stack books, as well as some totems: Wes brought home a pair of bookends, and I now keep on my desk a letter opener that once lay on Jane Kenyon's desk. In the end, we both agreed it would likely be the last time we trekked to Eagle Pond Farm—a final pilgrimage—and whatever awkwardness we felt, it was worth it.
That day—a couple of hours driving each way, a couple hours at the house visiting with Hall's longtime assistant, Kendel Currier—was one of the richest days of 2019…of the last decade, actually. On the ride, Wes mentioned Hall's Remembering Poets, which I'd never heard of. In four long essays, Hall's recounts his personal interactions with T.S. Eliot, Robert Frost, Ezra Pound, and Dylan Thomas, weaving memoir and literary criticism and gossip. The book is nothing short of brilliant.
---
A Carnival of Losses: Notes Nearing Ninety, by Donald Hall (Houghton, Mifflin, Harcourt, 2018)

I read this, Donald Hall's final book before his death, in two sittings. He gave up writing poetry many years before his passing, but Hall's prose here is often as precise and surprising as the best of his poetry. His short remembrances of fellow poets are engaging and clear-eyed. The long section "Necropoetics" is some of Hall's very best work. As I closed this book, I was sad to be living in a world where there wouldn't be another new Donald Hall book.
---
American Sonnets for My Past and Future Assassin, by Terrance Hayes (Penguin, 2018)

Much smarter people than me have weighed in on the specific brilliance of this collection of poems, each bearing the same title and each written during the first months of Trump's presidency. I'll simply add this to the chorus of deserved praise: Terrance Hayes's sixth collection will be remembered as one of the most important books of poetry of the 2010s.
---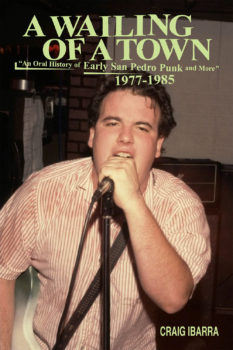 A Wailing of a Town: An Oral History of Early San Pedro Punk and More, 1977-1985, by Craig Ibarra (END FWY Press, 2015)

This book had me at the cover: Minutemen lead singer D. Boon on stage, sweaty, urgent, gripping a microphone. The book consists of seventy-plus interviews with band members, photographers, and punk fans from the southern Los Angeles port city of San Pedro. I felt at once both young and old as I read this book; what a gift.
---
Waltzing with the Captain: Remembering Richard Brautigan, by Greg Keeler (Limberlost Press, 2004)

A few years ago, I slogged through Jubilee Hitchhiker, William Hjortsberg's 800-plus page biography of hippie king Richard Brautigan, and while I'm glad I did, this much slimmer (167-pages) remembrance of the complex (to put it mildly) Brautigan is a different sort of satisfaction: Keeler has no axe to grind, even as he mulls his long-dead friend's often bad behavior decades earlier, as well as his own enabling of that behavior. Keeler makes the reader feel like a friend he's sharing beers and stories with at their local watering hole. (In June, while driving south from Santa Rosa to San Francisco, my partner and I stopped in Bolinas and found the house where Brautigan committed suicide; that was certainly my most morbid literary adventure of 2019.)
---
Penguin Special: The Life and Times of Allen Lane, by Jeremy Lewis (Penguin Books, 2005)

This is the second "biography of a publishing house" I read this year. This book is stellar and includes everything you could wish for in a book about those inspiring simple orange-cover paperbacks that changed the publishing world. I am a nerd. That is all.
---
The Patch, by John McPhee (FSG, 2018)

John McPhee is one of the most stunningly and consistently great nonfiction writers alive today; his book Oranges (1967) remains a personal favorite. While Part 1 of The Patch is a wonderful gathering of recent McPhee essays, the real showpiece here is Part 2: "An Album Quilt" weaves together fragments from work that spans McPhee's long career; he apparently began with 250,000 words and gradually edited out 75 percent of them to create this captivating quilt of tight excerpts.
---
Remembering Mr. Shawn's New Yorker: The Invisible Art of Editing, by Ved Mehta (Overlook Press, 1998)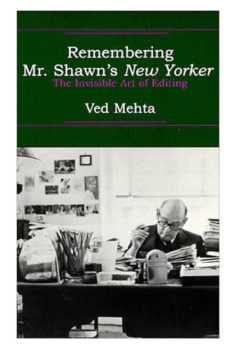 Indian-born author Ved Mehta went blind at the age of three. Ved Mehta went on from a school for the blind in Bombay to study at Oxford and Harvard. Ved Mehta was a staff writer at the New Yorker from 1961 to 1994. Ved Mehta writes beautifully and deeply about the relationship between author (himself) and editor (the legendary William Shawn). Why had I never read Ved Mehta before this year!?
---
The Lost Prince: A Search for Pat Conroy, by Michael Mewshaw (Counterpoint, 2019)

I have never read a single book by Pat Conroy, but I have read enough Michael Mewshaw to know I wanted to read this book. Mewshaw writes nonfiction like a prince. His tone is so inviting—precise, fact-filled, and often slyly self-deprecating. If you're new to Mewshaw, pick up his literary memoir Do I Owe You Something? (complete with a cast that includes James Dickey, William Styron, Robert Penn Warren, James Jones, Anthony Burgess, Paul Bowles, Graham Greene, and Gore Vidal), or his Life for Death, which is something of an overlooked masterpiece in the tradition of In Cold Blood.
---
A Correspondence, by William Carlos Williams & John Sanford (Oyster Press, 1984)

John Sanford met the great William Carlos Williams in 1931. Sanford was a childhood friend of Nathanael West (of Miss Lonelyhearts fame), and West and Williams were at the time co-editing the short-lived revival of Contact magazine. When they met, Sanford had already read Williams's In the American Grain and, as the poet Paul Mariani writes in his introduction, the book "so deeply influenced [Sanford] he owes his writing life to it." A Correspondence covers the smart, serious, sporadic letters Williams and Sanford exchanged between 1932 to 1950. Its lasting impression on me is this: I wish I'd been born in a time before email.
---
Solitary: Unbroken by Four Decades in Solitary Confinement. My Story of Transformation and Hope, by Albert Woodfox (Grove Atlantic, 2019)

Albert Woodfox's story of more than four decades in solitary confinement in the Louisiana State Penitentiary at Angola—locked away in a six-foot by nine-foot cell, twenty-three hours a day—is painful, frank, unflinching, heartbreaking, illuminating, inspiring, timely, and, ultimately, unforgettable. Solitary—which was a National Book Award finalist—feels like it should be on every list of "2019's Required Reading."
---
GREAT SHORTS!

It's tricky to even try to keep track of the loads of great short stories and essays I read in magazines and literary journals over any given year, but here are a few I found unforgettable. —JB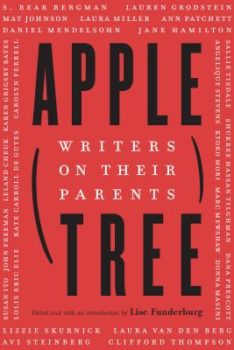 "A Measure of Perversity," by Marc Mewshaw (Apple, Tree: Writers on Their Parents, from the University of Nebraska Press, 2019)
"Turandot," by Evgeniya Dame (The Southern Review, Spring 2019)
"The Art of Poetry No. 104," by Lawrence Ferlinghetti (The Paris Review, No. 228, Spring 2019)
"Displaced," by Richard Ford (The New Yorker, August 6 & 13, 2018)
"Nothing to Declare," by Richard Ford (The Paris Review, No. 229, Summer 2019)
"The Art of Editing No. 4," by Lewis Lapham (The Paris Review, No. 229, Summer 2019)
"Willie Horton and Me," by Anthony Walton (New York Times Magazine, August 1989)