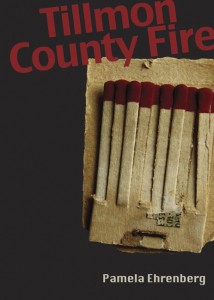 Pamela Ehrenberg is the author of a new YA novel, Tillmon County Fire, which has just been released from Eerdmans Books for Young Readers. Eerdmans also published her first book, Ethan, Suspended, in 2007.
Pam and I have been members of a six- or seven-person writing group since 2004. She has an amazing ability to make characters come alive, a natural instinct for the puzzle of a story, and also a tremendous sense of dedication and productivity that existed long before she had a book contract. She's also one of the kindest people I know, and it shows in her writing, in the way she's able to speak so effortlessly to her target age group about Big Issues — racism, homophobia, bullying, alcohol, religion, sex.
Tillmon County Fire is the story of an arson that shakes the lives of high school students in a sleepy Appalachian town. The main characters tell the story themselves, each with his or her own chapter, sometimes in the form of instant messages or poetry.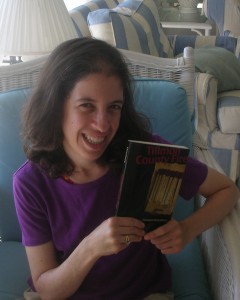 GWEN GLAZER: The book is written in ten different voices. How did you decide to tell the story this way?
PAMELA EHRENBERG: The format of the story was inspired by the Ernest Gaines book A Gathering of Old Men, which also uses multiple perspectives to tell the story of a single main event. I actually knew the format of the book before I knew anything about the event or any of the characters.
Were some of the voices easier or harder to write?
I was pretty self-conscious about writing in poetry, since I definitely don't consider myself a poet. I'm not so good at making every word count 1000% the way you have to in a poem. But I finally pushed past that by deciding that since I was writing as a character, it was OK–this character is definitely a poet, but not necessarily a spectacular one. Hopefully I was able to pull it off. Writing as Cait was a different kind of challenge, because she's a kid who wants to be a writer, and I saw aspects of myself in her (though not in her circumstances). I had to keep making sure I was writing in her own voice and not lapsing into me. The easiest piece to write, surprisingly, was the third-person section "The Babysitter." I think in five-plus years of writing group meetings, this is the only third-person writing you've seen from me. I still have no idea where that piece came from.
In the book, they show up in ten different fonts. What was the thinking behind that decision?
The different typefaces were totally the genius of art director Gayle Brown and the wonderful team at Eerdmans. I didn't know about them until the advance reader copies were almost out. But I think they're great not just because of how they make the book appear but also for their practical help in keeping track of characters, especially when most of the characters come together to speak during the trial.
Do you think of the story as having a main character?
Is it a cop-out to say that Tillmon County is the main character? (Or to answer your question with a question?) : )
Not at all, but in that case, will you talk a little more about Tillmon County? How did you decide on a fictional setting, as opposed to a real place on the map, and what did that fictional place need to have for you to write the story?
I've understood the "rules" of fiction-writing to be that if you're writing about a major city or a celebrity person, it's OK to use the real thing, but for a small community or a regular person, you need to make them up. (For Ethan, Suspended, I wrote about the real city of Washington, D.C. but fictionalized the immediate neighborhood where the story took place.) I actually find it more effective anyway–I remember being coached for a standardized writing exam I took in 9th grade to go ahead and make up our "personal" essays so we didn't agonize needlessly over whether the tablecloth at the big family event was blue vs. green.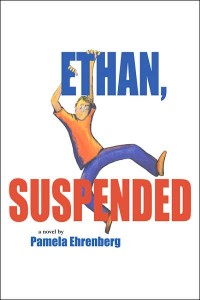 In terms of what the county needed to have: I think in the course of telling the stories, I figured out what aspects of the community the characters were seeing, hearing, smelling, etc. Lake houses, iffy NPR reception, a community college. No synagogue, sushi, or movie theater, though the next
county over has those things.
Where did the seed of the idea come from, and how much of the plot did you have planned out before you started the book?
The idea really started with the format, the idea of telling a community's story through the voices of some of its young people. I had a preliminary character list on a slip of paper–just a few characters' names and how each one was connected to the preceding character on the list. I can't remember at what point I figured out that the event connecting them was a fire, but I definitely didn't
know any of the other plot points.
There's a fair degree of violence in this book, most notably but not limited to the arson referenced in the title. Did you make a conscious decision about how to present violence (and some of the other issues you address) to teenagers?
Hmm. I don't think so, though I maybe thought a little about that in Ethan, Suspended, when the main character witnessed a gang interaction while hidden behind a car, not really clear on what he was seeing or hearing. In this book, I was probably a little more conscious about being graceful in presenting the sexual relationship between Ben and Rob. In large part that was just about
being true to the characters, since they cared deeply about each other and would not have wanted their relationship described in less than graceful terms.
What was your biggest challenge with this book, and how was it different than writing your first?
On one level, my biggest challenge was figuring out whether I was writing a novel or a collection of short stories. I'm still not entirely sure what the formula is, but you guys in the writing group ultimately convinced me it was a novel, and I've learned to trust your judgment. (Smiles.)
But writing this book also felt like a "challenge" of a different sort, something I wanted to prove. When my daughter was born in 2005, I was in the process of collecting rejection letters for Ethan, Suspended (which was then called Out of Blue Hills), and I had begun drafting just a few of the stories for this book (Ben's, Lacey's, and Albert's–Ben's was a little further along because I had entered it unsuccessfully in a Jewish fiction contest.) When my daughter was born, I took the opportunity to quit my full-time job and transition into part-time consulting work–because it felt socially acceptable to do so for a baby in a way it didn't feel socially acceptable to do for a book.
With the high costs of childcare in D.C., my husband and I decided that my staying home for a few years made sense–and that we'd re-evaluate and see whether a return to a regular full-time job would be logical when our (eventual) youngest child started kindergarten. So 2005 was the opening of a window for me–I felt like I had maybe seven or eight years to see whether I could make it as a writer.
I've noticed the same thing — that for many people, it's socially acceptable to begin working part-time and/or from home because of a baby, but not because of a book (or any kind of creative endeavor). Why do you think that is?
I think it's about courage, that people staying home with a baby don't feel the same need to apologize for their choice. A guy who graduated Penn two years ahead of me shared that his post-graduation plans included working at Borders so he'd have time to write. I remember thinking he was crazy at the time–but J. Robert Lennon has now published six novels and been called "the John Updike of our generation." Clearly it's not courage alone–talent and hard work have played roles in his success too–but I think a greater display of courage on our (writers') part could perhaps lead to a greater social acceptability on "theirs." Or to not giving a hoot about social acceptability, which is maybe the greater victory.
Was it easy to integrate technology like IM into your writing?
In a way, I didn't have a choice: the character who uses IM lives much of her life on the computer, and being true to her voice required that I learn a bit of her language. I did some research online, of course–I remember printing out glossaries of IM terminology–and my editor (also 30-something) shared a version of that chapter with some high school students she knew from church. They corrected us on certain grammar and abbreviation points.
How are you using Twitter with your own writing process?
This spring I've been experimenting with tweeting the daily word count of my new ms-in-progress, knowing that whether it goes up or down by even just a word is evidence of progress. It was working really well when I was just going item-by-item crossing things off of my "revision plan" document, but lately I've been stalled a bit. Your question might be just the nudge I needed to figure out how to make Twitter work for the next stage of my revision. (Maybe having a few blog readers as followers would help nudge me too, especially if some of them also want to Tweet about their daily progress. Anyone?)
Can't resist ending with this one: Has being in a writing group affected the way you write?
There's an expectation that we're all going to write, and that we'll all find success. It's amazing, the power of expectations! Just knowing that someone is showing up at your house on a Sunday evening, perhaps carrying pumpkin bread, and likely to ask, "So, what have you written this month?"–that works astonishingly well to get over that fear of the blank page or the stuck character. And the expectation of success–I really liked something you said in 2006, when I signed the contract for Ethan, Suspended. You said that it was easy for our group to share in each other's victories because none of us were competing against each other–in fact, success for any of us makes it that much *more* likely that we'll all find our version of success. This wonderfully supportive group has become some of my closest friends, and knowing that we're all in this together makes anything seem possible.
Follow Pam's blog tour on the following sites:
June 7: Barbara B Book Blog (Jewish Books for Children)
June 8: National Youth Advocacy Coalition
June 9: Tales from the Rushmore Kid
June 10: Write for a Reader
June 11: Fiction Writers Review (no need to travel)
June 12: Greetings and Readings
June 14: Mommytown
June 15: Book Whisperer
June 18: Susanuhlig.com
Buy your copy of Tillmon County Fire from a local independent bookstore!