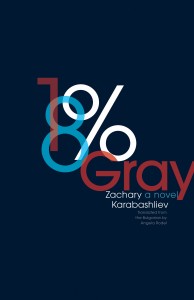 Our new feature is Zachary Karabashliev's novel 18% Gray, which was translated by Angela Rodel and just published in the U.S. by Open Letter Books, with support from the Elizabeth Kostova Foundation. Karabashliev is a Bulgarian-born author now living in the U.S. 18% Gray, originally published in Bulgarian in 2008 by Ciela Publishers, is currently a bestseller there and already in its 10th edition. The book was the co-winner of the prestigious Bulgarian Novel of the Year Award given by the Edward Vick Foundation, along with Milen Ruskov's Thrown Into Nature, which was also published by Open Letter Books in the U.S. Additionally, 18% Gray was a finalist at the renowned literary biennial for the Elias Canetti Award and was voted among the 100 most loved books by Bulgarians in the BBC campaign "The Big Read." His other books include A Brief History of the Airplane (Ciela Publishers, 2009), which won the 2009 Book of the Year Award from Helikon; a collection of plays entitled Recoil (Ciela Publishers, 2010); and a collection of short stories, Symmetry (Ciela Publishers, 2011). He is also the co-author of the illustrated children's book The Doll-Maker (Ciela Publishers, 2010).
In the introduction to his recent interview with Karabashliev, Steven Wingate writes:
The strongest aspects of the novel are the empathy Karabashliev builds up for his protagonist and his bullseye details—I think these two are related, as we are always in a world that is viscerally and specifically Zack's. Walking through a neighborhood, he sees "bluish light flickering through the blinds, framed family pictures on the walls, posters of movie stars in the kids' rooms, pianos with the lids down…" The descriptions are concisely kaleidoscopic, and they drive the narrative of 18% Gray.
We're happy to announce that we'll be giving away a copy of 18% Gray to three of our Twitter followers. To be eligible for this giveaway (and all future ones), simply click over to Twitter and "follow" us (@fictionwriters).
To all of you who are already fans, thank you!
Links and Resources: