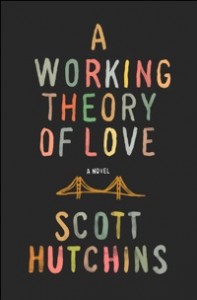 Our new feature is Scott Hutchins's debut novel, A Working Theory of Love, published this month by Penguin. Hutchins is a former fellow in the Wallace Stegner Program at Stanford University. He received his M.F.A. from the University of Michigan, and his work has appeared in StoryQuarterly, Five Chapters, The Owls, The Rumpus, the New York Times, San Francisco Magazine, and Esquire. He is the recipient of two Hopwood Awards and the Andrea Beauchamp Prize in Short Fiction. In 2006 and 2010, he was an artist-in-residence at the Cité Internationale des Arts in Paris. He lives in San Francisco with his wife and teaches creative writing at Stanford.
In the introduction to her recent interview with the author, contributor Molly Antopol describes the book, writing:
In Scott Hutchins's debut novel, A Working Theory of Love, recently divorced 36-year-old Neill Bassett muddles through bachelor life and a job at a Bay Area artificial intelligence company, where he's working to create the world's first sentient computer. But when the computer becomes the reincarnation of his deceased father, everything Neill thought he knew about love, language, and family is put to the test in this funny, moving, and deeply ambitious novel.
We're giving away a copy of A Working Theory of Love to three of our Twitter followers. To be eligible for this giveaway (and all future ones), simply click over to Twitter and "follow" us (@fictionwriters).
To all of you who are already fans, thank you!
---
Further Reading