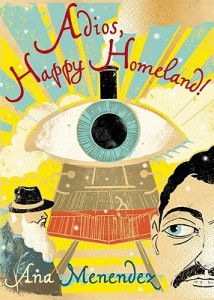 This week's feature is Ana Menendez's new story collection, Adios, Happy Homeland!, which was published by Black Cat, an imprint of Grove/Atlantic. Her first collection of stories, In Cuba I Was a German Shepherd, was a 2001 New York Times Notable book of the year and the title story won a Pushcart Prize. In addition to her other books—Loving Che (2004) and The Last War (2009)—she's worked as a journalist and prize-winning columnist for the Miami Herald. Now Menendez is establishing a creative writing program at the University of Maastricht in the Netherlands. She lives in Amsterdam and Miami.
In her recent interview with the author, contributor Melissa Sholes Young talks with Menendez about such things as crafting linked stories in a collection, how fiction is one of the best ways to "explore the dynamic between what is real and what lives only in imagination," and how living away from a place allows us to write about it. When asked about this last point, Menendez replies:
I've never written about Miami while I was living there. The one book I wrote while in Miami is set in Istanbul – a city I still miss as well. All my characters, in one way or another, are divided and trapped by their loyalties. In Adios, one character says, "we're always leaving."
Menendez continues:
For me, leaving is the way we learn about identity and place. Travel far and long enough and you realize there is no such thing as a fixed "identity" – though this is often so difficult a realization that we cling to the outlines of who we thought we were.
To read the rest of this interview, please click here.
For more on Menendez's work, please visit the author's Website.
You can also win one of three copies of this book, which we'll be giving away next week to three of our Twitter followers.
To be eligible for this giveaway (and all future ones), simply click over to Twitter and "follow" us (@fictionwriters).
To all of you who are already fans, thank you!