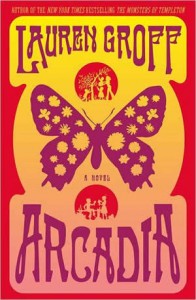 This week's feature is Lauren Groff's new novel, Arcadia (Voice/Hyperion). Groff's past works include a collection, Delicate, Edible Birds and Other Stories (2009), and a novel, The Monsters of Templeton (2008). Her short stories have appeared in a number of journals, including the New Yorker, The Atlantic Monthly, Ploughshares, Glimmer Train, One Story, and Subtropics, as well as in the 2007 and 2010 Best American Short Stories , Pushcart Prize XXXII, and Best New American Voices 2008.
In her recent review of Arcadia, Founding Editor Anne Stameshkin writes:
In Lauren Groff's second novel, Arcadia, the community of this same name is a utopia within our actual world—a flock of hippies, vegans, pacifists, and dreamers settling in upstate New York in the late 1960s. The Arcadians live off the land, eschewing commercialism, capitalism, and even pets (keeping them is considered slavery). […] Groff's prose is lush and lovely throughout, as idealistic as her Arcadians' vision.
We're giving away a copy of Arcadia next week to three of our Twitter followers. To be eligible for this giveaway (and all future ones), simply click over to Twitter and "follow" us (@fictionwriters).
To all of you who are already fans, thank you!
---
Further Reading