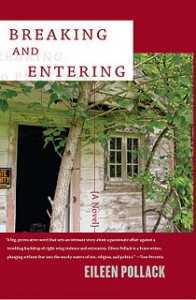 It's no secret that we're big fans of Eileen Pollack's work at FWR. In fact, as our Founding and Features Editor, Anne Stameshkin, noted in an addendum to a 2009 interview with the author that we published on the site, Eileen Pollack–and her Contemporary Novel class at the University of Michigan–was one of the inspirations for the creation of Fiction Writers Review. So it's with particular pleasure that we announce her new novel, Breaking and Entering, as our featured Book-of-the-Week title. Congratulations, Eileen!
And we're not alone in our admiration for this new book or Pollack's work. In her laudatory review of Breaking and Entering (Four Way Books, 2012) in last Sunday's New York Times Book Review, author Jen Thompson writes:
Pollack is an engaging writer with a first-rate eye for the telling sociological detail, like the Militia Babes calendar in the Banks's farmhouse. There is tension and menace when Richard or Louise encounters some new misunderstanding or threat. But since the author's intent is to explore intolerance, hatred and evil, it is not enough that these forces merely simmer and self-perpetuate. The stakes are raised, and escalating consequences play out.
The "militia" referred to here is the Michigan Militia. More specifically, the Michigan Militia of the mid-1990s, a period that was, as Thompson writes, "the epicenter and high point of the militia movement, before increased scrutiny and revulsion at the Oklahoma City bombing put some militia groups out of business and sent others underground." And Richard and Louise are outsiders from Northern California who have moved, with their daughter, to the middle of the state. Thompson says of the Shapiro family's move and the book's beginnings:
It's an unlikely migration, precipitated by Richard's breakdown and depression. He's a therapist (as is Louise), and one of his patients has committed suicide. Then, during a camping trip, he accidentally started a forest fire. The move to Michigan, where he will work as a prison psychologist, is meant as a new start. But should they have bought the house in the tiny outlying town, just down the street from the Joyful Noise Church and the Wolverine Sportsmans Club? They're like the teenagers in horror movies who decide to check out the haunted mansion.

Of course the spacious Midwest is a more appealing place for the Shapiros to raise their child than high-pressure California. And neither Richard nor Louise is aware, at first, of just how much suspicion they engender. Richard is Jewish, Louise is not, although everyone in town assumes she is, and people are often cheerful and upfront about their prejudices. "Didn't you think I would get upset being told I'm descended from the Devil and responsible for just about every evil deed the world has ever known?" Richard finally demands, exasperated. (This descent from the Devil is meant literally, as genealogical information.) Louise, despite her splendid qualifications and genuine affinity for young people, is only grudgingly given a part-time job as a social worker at the high school. The school's sole Jewish faculty member advises her to look for work in Ann Arbor instead. The janitor, Mike Korn — a fictional stand-in for Mark Koernke, "Mark from Michigan" — hosts a hate-filled and conspiracy-minded radio program. Two particularly repulsive prison guards tell Richard the events in Oklahoma City are part of a Zionist plot.
As is no doubt clear from this description, Breaking and Entering is a page-turning yet insightful book about a period of this country's history that has often been overlooked in the long shadow of September 11th, but which nonetheless reverberates in the American consciousness in haunting and moving ways. In Brian Short's 2009 interview with the author, responding to a question about drama and "boldness" in contemporary fiction and her own work, Pollack replies:
There are people who say I use too much plot, or too much sex, or too many dirty jokes, too much humor, my strokes are too broad. And sometimes they are. I'm sure if I redid Paradise, New York [Temple University Press, 2000], it wouldn't be so slapstick. I started that in graduate school. But I like that. The first thing I love, when I read, is the language. Just like any literary writer, it's got to be about the voice. I can't read anything where I don't like the voice. But then what do I like? I like plot, I like setting, I like humor, I like boldness. I think part of it has to do with being female. No one ever told Philip Roth to be more timid or nice, to have nicer characters or less sex, to not be as broad. And when a woman tests boundaries, it's seen as unbecoming. We're supposed to write these quiet, domestic stories or novels. I've just never been one to do that.
To read the rest of Short's interview with Eileen Pollack, please click here.
Eileen Pollack is the author of six previous books. Her stories have appeared in journals such as Ploughshares, Prairie Schooner, Michigan Quarterly Review, SubTropics, Agni, and New England Review. Her novella "The Bris" was chosen to appear in the Best American Short Stories 2007 anthology, edited by Stephen King, while her stories have been awarded two Pushcart Prizes, the Cohen Award for best fiction of the year from Ploughshares, and similar awards from Literary Review and MQR. She lives in Ann Arbor and is a member of the faculty of the MFA Program in Creative Writing at the University of Michigan. For more on Eileen Pollack and her work, please visit the author's Website.
You can also win one of three, signed copies of Breaking and Entering, which we'll be giving away next week to three of our Twitter followers.
To be eligible for this giveaway (and all future ones), simply click over to Twitter and "follow" us (@fictionwriters).
To all of you who are already fans, thank you!