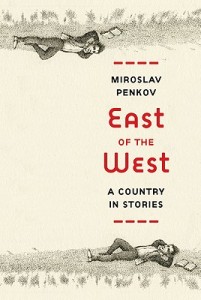 This week's feature is Miroslav Penkov's debut collection, East of the West, published this year by Farrar, Straus & Giroux. Penkov was born in 1982 in Bulgaria and came to the U.S. to study in 2001. He completed a bachelor's degree in Psychology followed by an MFA in Creative Writing at the University of Arkansas, and now teaches creative writing at the University of North Texas, where he is a fiction editor for the American Literary Review. His stories have won The Southern Review's Eudora Welty Prize and have appeared in or are forthcoming from A Public Space, One-Story, Orion, The Sunday Times, and Granta Online. His story "Buying Lenin" was published in The Best American Short Stories 2008, edited by Salman Rushdie, and his work will be included in the 2012 PEN/O. Henry Prize Stories anthology next year.
In his recent review of this collection, contributing editor Steven Wingate writes:
In this auspicious moment, Penkov delivers a heck of a book. Its bold subtitle promises us broad cross-sections of Bulgarian society, and he resists commonplace post-Communist sentimentality to show us a broad range of Bulgarian society—older generations who leave themselves behind in the face of change, younger generations that lose their way, people who leave home and come back changed, people who leave home and never come back at all. Penkov gives us specific, intimately drawn glimpses into the various Bulgarian species of this thing we call the human condition, and he does it with a well-honed style that is not merely ornamental.
To read the entire review of this collection, please click here.
We've also got a sneak peek of Molly Antopol's interview with Penkov, which will appear tomorrow in Part II of The 2011 Sozopol Fiction Seminar profile. In it, she and the author discuss the challenges of translating your own work, the benefits and limitations of writing in another language, and how the role of an imagined reader affects the writing process. Here, Penkov discusses the way in which politics enters his work:
I wouldn't say it's impossible to write Bulgarian stories without considering history and politics. Some of the finest examples of Bulgarian short fiction concern themselves with the everyday life of ordinary people—say, peasants in the countryside—and turn a deaf ear to the politics of the day. But I would say that for me, at this time in my life, it is impossible to write about Bulgaria without getting the past involved. At this time in my life, I cannot help but feel, much like some of the great writers of the American South – Faulkner, Katherine Anne Porter – that to understand the present, we need to first make sense of the past; that the two are linked inseparably. We all know that in writing fiction following a line of cause and effect is paramount. One thing occurs and leads to another. A character interacts with his surrounding world and out of this interaction the story's plot is generated and the story moves along. But I believe that when it comes to history, this cause and effect connection can be reversed, that the present can not only influence our understanding of the past, but can also shape this past. I believe that out of our present we can invent and create personal versions of a past that, in reality, might never have existed. I don't mean this in some scary Orwellian way, of course. I'm talking merely about discovering personal truths in history, achieving a personal understanding of the past that might not be applicable to someone else.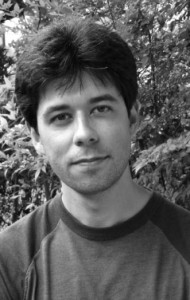 To read the rest of this interview, check back tomorrow.
In the meantime, you can read Penkov's humorous essay on how to write about Bulgaria, entitled "The Golden Goat to Communist Ratio," which appeared as an online exclusive for Granta this fall.
You can also win one of three copies of this book, which we'll be giving away next week to three of our Twitter followers.
To be eligible for this giveaway (and all future ones), simply click over to Twitter and "follow" us (@fictionwriters).
To all of you who are already fans, thank you!