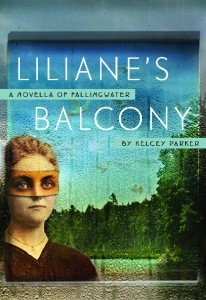 This week's feature is Kelcey Parker's new book, Liliane's Balcony, which was published this fall by Rose Metal Press. Parker's story collection, For Sale by Owner (Kore Press), won the 2011 Next Generation Indie Book Award in Short Fiction and was a finalist for the 2012 Best Books of Indiana in Fiction. She is the recipient of an Individual Artist's Grant from the Indiana Arts Commission and a Promise Award from the Sustainable Arts Foundation. Her stories have appeared in numerous literary journals including Notre Dame Review, Bellingham Review, Santa Monica Review, Indiana Review, Third Coast, Redivider, Western Humanities Review, and Image. She has a Ph.D. from the University of Cincinnati and currently directs the creative writing program at Indiana University South Bend.
In the introduction to her recent review of Liliane's Balcony, Ellen Prentiss Campbell describes Parker's novella as "a small elegant book in every way." Further, she writes:
A successful novella, like this one, uses to advantage the tensions inherent in its sustained brevity as neither story nor novel. Parker leads us through a compact narrative space composed of brief linked soliloquies that press the boundaries between poetry and fiction.
We're happy to announce that we'll be giving away a copy of Liliane's Balcony to three of our randomly selected Twitter followers. To be eligible for this giveaway (and all future ones), simply click over to Twitter and "follow" us (@fictionwriters).
To all of you who are already fans, thank you!