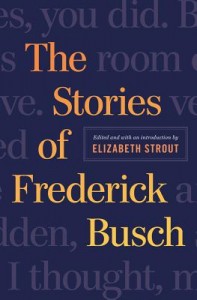 This week's feature is Frederick Busch's collected short fiction, The Stories of Frederick Busch, edited and with an introduction by Elizabeth Strout. W.W. Norton and Company released this posthumous collection of Busch's stories last week, and we were pleased to publish Kerry Neville Bakken's appreciation of her friend and former mentor yesterday. Busch was an incredibly important and influential author and teacher prior to his death in 2006, and a voice of contemporary fiction who we are happy to have the opportunity to honor in a small way. As noted on his publisher's website, "Frederick Busch was the recipient of many honors, including an American Academy of Arts and Letters Fiction Award, a National Jewish Book Award, and the PEN/Malamud Award. The prolific author of sixteen novels and six collections of short stories, Busch is renowned for his writing's emotional nuance and minimal, plainspoken style. A native of Brooklyn, New York, he lived most of his life in upstate New York, where he worked for forty years as a professor at Colgate University."
Reflecting in the introduction to her recent appreciation of Busch and his work, Kerry Neville Bakken writes:
It was the end of my senior year and we were talking about what I should expect from the MFA program in fiction that I was going to start in the Fall. I went in for a primer on how to survive the creative writing program, and I came out with a primer on how to conduct my life. Even today, whenever I feel myself getting lazy or tired in my writing, when I want to skirt a scene, when I want to substitute words because I can't remember the exact ones I want, when I don't push my characters hard enough in dialogue because I don't yet know what they're supposed to say, I hear Fred saying to me, "Words of integrity from a person with integrity," and I can't fail him. Not in the way I write, not in the way I live out my life.
We're happy to announce that we'll be giving away a copy of The Stories of Frederick Busch to three of our randomly selected Twitter followers. To be eligible for this giveaway (and all future ones), simply click over to Twitter and "follow" us (@fictionwriters).
To all of you who are already fans, thank you!