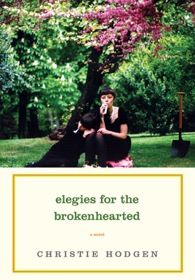 Each week we give away several free copies of a featured novel or story collection as part of our Book-of-the-Week program. Last week we featured Graham Moore's The Sherlockian, and we're pleased to announce the winners: John Horniblow, Maggie Hess, and David Littlejohn. Congratulations! Each will receive a copy of this new novel.
This week we're featuring Elegies for the Brokenhearted, by Christie Hodgen. Published this year by W.W. Norton, Elegies is Hodgen's third book. She is also the author of the novel Hello, I Must be Going, and the story collection A Jeweler's Eye for Flaw, which won the 2001 AWP Award in Short Fiction. In her recent review of Hodgen's new novel, contributor Carolyn Gan writes:
How do we honor the dead? Since ancient Greece, poets have answered that question with elegies, those mournful, incantatory poems that attempt to make sense of loss. Pushcart Prize-winning author Christie Hodgen follows suit in her third book, Elegies for the Brokenhearted (W. W. Norton), a novel comprised of five truly melancholy elegies that are anything but depressing. It's a stunning portrait of Mary Murphy, a taciturn narrator uprooted so many times in childhood by her serially divorced mother that she weaves her own story through odes to the people she's lost. Thanks to Hodgen's buoyant, exuberant prose, what emerges is truly a life shaped by death.
If you'd like to be eligible for this week's drawing (and all future ones), please visit our Facebook Page and "like" us. As we did last week, we'll be giving away three copies of this title. To everyone who's already a fan, thanks again! What we want to do is not only find ways to expand our readership, but also to put books we love in the hands of readers.
So please help us spread the word!