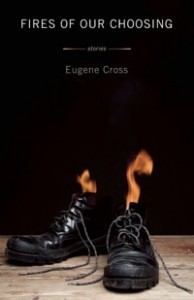 This week's feature is Eugene Cross's debut story collection, Fires of Our Choosing, which has just been published by Dzanc Books. Cross was the winner of the 2009 Dzanc Prize for Excellence in Literary Fiction and Community Service. His stories have appeared in Narrative Magazine (which named him one of "20 Best New Writers" and his story "Harvesters" a "Top Five Story of 2009-2010"), American Short Fiction, Story Quarterly, TriQuarterly, and Callaloo, among other publications. His work was also listed among the 2010 Best American Short Stories' 100 Distinguished Stories. He is the recipient of scholarships from the Bread Loaf Writers' Conference and the Chautauqua Writers' Festival. Born and raised in Erie, Pennsylvania, Cross received an MFA from The University of Pittsburgh. He currently lives in Chicago where he teaches in the Fiction Department at Columbia College.
In his recent review of this book, contributor Urban Waite writes:
Focused mainly around the Lake Erie shore, these stories concern characters coming apart, little by little, their lives spun loose and rolling toward the edge. From schoolyards to dining rooms to pool halls to golden wheat fields, Cross catches men and women in transition, fumbling toward the exit as they try for an escape. It's a wonderful read, because somewhere along the way one feels that spark of recognition with the characters: they work nine-to-fives, they do manual labor, they gamble with what they do not have. And like his characters, Cross takes risks. But, lucky for him, they pay off.
To read the rest of Waite's review, click here.
Read a story from Fires of Our Choosing on The Nervous Breakdown.
You can also win one of three copies of this book, which we'll be giving away next week to three of our Twitter followers.
To be eligible for this giveaway (and all future ones), simply click over to Twitter and "follow" us (@fictionwriters).
To all of you who are already fans, thank you!