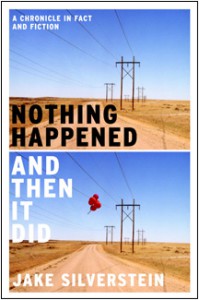 Three weeks ago, Fiction Writers Review launched a Fan Page on Facebook. The goal is threefold: to introduce new readers to FWR, to create an informal place for conversations about writing, and also to give away lots of free books.
Each week we'll give away several free copies of a featured novel or story collection as part of our Book-of-the-Week program. All you have to do to be eligible for our weekly drawing is to be a fan of our Facebook page. No catch, no gimmicks. And once you're a fan, you'll be automatically entered in each subsequent drawing.
Last week we featured Percival's Planet, by Michael Byers, and we're pleased to announce the winners: Helen Lee, A.K. Thompson, and Samuel Fuller Thomas. Congratulations! Each will receive a signed, first-edition of Michael's book.
This week we're featuring Nothing Happened and Then It Did, by Jake Silverstein. In what he dubs a "Chronicle in Fact and Fiction," Silverstein's book takes aim at the figurative and often porous boundary between memoir and the novel. The author's real life misadventures inspire their fictional counterpart, and the fiction in turn dovetails with the next stage of his itinerary. As he hops from Texas to Louisiana to Mexico, Silverstein is like a recurring protagonist in a collection of linked stories. For more on the book, please read Jonathan Liebson's review, which FWR published earlier this month.
If you'd like to be eligible for this week's drawing (and all future ones), please visit our Facebook Page and "like" us. As we did last week, we'll be giving away three, signed copies of this title. To everyone who's already a fan, thanks for supporting this project. What we want to do is not only find ways to expand our readership, but also to put books we love in the hands of readers.
So please help us spread the word!