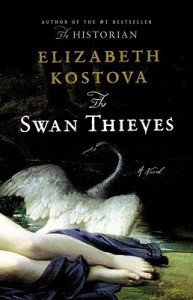 At the end of August, Fiction Writers Review launched a Fan Page on Facebook. The goal is threefold: to introduce new readers to FWR, to create an informal place for conversations about writing, and also to give away lots of free books.
Each week we'll give away several free copies of a featured novel or story collection as part of our Book-of-the-Week program. All you have to do to be eligible for our weekly drawing is to be a fan of our Facebook page. No catch, no gimmicks. And once you're a fan, you'll be automatically entered in each subsequent drawing.
Last week we featured The Unknown Knowns, by Jeffrey Rotter, and we're pleased to announce the winners: Jenni Ferrari-Adler, Rebecca Rasmussen, and Kate Blakinger. Congratulations! Each will receive a copy of the book, signed by the author.
This week we're featuring The Swan Thieves, by Elizabeth Kostova. Kostova's new novel is centered on Andrew Marlow, a psychiatrist and amateur painter, who recounts one of the greatest challenges of his career: a patient named Robert Oliver. Oliver, a talented and influential painter, is delivered to Marlow's care after attacking a painting at the National Gallery of Art. Unwilling to speak to his doctor, Oliver spends his days in silence, painting a mysterious women over and over. Confounded by this reticence, and driven by both personal reasons and professional pride, Marlow allows himself to become obsessed with this particular case. And in an effort to uncover the mystery of Oliver's life and art, he embarks on a quest that will cross not only professional boundaries but also ones of place and time.
Like her previous book, The Historian, which has now been translated into more than forty languages, The Swan Thieves is rich in history (in this case, the Impressionist Movement) and language. It is a wonderful portrayal of loyalty and obligation, as well as the many types of obsession that intersect with art.
If you'd like to be eligible for this week's drawing (and all future ones), please visit our Facebook Page and "like" us. As we did last week, we'll be giving away three, signed copies of this title. To everyone who's already a fan, thanks for supporting this project. What we want to do is not only find ways to expand our readership, but also to put books we love in the hands of readers.
So please help us spread the word!