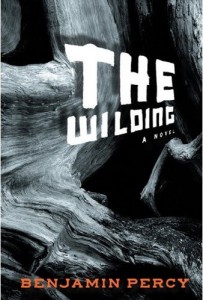 Last month, Fiction Writers Review launched a Fan Page on Facebook. The goal is threefold: to introduce new readers to FWR, to create an informal place for conversations about writing, and also to give away lots of free books.
Each week we'll give away several free copies of a featured novel or story collection as part of our Book-of-the-Week program. All you have to do to be eligible for our weekly drawing is to be a fan of our Facebook page. No catch, no gimmicks. And once you're a fan, you'll be automatically entered in each subsequent drawing.
Last week we featured Nothing Happened and Then It Did, by Jake Silverstein, and we're pleased to announce the winners: Kendra Mack, Beth Migdon Blick, and Michelle Veenstra. Congratulations! Each will receive a signed, first-edition of Jake's book.
This week we're featuring The Wilding, by Benjamin Percy. As Publishers Weekly labeled it, The Wilding is a modern-day Deliverance, set in a time when our planet is taxed more than ever. The novel tells the story of three men from one family—a son, father, and a grandfather—who venture into the woods for one last visit to a wildlife preserve before it's chopped down and paved over to make room for a new development. They come up against the locals, who can't help but think of them as city folk; a possibly ancient and predatory animal, who might want to kill them; and their own natures. For more on the book and Percy's writing process, please read Shawn Mitchell's interview, which FWR published this week.
If you'd like to be eligible for this week's drawing (and all future ones), please visit our Facebook Page and "like" us. As we did last week, we'll be giving away three, signed copies of this title. To everyone who's already a fan, thanks for supporting this project. What we want to do is not only find ways to expand our readership, but also to put books we love in the hands of readers.
So please help us spread the word!