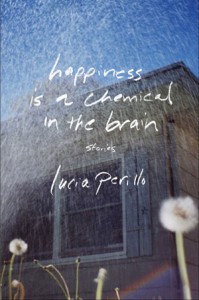 This week's feature is Lucia Perillo's debut story collection, Happiness is a Chemical in the Brain (W.W. Norton). She is also the author of six books of poetry, most recently On the Spectrum of Possible Deaths (Copper Canyon Press, 2012), and a collection of essays, I've Heard the Vultures Singing (Trinity University Press, 2007). Her fifth book of poems, Inseminating the Elephant (Copper Canyon Press, 2009), was a finalist for the Pulitzer Prize. In 2000 she was awarded a MacArthur Foundation fellowship.
In her recent reviewlet of this collection, Alison Espach writes:
Perhaps the collection is best described in my favorite story, "Doctor Vick's," when Perillo writes, "You know the only true world is the one you carry inside you." These stories are compelling journeys because they are so true.
We're giving away a copy of Happiness is a Chemical in the Brain next week to three of our Twitter followers. To be eligible for this giveaway (and all future ones), simply click over to Twitter and "follow" us (@fictionwriters).
To all of you who are already fans, thank you!
---
Further Reading
Read the rest of Espach's review.
Read Lucia Perillo's poem "This Red T-Shirt" – published in The New Yorker, May 10, 2010