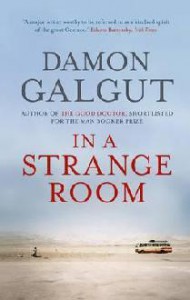 Each week we give away several free copies of a featured novel or story collection as part of our Book-of-the-Week program. Last week we featured Elegies for the Brokenhearted, by Christie Hodgen, and we're pleased to announce the winners: Brooks Rexroat, Kierstyn Lamour, and Kate Hill Cantrill. Congratulations! Each will receive a copy of this new novel.
This week we're featuring Damon Galgut's novel In a Strange Room. Though this title came out in the U.K. from Atlantic Books last year, it's only recently been released in the States, published here by EuropaEditions. In September the book was shortlisted for the Booker Prize (his second nomination–an earlier novel,The Good Doctor, was also shortlisted in 2003). And in her August review of the novel for FWR, contributor Natalie Bakopoulos praised the author's work for its exploration of narrative voice and point of view. She writes:
Whether "I is someone else," or perhaps the more recognizable "J'est un autre" in the original French, the statement disorients with its dissonant, playful play on the subject-verb agreement. Damon Galgut, in his superb novel In a Strange Room––better perhaps described as a collection of three linked novellas­­––similarly distorts the I as both first person and third. The storytelling alternates between these two perspectives, often in the same paragraph and sometimes in the same sentence. Soon, in the same way we become accustomed to a new locale when traveling, this point of view choice asserts itself not simply as artistic quirk but as part of the story itself. The protagonist, a young South African man also named Damon, reflects upon his younger self: "Looking back at him through time, I remember him remembering, and I am more present in the scene that he was. But memory has its own distances, in part he is me entirely, in part he is a stranger I am watching."
If you'd like to be eligible for this week's drawing (and all future ones), please visit our Facebook Page and "like" us. As we did last week, we'll be giving away three copies of this title. To everyone who's already a fan, thanks again! What we want to do is not only find ways to expand our readership, but also to put books we love in the hands of readers.
So please help us spread the word!