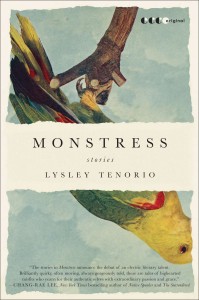 This week's feature is Lysley Tenorio's debut collection, Monstress (Ecco). His short fiction has appeared in such places as The Atlantic, Zoetrope: All-Story, Ploughshares, Manoa, and The Best New American Voices and Pushcart Prize anthologies. He lives in San Francisco, where he is an associate professor at Saint Mary's College of California.
In our upcoming interview with Tenorio, the author speaks with Quan Barry about identity politics:
While Monstress is full of Filipino and Filipino-American characters, I see them first as individuals caught up in weird, sometimes ridiculous, and always (I hope) emotionally complex circumstances that have nothing to do with my own experience as a Filipino American. That's the fun of fiction, getting into someone else's business.
We're giving away a copy of Monstress next week to three of our Twitter followers. To be eligible for this giveaway (and all future ones), simply click over to Twitter and "follow" us (@fictionwriters).
To all of you who are already fans, thank you!
---
Further Reading
Read Aria Beth Sloss's interview with Tenorio on The Paris Review's Website.
Read "Monstress," the title story to Tenorio's collection, originally published in The Atlantic.