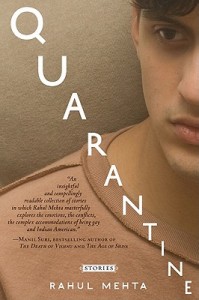 This week's feature is Rahul Mehta's debut collection, Quarantine, published this year by Harper Perennial. Mehta was born and raised in West Virginia. He received his MFA from Syracuse University, where he was the Cornelia Carhart Ward Fellow. Stories from this collection have appeared in such places as The Kenyon Review, The Sun, Epoch, Noon, and Fourteen Hills, as well as having been selected for New Stories from the South. Mehta lives with his partner in Alfred, New York, and teaches at Alfred University.
In her recent review of this collection, contributor V. Jo Hsu writes:
In his debut publication, Rahul Mehta confounds reader preconceptions. Mehta's short story collection, Quarantine, features a cast of homosexual Indian-American men. The book artfully interweaves sexual and racial tensions without resorting to tropes or creating an antagonistic "other." In the title work, "Quarantine," both the gay, American-born narrator and his traditionalist grandfather experience the isolation metaphorized by the story's title. The two generations simultaneously search for belonging, prompting the older man's plea to stay among the Hare Krishnas. Decrepit for most of the tale, grandfather Bapuji finally comes to life among the devotees, "leading the aarti, chanting 'Hare Krishna, Hare Ram.'"
Hsu concludes her review, writing:

Ultimately, Quarantine becomes less a meditation on sexuality and race and more an investigation of human connections. While the collection does not shy from sex, it also marvels at the restorative effects of platonic touch. In "Ten Thousand Years," the narrator's boyfriend, Thomas, forms a deeper connection with his grandmother than the grandson ever had. In Thomas's touch, the elderly woman finds a tenderness her grandson could no longer give. She dozes to his "hand on her forehead, gently stroking it until she [falls] asleep." Similarly, "A Better Life" explores the sympathies between a college graduate and the wife of his host family. Mehta's gentle, emotional prose culminates in one of the collection's most tender scenes when, wordlessly, Lala offers Sanj the only comfort she can through her embrace.
To read the entire review of this collection, please click here.
"The Cure," one story from the collection, appeared in Fifty-Two Stories
Mehta wrote an essay titled "Coming Out" for Random Reads. It contains a touching, insightful passage about the relationship between his parents and his writing.
You can also win one of three copies of this book, which we'll be giving away next week to three of our Twitter followers.
To be eligible for this giveaway (and all future ones), simply click over to Twitter and "follow" us (@fictionwriters).
To all of you who are already fans, thank you!