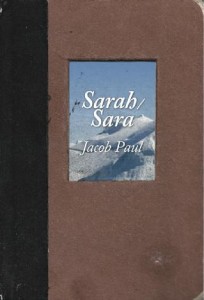 Each week we give away several free copies of a featured novel or story collection as part of our Book-of-the-Week program. Last week we featured Ben Spivey's Flowing in the Gossamer Fold, and we're pleased to announce the winners: Sarah Comer, Maggie Bertucci Hamper, and Kendra Langford Shaw. Congratulations! Each will receive a signed copy of this new novel.
This week we're featuring Jacob Paul's Sarah/Sara. The author, who is an Associate Professor at Utah State, where he recently received his PhD, was formerly in the finance industry. On the morning of September 11th of 2001, he was in Tower Two of the World Trade Center, where he worked for OppenheimerFunds on the 34th floor. After Tower One was hit, the P.A. system came on to advise them that they were in a safe zone and to stay put. But a co-worker found him and urged him to evacuate. Paul was in the stairwell, near the 28th floor, when the second plane hit his building. And though his debut novel is not directly about his experience that day, the events of 9/11 do resonate throughout the book. As Aaron J. Cance writes in the introduction to his recent interview with the author:
A story of the healing that follows an act of terrorism, Sarah/Sara doesn't open with an apocalyptic vision of passenger planes plunging into the steel and glass of the World Trade Center towers, with a slow motion blossom of flames, or with screaming, although as a firsthand witness and survivor of the day's events, Jacob Paul knows all the terrible details. The book is not so self-indulgent as a work of fiction and, therefore, avoids anything that even remotely resembles the trite, instead presenting material that is far more delicate, and more meaningful. In its opening pages, the reader finds only refracted echoes of 9/11 shimmering in Sarah's mind like subdued sound bites, as she kayaks in silence along the Alaskan coastline. Her father, we soon find, was the 9/11 survivor. He did not, however, escape the Jerusalem suicide bomber that has, years later, left Sarah spiritually and physically scarred.
If you'd like to be eligible for this week's drawing (and all future ones), please visit our Facebook Page and "like" us. As we did last week, we'll be giving away three copies of this title. To everyone who's already a fan, thanks again! What we want to do is not only find ways to expand our readership, but also to put books we love in the hands of readers.
So please help us spread the word!