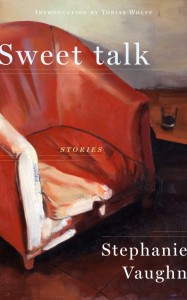 This week's feature is Stephanie Vaughn's story collection, Sweet Talk, which has just been re-released by Other Press. The book was originally published in 1990 by Random House, and it garnering critical praise upon its release. Vaughn received her MFA from the University of Iowa (Writers' Workshop) and was both a Stegner Fellow and Jones Lecturer in Creative Writing at Stanford. She is currently a Professor of English at Cornell University, as well as co-faculty director of "Imagining Rome: Art Studio & Creative Writing workshop in Italy," a special program run through Cornell Summer Sessions. Her stories have appeared in the New Yorker, Redbook, and Antaeus, as well as having been anthologized in several prize collections. She is at work on a novel.
In his 2011 essay "The Enduring Magic of Stephanie Vaughn's Sweet Talk," contributor Forrest Anderson writes:
I first heard of Stephanie Vaughn twenty years after the publication of her first and only collection of short fiction, Sweet Talk (1990). I was driving from Russellville, Arkansas, to Tarboro, North Carolina, to visit my parents for the summer, and I'd loaded up my iPod with the New Yorker Fiction Podcast in the hope that the stories would speed me through the delta, over the Appalachian Mountains, and into the sandy coastal plain of eastern North Carolina. I'd chosen to download Vaughn's story, "Dog Heaven," partly because it was read by Tobias Wolff, but mainly because I'm a sucker for a good dog story.

Somewhere east of Memphis, where the steep bluffs of the Mississippi River drop down into the Tennessee Bottomland, I heard Wolff reading an excerpt from the story: "I came to on the grass with the dog barking, 'Wake up!' he seemed to say. 'Do you know your name? My name is Duke! My name is Duke!'" A talking dog, I thought, and knew I was in for a special story.
He goes on to say:
As soon as I reached my parents' home in Tarboro, I ordered a copy of the out-of-print Sweet Talk. Reading the collection felt a bit like unearthing a time capsule from the 1980s. Instead of finding neon leggings, synthesizer-laden cassette tapes, and photographs of Mikhail Gorbachev, I found myself picking through the techniques of minimalism—straightforward prose, stripped narrative, pedestrian details that gradually became lyrical and metaphorical. In many ways, it was like discovering a long lost contemporary of Raymond Carver, Bobbie Ann Mason, Mary Robison, and Ann Beattie. That said, however, there's a heart and generosity to Vaughn's writing that stands in opposition to minimalism.
We're happy to announce that you don't have to hunt down an out-of-print copy any longer! Thanks to Other Press for bringing back this wonderful book. We hope it finds another generation of admirers and readers.
To read the rest of Anderson's essay, click here.
The title story for this collection is also one of Storyville's featured downloads this month. Get the Storyville app and you'll get "Sweet Talk," as well as a new story download each week.
You can also win one of three copies of this book, which we'll be giving away next week to three of our Twitter followers.
To be eligible for this giveaway (and all future ones), simply click over to Twitter and "follow" us (@fictionwriters).
To all of you who are already fans, thank you!