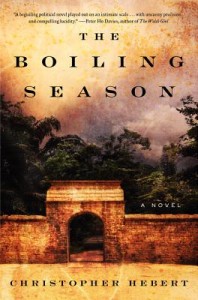 Our new feature is Christopher Hebert's debut novel, The Boiling Season (Harper). Hebert graduated from Antioch College, where he also worked at the Antioch Review. He has spent time in Guatemala and taught in Mexico, and he worked as a research assistant to the author Susan Cheever. He earned an MFA in creative writing from the University of Michigan, and was awarded its prestigious Hopwood Award for fiction. He is Jack E. Reese Writer-in-Residence at the University of Tennessee Libraries, and lives in Knoxville with his son and his wife, the novelist Margaret Lazarus Dean.
In Michael Shilling's introduction to his recent interview with the author, he writes:
The complex and tragic history of Caribbean tumult is often told in a riotous way that reflects the frenetic rhythms of revolution. However, in Christopher Hebert's debut novel The Boiling Season, he shows a topsy-turvy world from the perspective of a singularly placid protagonist, Alexandre, who seems impervious to worry. Through Alexandre's eyes, we experience the ordeal of trying desperately to hold life together while his country goes up in flames.
We're giving away a copy of The Boiling Season in two weeks to three of our Twitter followers. To be eligible for this giveaway (and all future ones), simply click over to Twitter and "follow" us (@fictionwriters).
To all of you who are already fans, thank you!
---
Further Reading