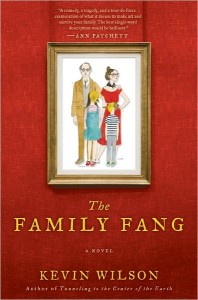 This week's feature is The Family Fang, by Kevin Wilson. Published this month by Ecco, the book is Wilson's first novel. He is also the author of the award-winning story collection Tunneling to the Center of the Earth, which was selected as a favorite and included in our "Books We Loved in 2009" Valentine's Day special feature.
Wilson's writing has appeared in such places as Ploughshares, Tin House, One Story, Cincinnati Review, Ninth Letter, PANK, Mid-American Review, and dozens of other publications. His short fiction has also been anthologized in four volumes of the New Stories from the South: The Year's Best anthology. He lives in Sewanee, Tennessee, with his wife, the poet Leigh Anne Couch, and his son, Griff, where he teaches fiction at the University of the South. He is the creative writing administrator for the Sewanee Writers' Conference.
In his glowing review of Tunneling to the Center of the Earth, Brian Short writes:
Kevin Wilson…has put together a strong and surprising collection of wonderfully odd stories. We encounter an old woman who works as a substitute grandmother for children whose real grandmothers have died, or gone senile, or have had a falling out with the real parents. We follow a young man who, in addition to working in a Scrabble factory—trolling all day through hills of letters to find those he has been assigned—also might have a genetic predisposition to spontaneous human combustion. There is a second-person story, and another in the form of a handbook or lexicon. Clearly, Wilson is interested in the formal possibilities of the short story. But unlike many authors with similar interests, Wilson never abandons the very human and tender hearts of his stories or their characters.
This new book centers on the Fang family of the novel's title. Parents Caleb and Camille Fang are performance artists who regularly incorporate their children, Annie and Buster–who they refer to as "Child A" and "Child B"–into their art. "This is the arch-sounding premise of Kevin Wilson's novel "The Family Fang," Janet Maslin writes in the New York Times, "which in less adroit hands might have been a string of twee, deadpan moments and not much more. But Mr. Wilson, though he writes wittily about various outré Fang performance pieces, resists putting too much emphasis on the family gimmick. These events have names (the kids'-singing-angers-heckler bit is loftily called "The Sound and the Fury") and dates and artistic goals. But they also have consequences. That's what makes this novel so much more than a joke."
Maslin closes her wonderful review of the book with the following:

Although Mr. Wilson sometimes hints too neatly at where his book is headed, he manages to make the final stages genuinely shocking. This last part of "The Family Fang" packs a wallop because the rest of the book has been so quirky and seemingly light. But the stakes in the Fang war of wills get higher as the book proceeds, and they move from the specific to the universal. All children eventually question lies their parents have told them, but the Fangs take that chicanery to a whole new level.

Mr. Wilson, who also wrote the story collection "Tunneling to the Center of the Earth," has created a memorable shorthand for describing parent-child deceptions and for ways in which creative art and destructive behavior intersect. But he never generalizes. This book is specific to the four strange Fangs, people who actually appear on their family Christmas card baring long, sharp fake teeth. Whenever this book refers to "a Fang thing," Mr. Wilson is utterly clear about what that means.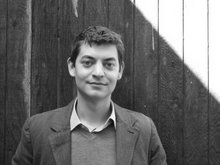 For more on Wilson's work, please visit the author's website. You can also follow him on his blog, Tunneling to the Center of the Earth. Most recently: a photo of the book cover as tattoo.
Win one of three signed copies of this book, which we'll be giving away next week to three of our Twitter followers. To be eligible for the giveaway (and all future ones), simply click over to Twitter and "follow" us (@fictionwriters).
To all of you who are already fans, thank you!