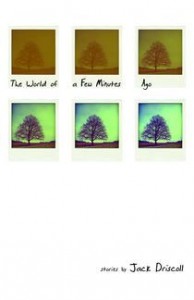 This week's feature is Jack Driscoll's new collection, The World of a Few Minutes Ago, which was released by Wayne State University Press this month. Driscoll is the author of four books of poetry and four previous books of fiction. His first story collection, Wanting Only to be Heard, won the AWP Award for Short Fiction in 1991, his novel Lucky Man, Lucky Woman won both the Pushcart Editors' Book Award in 1999 and was subsequently selected as a Barnes & Noble Discover Great New Writers Award title in 2000, and his novel How Like an Angel was a Michigan Notable Book in 2006. His work has appeared nationally in magazines, literary journals, and newspapers such as Chicago Tribune, Civilization, The Georgia Review, Kansas City Star, Poetry, The Southern Review, and Ploughshares. He's also had numerous stories anthologized in The Pushcart Prize over the years, as well as having been the recipient of a PEN/Nelson Algren Fiction Award and an NEA Creative Writing Fellowship, among other honors. He was formerly the writer-in-residence at the Interlochen Arts Academy, and currently teaches in Pacific University's low-residency M.F.A. program.
Editor-in-Chief, Jeremiah Chamberlin, writes in the opening of his recent review of this collection:
Few authors possess the range or emotional depth that one finds in Jack Driscoll's new story collection, The World of a Few Minutes Ago, published this month by Wayne State University Press. Whether writing from the point of view of a twelve-year-old boy accompanying his father on a secret run to the slaughter house, or a seventy-year-old man reassessing both his fifty-year marriage and career as a war photographer, or a sixteen-year-old girl driving through a snowstorm with her driver's ed instructor, Driscoll manages to seat the reader in the lives of his characters with grace, despite a roughness that often characterizes their lived experience.
Later, he says of the book:
In addition to Driscoll's technical mastery of voice, and his compassion for his characters, the book also possesses an impressive emotional continuity. Longing and grief permeate this collection. Though not always immediately felt, these emotions lie below the surface of each story like permafrost, lending the book a feeling of structural integrity, to say nothing of depth.

It also makes The World of a Few Minutes Ago feel like a unified project. Driscoll asks larger questions that the collection as a whole wrestles to answer. What is the nature of longing? What does grief look like as we transition through different stages of our lives? For what we grapple with in our late thirties or early forties is quite distinct from what we feel in the ages preceding and following this "middle" period of our lives.

It is chronicling these middle years—the thirties and forties—where Driscoll's art truly sings. The emotional terrain of one's thirties, what Jane Smiley so accurately termed "the age of grief," is captured here in all its beautiful messiness. That grief stems from having been on this earth long enough to know the score—to know that it often doesn't get better, that the road ahead typically holds more of the same—and, in spite of all that, to still harbor the hope that one lucky break could change everything. After all, it's a fine line between delusion and optimism, between knowing when to step out of the ring and when to give it one more shot.
To read the rest of this review, click here.
For more on Driscoll's new book, please visit Wayne State University Press's website.
You can also win one of three copies of this book, which we'll be giving away next week to three of our Twitter followers.
To be eligible for this giveaway (and all future ones), simply click over to Twitter and "follow" us (@fictionwriters).
To all of you who are already fans, thank you!