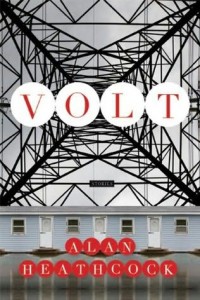 Each week Fiction Writers Review gives away several free copies of a featured novel or story collection as part of our Book-of-the-Week program. Last week we featured Michael David Lukas's debut novel The Oracle of Stamboul, and we're pleased to announce the winners: Robinson Stowell, Mary Westbrook, and Suzanne Hebert. Congratulations! Each will receive a signed copy of this novel.
This week we're pleased to feature Alan Heathcock's debut collection Volt (Graywolf, 2011). Stories in this book have appeared in such places as Zoetrope: All-Story, Kenyon Review, Virginia Quarterly Review, Storyville, and The Harvard Review. His work has also received a National Magazine Award in fiction, and has been selected for inclusion in The Best American Mystery Stories anthology. Heathcock is currently the Writer-in-Residence for the city of Boise, and a Literature Fellow for the state of Idaho. A Native of Chicago, he teaches fiction writing at Boise State University.
In his forthcoming review of Heathcock's collection, contributor Tyler McMahon writes:
The best collections, for my money, are the ones that work the form to its full advantage, turn its weaknesses into strengths, and make the stories inseparable from one another—greater even than the sum of their parts.

Alan Heathcock's Volt is one such collection.

These stories are not merely chronological episodes adding up to a larger narrative. Nor does a common protagonist neatly stitch them together. Several characters do recur, but the main link between these pieces is Krafton. This fictional town is only a setting in so much as a church is a building—it's better described as a group of people, a community.
If you'd like to be eligible for this week's drawing (and all future ones), please visit our Facebook Page and "like" us. As we did last week, we'll be giving away three signed copies of this title. To everyone who's already a fan, thanks again! Our Facebook page exists in part, of course, to expand readership—but our primary goal is to put books we love in the hands of readers.
So please help us spread the word!