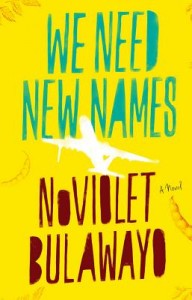 This week's feature is NoViolet Bulawayo's debut novel, We Need New Names, which was just published by Reagan Arthur Books. Bulawayo's stories have won the 2011 Caine Prize for African Writing and were shortlisted for the 2009 SA PEN Studzinsi Award, judged by J.M. Coetzee. Born and raised in Zimbabwe, she earned her MFA at Cornell University, where she was a recipient of the Truman Capote Fellowship, and, most recently, a lecturer of English. Bulawayo is now a Wallace Stegner Fellow at Stanford University.
In the introduction to Rebecca Scherm's review of We Need New Names, she writes:
NoViolet Bulawayo's debut novel, We Need New Names, opens in Paradise, the Zimbabwe shantytown where Darling and her mother have lived since their house was bulldozed by the government. Starting in 2005, the government program Operation Murambatsvina ("Clear out Rubbish") destroyed entire neighborhoods in a few hours, leaving more than 300,000 people homeless. But Darling doesn't know any of this, only that their house is gone. She's just ten.
We're happy to announce that we'll be giving away a copy of We Need New Names to three of our Twitter followers. To be eligible for this giveaway (and all future ones), simply click over to Twitter and "follow" us (@fictionwriters).
To all of you who are already fans, thank you!
---
Further Links and Resources: