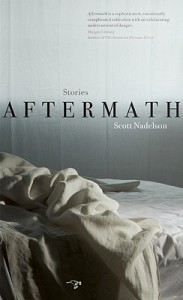 This week's feature is Scott Nadelson's new story collection, Aftermath. The book was published in early September by Hawthorne Books & Literary Arts, an independent press that focuses on American literary fiction and narrative nonfiction, with a growing interest in international literature and books in translation. This is Nadelson's third collection. He is also the author of The Cantor's Daughter (2006), which won the Samuel Goldberg & Sons Fiction Prize for Emerging Jewish Writers and the Reform Judaism Fiction Prize, and Saving Stanley: The Brickman Stories (2004), which won the Oregon Book Award for short fiction and the Great Lakes Colleges Association New Writers Award. He teaches creative writing at Willamette University.
In her recent interview with Nadelson, Contributor Julie Judkins speaks with the author about the early influence of Bob Dylan on his literary life, how he balances teaching and writing, why poetry matters to his work, and more. They also discuss the role of place in his fiction. In particular, why nearly all of his stories are set in his native New Jersey, despite the fact that he's lived in Oregon since 1996. In response, Nadelson says:
When I started writing, I never thought New Jersey would become such a central part of my fiction, but now I write very few stories that aren't set there. And hardly any of my stories have characters who haven't come from the place where I grew up. I do think part of this is familiarity, or at least that's the way it started. But more important is how the setting has evolved in my imagination over the past fifteen years. New Jersey has become less an actual place in my fiction than a state of being, a kind of limbo between the great city and the vast continent, where people are caught between retreat and full engagement with life and all its uncertainty. What the place offers me is a setting ripe with quiet tension and internal conflict, as well as a metaphor for the illusion of safety and security amidst the chaos of human intimacy and connection.

I sometimes send my New Jerseyans off into foreign lands, and a different kind of tension arises when they bring their baggage of fear and repressed desire into places where they can no longer contain the contents. In the new book, for example, I've got a kid with his grandparents in Jerusalem, and there all hell can break loose when his family conflict plays out against the backdrop of a much wilder setting than the one he's left behind. But the conflict is still one that evolves in and out of his New Jersey state of being—I can't imagine him coming from anywhere else.
To read the rest of this interview, please click here.
You can also win one of three, signed copies of this book, which we'll be giving away next week to three of our Twitter followers.
To be eligible for this giveaway (and all future ones), simply click over to Twitter and "follow" us (@fictionwriters).
To all of you who are already fans, thank you!